Midnight Hot & Sexy's More Like It
This set is stylish, colorful and flattering as well as great quality! It appears this was well-thought out too. The pieces fit comfortably & it's only the second 3-piece set I've felt kind of sexy in! I think it'll flatter most. Great for those who want to show skin without drawing attention to just one area such as the mid-section. It's also a set that may be better reserved for those comfortable showing so much.
Published:
Pros:
Fit.
Design.
Quality.
Beautiful & flattering.
Complete set.
Cons:
Stockings were tight, caused bulging.
The Frost set is a complete set (includes 4 items): one molded bra, matching g-string, lace garter belt and a pair of hose. The set is a light blue & black color combination with lace and mesh materials.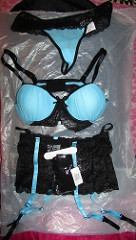 Made in Mexico.
Size: Small
Stockings

The hose are your typical, black stockings with a darker black band around the top. The band is tight. In fact, it causes bulging of my thighs, which hasn't happened with the hosiery I've worn before.
Due to that, I use another pair. There's a toe seam in the stockings & a darker black bit on the toe. I can say these are good, durable stockings though, considering how much tugging I done getting them on as well as stretching them over my thigh so tightly & not damaging.
The length of the stockings, from top to toe is 27".
Now that I told y'all about these causing bulging on my thighs due to them being made so small, I'll give measurements.
My thighs are 17" around at the widest part. If your's are smaller, these won't be so tight, if they're the same size as mine or larger, these will be.
Bra
The cups are blue with a blue mesh overlay, which is very ruched at the bottom of the cups.
The straps that run around the back are just blue mesh.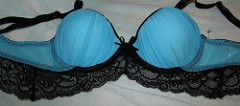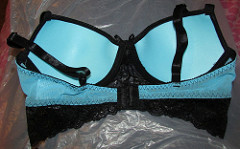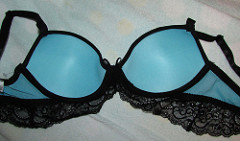 The cups are trimmed in black and lace trim runs under the entire bra, including the back. Right under the cups, the lace is 1" long, under the back, it's 2" long. There's a black, satin bow between cups.
There's underwire, but not padding or push-up (although EF's page lists this as a push-up.) The bra is well-molded, which can be a good thing or bad because molding can sometimes bulge on the side of your breast if the bra doesn't sit well. Does this make sense? It's happened to me a lot -- the molding will cause a bulge near the side of my breast rather than more centered, where my breasts actually sit on my chest.
Anyway, the point is, this bra fit pretty nicely & was actually a little flattering.
The bra has 3 rows hook & eye closures (3 sets of eyes & hooks), which was nice. I use the second or third (tightest) comfortably.
Material & Care
The material of the bra is 89% Nylon & 11% Elastane, besides decoration.
Hand-wash cold & separately. Don't wring or twist. Use low-temp iron if necessary. Line dry.
Bra's Measurements
Opened, laid flat & measured from one end to other: 26".
Cups: 5" long & a little over 6" wide.
Space between cups: 1".
I want to mention that storing the bra in a cramped drawer can warp the molded cups, which is near impossible to fix when that happens.
The hanger the set comes on might be handy, or storing the bra in a roomy spot/drawer. Unfortunately, my hanger was bent, then broke when I tried
bending it in shape.
Panties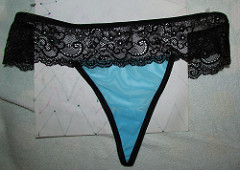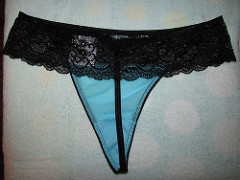 The front/crotch of the panties are the same blue mesh that's on the bra. There is a cotton crotch liner. The waist band is black elastic with soft, black lace attached.
The lace runs front-back and is 2 1/2" long. The g-string is black elastic.
Material
89% Nylon, 11% Elastane, besides lace & liner.
The panties are machine washable! Rejoice! Wash in warm water, separately & on gentle. Iron dry. Low-temp ironing if necessary (I wouldn't).
They're very breathable and comfortable, even the g-string didn't bug me. These can be worn under everyday clothing.
Panties' Measurements
Length from top of waist to bottom of crotch: 8".
Length of back (top to butt): 7".
Waist: 12 1/2".
The great thing about the panties is the waist -- it doesn't dig in & the lace strip just lays against the skin & is flattering.
Garter Belt
The belt is what takes this set from being a pretty, but somewhat plain bra/panty set to a sexy, beautiful set of lingerie.
The garter belt resembles a plain, black, lacey bandeau, only it's longer & has garters. The lace pattern is unique -- floral-y at the top and bottom, and the middle is various sized holes. I've taken photos with paper under the lace (as I did with the panties) & one with it on, so you can better see the lace design.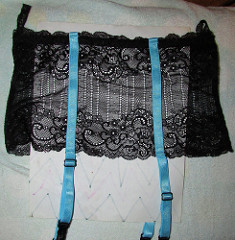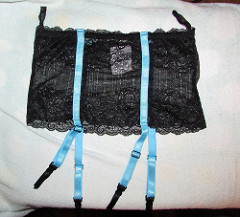 There's light-blue satin garter strips on either side, front and back of the belt. They're the sturdy, elastic strips like a bra strap or garter strap that give the set a lovely "pop of color."
There's ruched elastic at the top, which I expected to cause bulging, but didn't!
Size Chart:
Size
: 2-6
Cup:
A-B
Bust
: 32-34
Waist:
24-26
Hip
:30-32
Weight:
90-120
Experience
... The garters are adjustable, which is great because it means you can pull the waist band/garter belt as high up on the waist or as low as you like without the garters making the decision for you. The clasps have satin black strips over them.
The back of the clasps are plastic and the front are squishy material, which sometimes makes them easier to attach hose.
The adjusters on them are black, just as a bra adjusts. There are lace strips to hang the belt(shown in photo).
Belt's Measurements
:
Length: 7".
Width: 12".
Garters at longest adjustment: 8", at shortest: 4".
Belt's Material:
89%Nylon, 11% Elastane, besides the garters. Washing instructions are same as pantie's.
The lace & materials of the set are comfortable, soft, not easily snagged and great quality.
My Measurements
Bust: 34" size A on left, small C on right.
Jean/shorts/size: Zero
Weight: 93lbs
Height: 5 2"
Waist: 26" Lower waist. Where I'm a bit wider, the love handle area: 29"
Packaging
This comes on a hanger with a plastic garbage-bag ordeal over it. There's a tag with photos of someone wearing various lingerie, but it can be cut off.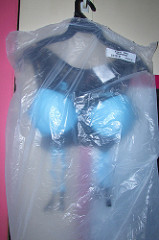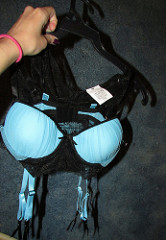 This content is the opinion of the submitting contributor and is not endorsed by EdenFantasys.com

Thank you for viewing
Midnight frost set
– bra and panty set review page!