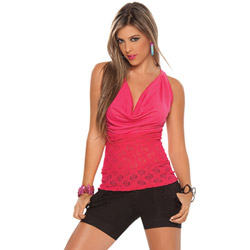 Simply sexy top
Tee
by Espiral
Might Work for Some
Didn't work for us, but will definitely work for others. Will not work for athletic or girls with broad shoulders, but will work fantastic for a more petite woman.
Published:
Pros:
Potential to be cute
Cons:
See-through, unfinished look
I want to start off and say this review is from a guy's point of view and get all the misconceptions out of the way early. I think it is a good looking shirt, but it will definitely not look good on just anybody. I got this for my wife and we've had minimal results to the point where she won't wear it. It just doesn't look good on her.

The whole top is 97% nylon and 3% elastan, and is very see-through. I'm amazed that the picture featured isn't see-through at all, it makes me wonder if there is a little photoshop involved. The bottom of the shirt is all pink lace and is to be expected see-through, but it's the actual material on the top that was surprising. Other than that, it was also very form fitting which would turn away most women. We got an XL and it definitely fit with no trouble, it was just in no way flattering. The way the front of the shirt hung down was a little awkward and didn't feel like it was "finished." This was not $29.99 of quality; $14.99 seems more along the lines of what it would be worth. The back of the shirt though is awesome, and I loved the ring that held the back together. The ring is made of what I can assume is metal, it isn't labeled. Alas, the back of the shirt can't overcome the way the front hung over. Also along the very top, the stitching looks very unfinished and rugged. The only way to overcome that is to make sure that it folds in when wearing it.

This shirt should work very well with a petite girl, but if she has broad shoulders and any kind of athletic build, skip it. This would also work very well on a girl who is very comfortable with her body shape and is ready to show off every element of her body because of how form fitting it truly is. Since it's see through, you can't be afraid to show off your body. Basically, if you won't wear a bikini, then do not order this shirt. My wife did suggest wearing a cammie underneath if one is insecure about the see-through part. Neither of us knew how that would look since the front hangs down so low and the back has the straps that come down low. That brings up another problem with the shirt. It's impossible to wear a bra without it showing, whether it is a strapless one or not, you're still going to see the bra. So women with a larger chest, like my wife, have a harder time wearing this shirt without a bra. All in all, we're not too impressed with the shirt, it definitely looks better in the picture than it does in real life.
Follow-up commentary
7 months after original review
Still haven't ever found a use for this shirt. It just doesn't work for my wife at all. It has never looked good and we don't expect it to at this point. Again, I'm sure it would work for a few people out there, just not any women that are a little more built than others.
This product was provided free of charge to the reviewer. This review is in compliance with the FTC guidelines.
Thank you for viewing
Simply sexy top
– tee review page!