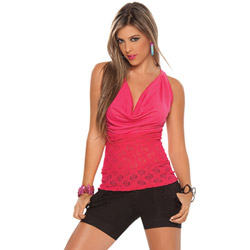 Simply sexy top
Tee
by Espiral
Simply sexy, gorgeous color, and a little snug!
The Simply Sexy Top by Espiral really is simply sexy. It's super feminine, with a pretty bright pink hue, and a gorgeous flower pattern on the lower half. This tank top can be worn alone, or layered with another tank top underneath if you're not comfortable in showing as much skin. This item can be dressed up, or dressed down, and perfect for many occasions. I truly feel Simply Sexy in this tank top!
Published:
Pros:
Pretty color, feminine, sexy, comfortable, soft fabric, good quality, looks good with layers.
Cons:
Small fit.
Use
Are you looking for a nice quality tank top, that is sexy, feminine, and a bright pretty color? Maybe you're looking for something that brings attention to the bust area, and offers the opportunity to show off your stomach? The Simply Sexy Top by
Espiral
, is that and more!
This little tank top is a bright pretty pink, that is sure to make any woman feel sexy and feminine. Pair this with jeans, jean shorts, a skirt, capri pants, or whatever you fancy. If you're someone that wants to wear this, but in a more modest way? Add a camisole underneath, to help cover a little bit skin. With a camisole underneath, you're able to wear a bra and it would be camouflaged. I have worn this to work with a black camisole underneath along with a cardigan, and it looked so pretty.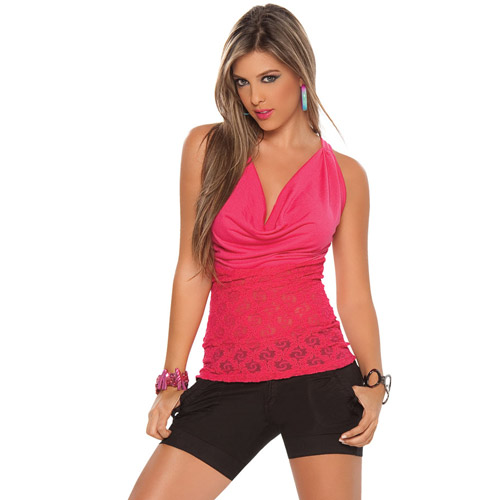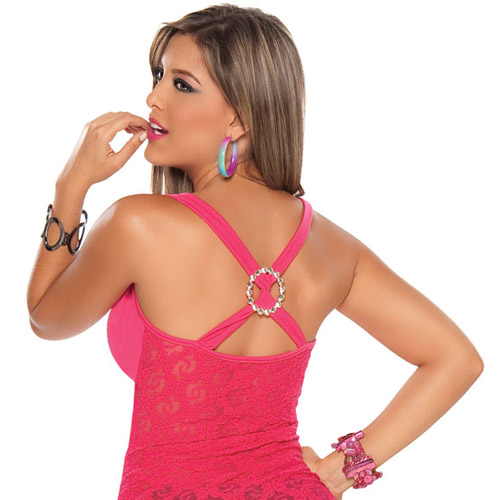 Design / Craftsmanship / Material / Size / Fit
There are two labels attached to the top, the first has the size (XL), and the second has "AM:PM", "by Espiral" written on it, along with the breakdown of fabrics: 65% polyester, and 35% viscose, which is rayon. What I find interesting, is that the cardboard tag states that the fabric breakdown is 97% nylon, and 3% elastan. Now which one is the correct one? The
Eden Fantasys description
states that it's nylon and spandex, which to me seems to be the most accurate. The feeling of the fabric is mostly like nylon, reminds me a bit of a cotton t-shirt type of material.
The tank top is a bright pink color, which Eden Fantasys states is a halter style top. Since the tank top doesn't tie behind your neck, or wrap around it, I wouldn't exactly call it a halter. The neck is a bit of a cowl neck, as it drapes and hangs nicely in the bust region. The bust has no added bra for support, as well as no way of tightening the straps or bust-line, however, the style of the tank top does offer a fair amount of support in the bust.
The tank top straps actually cross over each other at the back, and in the center there's a round "O" shaped silver decoration. It kind of reminds me of a belt buckle, as it's solid and the fabric is passing through it. It also reminds me of one of those items from the 80's that I used to use on my over-sized t-shirts, and it would clip and tie one side of the shirt.
The tank top is broken down into two portions(front): the top half is a solid pink fabric, and the bottom half is a flower lace pattern that shows off your skin. The solid pink portion measures 14.5" in length, but with the cowl neck falling properly on the body, measures at around 9" in length, as it's a deep neck and measurements depend on your bust. The flower lace pattern measures 12" in length.
The back of the tank top is made up of the flower lace pattern, so your whole back will be visible unless you're layering with a camisole. The only portion of the back that is solid pink, is just the strap portion. With that said, if you're not layering this with another tank top or camisole, you wouldn't be able to wear this with a bra, as it would be visible. The back portion of the tank top that is lace, measures 15" long. The straps can't be adjusted when it comes to the length, however, you're able to move the "O" decoration, to get the proper fit. The tank top also includes short little white straps, that are sewn into the sides at the top, to help if you want to hang up the garment. I personally just cut those off, as well as cut the original tags off, as they were visible when wearing.
Experience
Overall, I love this tank top! The color is so pretty, and is nice and feminine. I wish that Espiral offered this tank top in other colors, as I'd probably pick up a few more. I personally like to wear this layered with a black tank top, as I need to wear a bra, and I'm too shy to show off my stomach. If I had a flat stomach, I'd have no problem with showing it off!
The top is a bit of a small fit, so on me it was skin tight. If you're someone who doesn't mind wearing fitted clothing, then it would be fine. I normally wear a size 14, and it was the XL that I purchased. The sizing chart is fairly true to it's sizing, just keep in mind that if you don't want it fitted, get the next size up.
Espiral lingerie
Bust (in) Waist (in) Hip (in)
Small 34 25 34
Medium 36 27 36
Large 38 29 38
XLarge 40 31 40
Here are some personal photos of me wearing the tank top, with a black tank top layered under. A few of the photos are a little blurry, please forgive me for that.
* Some of the photo colors make the top look red, but it's not! The color is more of a watermelon, bright pink.
Care and Maintenance
This item you will want to wash by hand in cool water, and use a detergent that is mild. I personally like to use zero for my lingerie. You will also want this item to air dry. You can toss this shirt in the washer, but only with delicate clothing and on a delicate cycle, however, stay clear of the dryer, as it will shrink. I personally just hand-wash this top, to prevent any shrinking, as it's already a small fit.
Packaging
The top came wrapped in a clear plastic bag type of packaging. It had a clear little hanger, which looked like it's used for the purpose of showcasing the product on a store wall. The bag came sealed, so you could tell that the item was brand new, and the original cardboard tag with a model wearing the top was attached. The tag also includes the size, model number of the shirt, as well as washing instructions.
Follow-up commentary
10 days after original review
I love this tank top the most when it's layered with a black tank top. The color is so pretty, and perfect for the coming summer season. If you're looking for something that is comfortable and sexy, this top pairs nicely with shorts.
This product was provided at a discounted price in exchange for an unbiased review. This review is in compliance with the FTC guidelines.
Thank you for viewing
Simply sexy top
– tee review page!