Mini Dress Or Long Tank Top... YES!
If you are 90 - 140lbs, go for it... this spandex, seamless, ribbed mini dress (aka tank top) has a great price, is quality material and is hot, hot, hot! The extra ribbed texture, rhinestones and zipper trim accents, make this dress unique! If you feel it is too short for you, not a problem. It doubles as a long tank top... and a cute one too! You really can't even tell that is not what it is meant for!
Published:
Pros:
Comfortable
Cute as tank top!
Form fitting
Cons:
OS
This dress looked intriguing from when I first saw it on the product page, I couldn't wait to try it out. I noted it was one-size, so while it was shipping, I crossed my fingers that it would fit!
Packaging:
The Ribbed Mini Dress with Rhinestones (Style #86392) by Leg Avenue came in a small cardboard box. The black and pink striped (like Victoria Secret) box had a picture of a model displaying the dress as well as information about the product. The dress was folded nicely inside the box in a plastic wrap. The packaging was nice, but I will not be using it again for storage. It went straight into the recycle bin.
The dress is made in China
Contents: Dress only
Care/ Maintenance:
The care instructions for this item are: hand wash cold only, separate from other items. Use only non chlorine bleach if needed. Also, drip dry and don't iron. I washed this item in the sink with mild soap, and it maintained its condition.
This dress can be easily stored since it is so small. You can fold it and put in in a dresser drawer or hang if you choose.
Design/Shape/Size:
This item comes in the colors: Black
It is available in the sizes: OS - One Size
I am typically a size small-medium. I wear size 4-6 in dresses and jeans. I have a 34D bust and weigh 125lbs. That being said, I am in the mid to high end level for most one size items. On the product box, it says it fits bodies 90-160lbs. IMHO, you COULD fit into it if you were 160lbs, but it probably would be skin tight and unflattering. Personally, I would say fits up to 140 comfortably.
The dress looked tiny when laid out flat, but it has A LOT of give and stretch, thanks to the spandex material. It fit as expected - hugs curves, skin tight and short.
The dress has a lot of texture to it. From the ribbing, to the zipper to the rhinestones. It makes this dress stand out from your typical black dress! The ribbed accents go from under the bust to the end of the skirt. The skirt goes straight down. The total length is 30" from the top to the hem. The bottom hem is about one inch, and gives it a finished look.
This item was a little difficult to put on, since it is so small and skin tight. I had to tug while putting it over my shoulders.
The bust portion has a flowery design underneath the rhinestones. You couldn't tell this detail from the pictures. There are two sizes of rhinestones that cover the upper portion of the bust area. They are placed in a curve design. I thought this was going to be more tacky than it actually turned out to be. The shoulder straps are not adjustable. They are similar to thin strapped tank tops. They are very strechy.
The cleavage portion can be adjusted with the center zipper portion. The plastic zipper can be zipped completely open, or further up to your liking and sexiness. This is nice for if you want to leave the house in this dress.
Difference in zipper length/cleavage: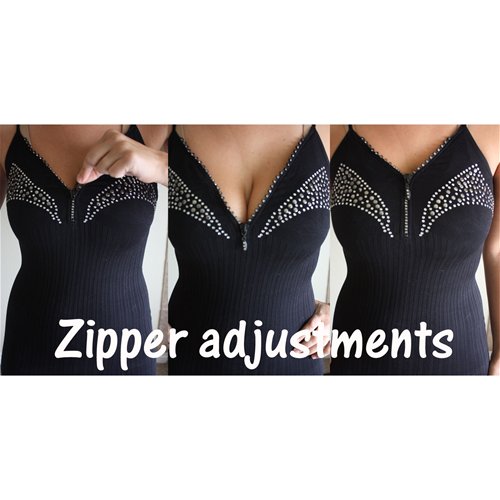 Details of the rhinestone and zipper: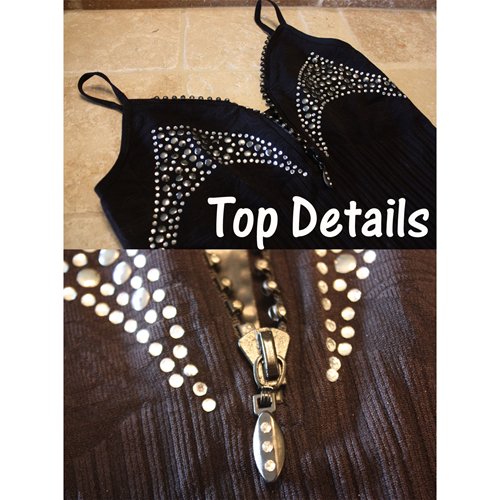 Material/Texture:
Material: 90% Nylon, 10% Spandex
This dress feels like a few of the tank tops I have. Some of my favorite tops, might I add. It is skin tight due to the spandex and very comfortable when wearing. There is no seam on the dress, which makes it flattering and comfy.
The fabric is thick and not very breathable. The thick material makes it feels less like lingerie or bedroom wear. The skirt portion of the dress is ribbed, so the fabric feels that much thicker. It reminds me of tights. The top portion is a little less thick. On me, the fabric is NOT see-through, but the more you stretch it, the more you might be able to see through it.
The dress feels like it is made well and can accomidate stretching. The seams are sturdy. The zipper is a plastic zipper that feels durable. The only thing I worry about is the rhinestones falling off eventually. I am hoping that if I hand-wash only, I won't have an issue with this.
This blend of material can be either very flattering (small tummy, large boobs or butt) or very dissapointing (shows all flaws). If you wear it as a tank top, you wil have less of an issue with this becuase you can sort of bunch up or rusch the sides a bit.
Experience
Personal Experience :
I found that I liked wearing this dress more as a tank top shirt. I might wear it in the bedroom as a dress too, but if I wanted to wear it out of the house, it is a perfectly exceptable tank top shirt.
I love this dress/shirt. All of the details and the texture make this item a winner! It is tight, but looks good on! I am going to be wearing it a lot this summer as a tank top. It is great with a pair of jeans for a night on the town. It does work in the bedroom too, but I prefer it more for everyday wear. It appeals less to me in the bedroom because of the high-quality, thick material. (Which is a good thing - but make it less lingerie skimpy!)
Conclusion: ★★★★★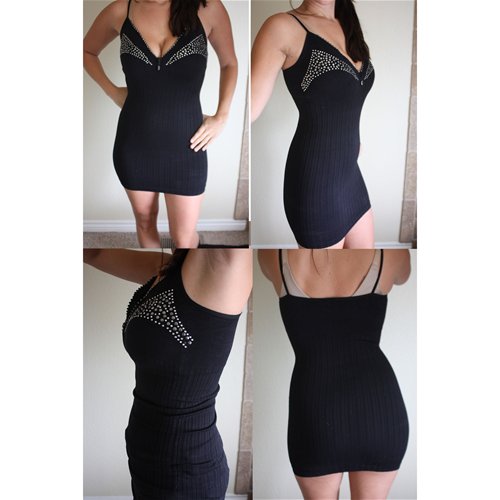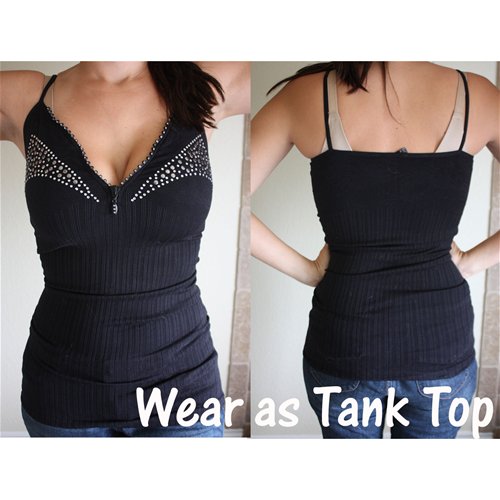 Follow-up commentary
1 day after original review
Bad news bears! (I know it has only been a day since writing the review but...) I found two of the sequences on my couch today... they are falling off already and it is only my third time wearing this! I've done nothing crazy, just the review and wore it around the house... and just lightly washed it in the sink.

I still do like it, but I will give you another update later on to see if that changes. If all the sequences start coming off, I will FOR SURE change my status. :( So sad!
This product was provided free of charge to the reviewer. This review is in compliance with the FTC guidelines.

Thank you for viewing
Ribbed mini dress with rhinestones
review page!