Minor Flaws But Major Win
Not flawless, but incredibly sexy nonetheless. You won't be itching, adjusting, or shoving this dress in your bottom drawer. It's going to feel good, and it's going to look good. So, curvy girls, take notice!
Published:
Pros:
+I don't feel squeezed into this dress despite the fact that it is a tube dress.
Cons:
-Still not available for women of all sizes.
What I LOVE
+This Seven 'til Midnight dress is a steal at just $16.99.
+For all of those (myself included) complaining about One Size, this comes in both One Size and One Size Queen.
+It covers all my naughty spots fairly well, and I don't find myself with near as many nip slips as I imagined I would.
+It's actually a dress and not a t-shirt. I'm 5 ft 5, and it comes to about 4 or 5 inches above my knee, which still covers my HUGE butt amazingly well.
+SO comfy. It's not itchy, and I've popped it into my laundry in a mesh lingerie bag with no problem (although it is recommended to hand wash and line dry).
What I'm Not A Fan Of
-It does take a bit of maneuvering to put this dress on. I had to look at the front of the box to align everything correctly the first couple of times. Don't cut off the tag, or good luck figuring out where everything is meant to go!
-No room for bra or underwear because they will peak through the straps. Then again, I normally wear grannie panties, so this won't feel so weird for everyone else!
-Complicated Sizing (explained in the next section).
-It is in no way fit for public.
Who Will It Fit?
Here is Seven 'til Midnight's sizing chart:
Cup Bust Waist Hip
Small 2 - 6 A - B 32 - 34 24 - 26 34 - 36
Medium 6 - 10 B - C 34 - 36 26 - 28 36 - 38
Large 10 - 14 C - D 36 - 38 28 - 30 38 - 40
XLarge 14 - 16 D - DD 38 - 40 30 - 32 40 - 42
Sm/Med 2 - 8 A - B 32 - 36 24 - 28 34 - 38
Med/Large 8 - 14 C - D 36 - 38 28 - 30 38 - 40
1X/2X 16 - 18 D - DD 40 - 46 36 - 38 42 - 48
3X/4X 20 - 22 D - DD 46 - 50 40 - 44 50 - 56
One Size 2 - 14 A - D 32 - 38 24 - 32 34 - 40
One Size Plus 16 - 22 C - DD 40 - 50 36 - 44 42 - 56
The box that this tube dress comes in says One Size Queen, which if you ask me, is more of an XL/1X-2X size. I normally wear a Large or XL, and this dress fits me fantastically well. It still has some room to stretch for the next size up, but I don't see it fitting anyone above a 1-2X. It basically would have no chance of covering your fun spots. If you are on the smaller size, the One Size of this dress will most likely be more flattering for you. I have D's for breasts, and I find that this is about the biggest that this dress will cover unless you have small nipples. Basically, it can stretch to accommodate larger sizes, but then the slits will show your nips.
A Few Pics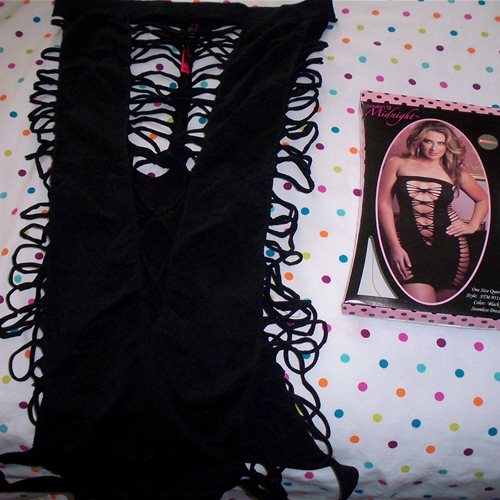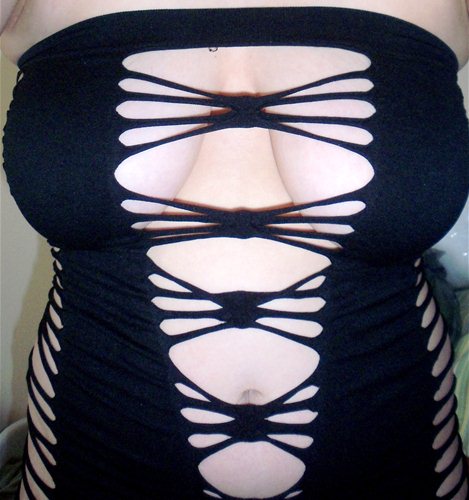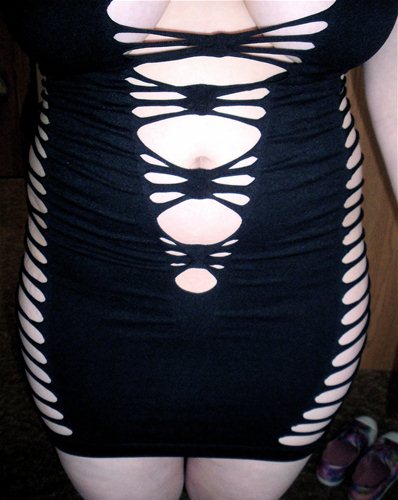 Experience
Personally, I'm a bit self conscious about my body post-child. I have some stretch marks, my stomach isn't flat, and my legs are like dented jello. The fact that I can feel comfortable in this piece is all I need to be able to recommend it to other women who are not in perfect shape. Sure, I can see that there are some minor imperfections. From looking at my photos as well as some others, I see that your sides will not look perfectly smooth in this dress. If you have love handles, they won't disappear. However, I doubt anyone will be horrified by my pictures, which is something I can't say for all of the lingerie that I've worn.
Follow-up commentary
2 months after original review
Can I tell you that every time I've worn this dress, it gets the same level of excitement in response as it did the 1st time? I also recently purchased an elliptical and through the weight fluctuations, this dress continually fits and flatters me. If something would happen to this dress, I would immediately replace it because lingerie that makes you feel good about yourself (regardless of size) is hard to come by.
This content is the opinion of the submitting contributor and is not endorsed by EdenFantasys.com

Thank you for viewing
Seductress tube dress
– mini dress review page!