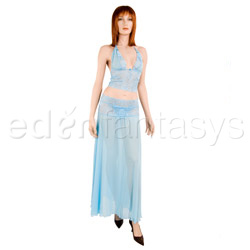 Blue mist bralette with long skirt and g-string
Camisole set
by Fantasy Lingerie
Misty Blue Lingerie
It's slinky and sexy and oh so comfortable! And best of all, you can throw it in both the washer and the dryer and never have to worry about wrinkling.
Published:
Pros:
Fits well and is easy to care for.
Cons:
None.
The Blue Mist Bralette set by Fantasy Lingerie includes a form-fitting halter top, a long skirt that is split up both sides, and a matching G-string. The skirt slips on easily and is held up by the stretch lace panel that is across the hips, and the top pulls over your head and features spaghetti straps to tie behind the neck. It truly couldn't be easier to put on or take off, and is comfortable enough that it almost feels like you have nothing on!

WORKMANSHIP:
As is typical with the Fantasy Lingerie line, the workmanship on the set is outstanding. All of the seams are carefully sewn with no stray threads or loose seams, and everything, including the tiny decorative flowers on the top, held tight through multiple washings. The skirt's hemline is also serger sewn, in a way that creates a stylish fluted edge that adds to the graceful appearance of the set.

MATERIAL:
The Blue Mist Bralette set is made of 100% polyester fabric that is extremely finely woven and couldn't be softer. The solid parts are sheer and silky, with just enough weight to be durable and glide with your movements. The floral-design lace is stretchy so it form-fits to your body, but isn't the least bit scratchy or uncomfortable. The fabric never wrinkles, so even if you just throw it in a drawer it always looks great.

SIZING:
The sizing appears to run accurate for this lingerie set, but there is some leeway for tiny women too. Fantasy Lingerie shows size Small as being for women who wear clothing sizes 6-8, have a 35-37" bust. I only wear a size 2-4 in clothing and have roughly a 33" bust measurement, but while the outfit was slightly loose, the stretchy lace kept it from falling off my hips and the top fit fine. I'm positive that it would fit the charted sizes very well.

FIT:
The skirt rides low on the hips, designed to let your buttocks and pelvic area show through the stretch lace panel, and while the lace is tight enough to keep the skirt from falling down, it almost feels as if you have nothing on. For me, the skirt was about 3" too long (I'm 5'2"), but keep remember that I'm technically too little for their size Small so I'm sure that had something to do with it. The extra length didn't matter though, because the skirt moves and flows when you walk so I didn't wind up stepping on it or anything.

The top's hemline rides above the belly button, just as shown in the picture, and the spaghetti straps are long enough that women of varying torso lengths or cup sizes could achieve a comfortable fit. However, the fabric is too lightweight to provide any support for very large breasts so that's something that ladies with a larger cup size will want to consider.

I will say that between the form-fitting design and the see-through fabrics, this lingerie hides *nothing*, so women who are more self conscious about their bodies might not feel comfortable wearing it.

CARE:
The Blue Mist Bralette set is super easy to take care of; machine wash in warm water (gentle cycle) and tumble dry on low.
Experience
Michele says:
This isn't the naughtiest lingerie I own, but it is definitely the most comfortable so far. I could literally wear this thing all day if it wasn't so sheer. It's just enough fabric to keep me from getting chilled, but by the same token never restricts or gets hot, and I love how the skirt feels when it brushes against my legs.

One thing to note is that both the top and the skirt have twin white ribbons sewn on the insides so that you can hang this set up if you want, but those ribbons are visible through the outfit when worn. Since I store mine in a drawer and don't need them, I just snipped them out with no problems.

Alan says:
Usually I prefer seeing her in short styles of lingerie, but a guy can't complain about his woman walking around in something that's this see-through. There's something about the design that reminds me of a harem outfit, which turns me on, and the split sides on the skirt are a bonus. It's hott to be able to push the back panel aside and make love doggy style while still having the visual of that lace-clad skin.
This product was provided free of charge to the reviewer. This review is in compliance with the FTC guidelines.
Thank you for viewing
Blue mist bralette with long skirt and g-string
– camisole set review page!