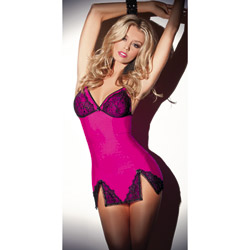 Bad romance chemise
Chemise
by Escante
More like a GOOD romance...;)
Lovely, comfy, and sexy all rolled into one. A picture-perfect chemise for just about anyone. Somewhat stretchy, but for maximum comfort, buy your regular size!
Published:
Pros:
sexy, comfortable, exactly as pictured
Cons:
bunches/gathers, price, may accentuate tummy if you have one
After being rather antsy and tracking this package nonstop for the last few days, it's finally here! I've always LOVED the combination of hot pink and black, I have a soft spot for black lace, and I love the way chemises fit - so it was only natural that I wanted this badly the second it appeared here on Eden.
Packaging:
The packaging was less than stellar, but that doesn't make a big difference to me at all. It came on a basic black hanger with a bag over it, like so: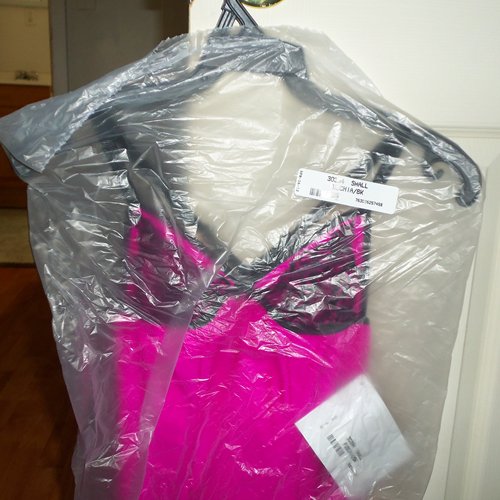 Appearance:
This chemise is the exact same shade of hot pink pictured, with gorgeous black lace accents around the cups and the bottom. There are several slits, as you can see in the stock photos, which help to make this look more sexy than just your basic tank top-looking chemise. The attached tag has the size/color listed, and the same stock photos of the entire 'Bad Romance' collection from EF. Both the tag and the thong are attached with a little plastic thingamajig. I tore mine off in the heat of the moment, and lucky for me, I didn't cause any holes.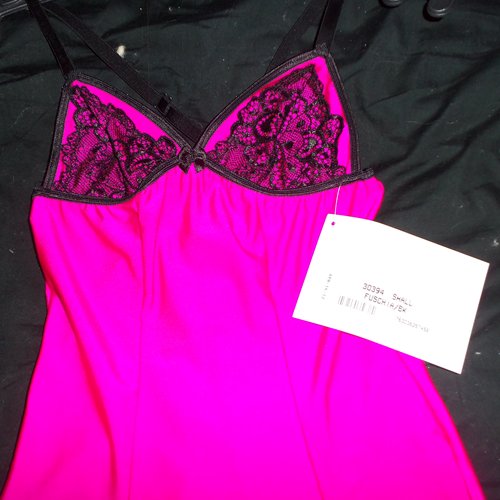 Material & Care:
Both the chemise and thong it comes with are made of 90% Nylon and 10% Elastane. This chemise has quite a bit of give to it, and the care instructions are simple: machine wash on the gentle cycle, line dry (no wringing or twisting) and iron on LOW if necessary. I highly doubt ironing will ever be needed, as it doesn't seem very plausible that this will ever get wrinkled. I didn't find any loose or unfinished threads, and the quality of this piece seems pretty high. The price seems a little high, too, but with the 30% discount for buyout, it wasn't bad at all. Totally worth every penny for such a beautiful item.
Size:
I usually wear a Medium, maybe a large if it's something with molded cups (but then I have to deal with the rest being too big). I bought this in a size small, being that the medium was out of stock and I'm incredibly impatient. I *almost* wish I had waited and gotten a medium instead, but I'm trying to lose a little bit of weight and this chemise is super stretchy. I have no real issues with the way the small fits, and I'm certainly not about to exchange it and wait for another one...not when I could have this gorgeous this hanging in my closet right now!
The cups are a little on the small side, but not enough for it to be noticeable or uncomfortable. Since this has no underwire, it's a non-issue that the designated cup space doesn't quite cover my entire chest. With a bra on, that problem's fixed. (For reference, I wear a 34D.)
The only thing I could see as a potential issue is the clinginess of the fabric. If you have a tummy, it might accentuate it. I don't carry much of my weight in my stomach, it's fairly flat (unlike that booty!), so for me that wasn't a problem - but just be aware!
Without a bra: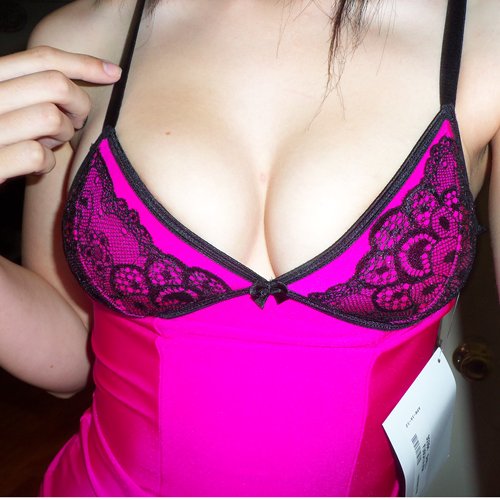 With a bra: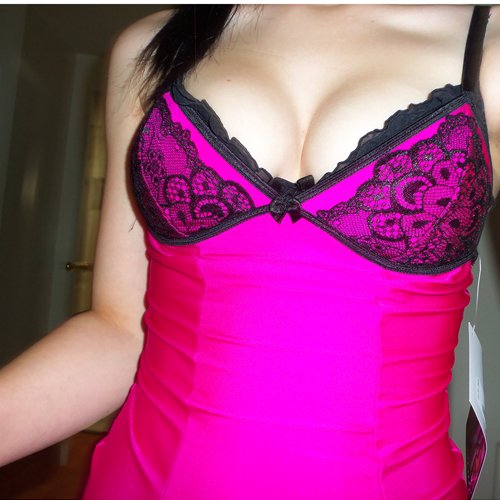 The crossed back straps' lengths are adjustable, though there's no way to get them to not cross without altering the garment. This helps, if anything, to cover up the back of my bra.
The thong is just a basic thong, all pink with black straps/strings. It would have been prettier if it had had a patch of black lace on the front to match the chemise, but again, that's not a big enough deal for me to complain. The thong fits comfortably, though it's a little on the short side, so I have to pull it down a little lower in the very front than I usually would wear my undies. It still fits comfortably this way.
The chemise is, surprisingly (since I'm tall), the same length on me as it is on the model.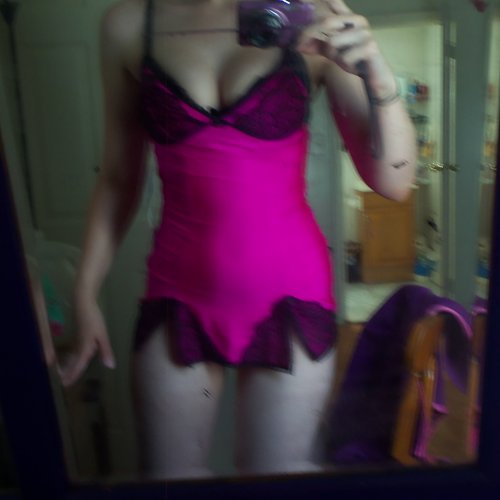 Overall, I love everything about this chemise, and I'm so glad it arrived this morning. I really don't think I could have lived without it another day!
Follow-up commentary
11 days after original review
I still love this, even if my boyfriend isn't a big fan. Perfect quality, beautiful, and comfortable - what more could you ask for, really?!?
This product was provided at a discounted price in exchange for an unbiased review. This review is in compliance with the FTC guidelines.
Thank you for viewing
Bad romance chemise
review page!