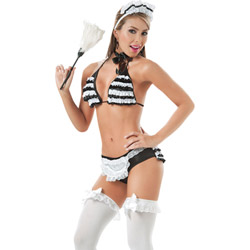 Daring diva maid
Costume by Espiral
More "Sexy Referee" Than "French Maid"
While this is a nice set the material lets it down a lot. It is made largely from a cheaper material despite carrying a high enough price tag, I would expect stockings and a duster included for this price. While it looks really nice on and photographs well it does not scream "French Maid" to me, the frills create a cute look but if money is a little tight and you are looking for something really good quality, then I think you could do better for the price.
Published:
Pros:
Photographs well, Excess material means size isn't an issue.
Cons:
Cheap material, Apron lace is scratchy to wear, Collar is really just a piece of ribbon
Packaging-
When I found out I would be reviewing the Daring Diva Maid outfit from Espiral Lingerie I was really excited. We haven't bought too much lingerie from online so I was curious to see how it would compare with the pictures online as sometimes these can be a little misleading. It arrives in a plastic packet with a cardboard sleeve inside that contains the set. The front cover shows the outfit on and the back gives some material information as well as cleaning instructions.
Material/Care-
The box lists that the set is 97% Nylon and 3% Elastane. While nylon is a decent material it is worth pointing out that only the bra is made from nylon. The rest of the pieces are made largely from polyester. Three of the pieces come with rough, cheap labels that are not easily removed.
Each piece is made from the following.
Bra= 97% Nylon & 3% Elastane
Pants= 93% Polyester & 7% Elastane
Apron= 100% Polyester
Collar= Unknown satin-like material
Headband= Plastic & Polyester
In terms of washing and drying you should wash it separately on a delicate setting or better yet, hand wash it. You should allow it to drip dry. If you absolutely must iron it then do so at the lowest setting you can but ideally it should be avoided.
Experience/Wear-
The set is available in various sizes and we opted for size small. As I mentioned there are five pieces in this set. From head to toe they are as follows.
Headband-
The headband part of the set is quite pretty. It is made from plastic with little points lining the underside to help grip the hair better and keep it from slipping. The top is adorned with lace in a nice pattern with a single thin length of black ribbon running through it for decoration.
Collar-
The "Collar" portion of this outfit hardly qualifies as a separate piece. It consists of a 40 inch length of unadorned black satin ribbon. There is nothing done to it in terms of decoration such as a pattern or a bow or anything. This item does not add to the overall outfit as it looks like something from an old sewing box.
Bra-
This is a triangle cut, bikini style top. It ties behind the neck (halter neck style) and ties at the back. The string that goes around the back is over 50 inches in length so it will fit most chest sizes. My partner is a 34D and the cups provide good coverage, especially for a size small. They do not however provide any support. The black and white frills on the front look really nice and as described by my partner it is very comfortable to wear.
Apron-
The apron portion of the set looks really pretty. It is white lace trim with a solid white panel in the middle. Unfortunately it is made from a cheaper material and this makes it quite scratchy and uncomfortable against the skin. It measures in at around 60 inches so size shouldn't be an issue.
Pants-
The pants are quite cute. They have the same black and white frills as the bra on the back and the front is shiny black. My partner is a UK size 8 (US size 6) and they fit her but not tightly. They could easily fit a couple of sizes up. They do look really good on though.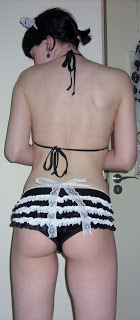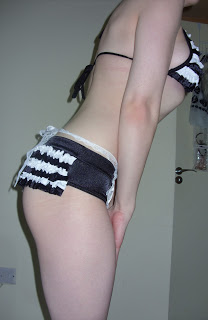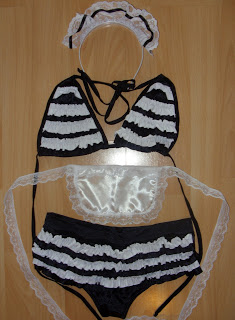 This product was provided free of charge to the reviewer. This review is in compliance with the FTC guidelines.

Thank you for viewing
Daring diva maid
– costume review page!