My Cherry Red Crotchless First!
These panties are crotchless, fit like a sexy lace glove and have two sweet bows front and back. They won't ride up your bum or gap at the crotch. They allow easy access to everything you want to share with your partner and will have you moving like a sexy vixen for your partner. The lace frames your cheeks and makes even flat or large bums look super sexy. All this and they come in 1-2X and 3-4X! What's not to love?
Published:
Pros:
Fit well, feel soft and sexy, lovely lace
Cons:
None!
I had never owned a pair of crotchless panties, so I decided to try out the Red BoyShort with Bow from DreamGirl. Hot N Sexy Texas Mama had helped me see that boyshorts can make a lovely, large bum look sexy as hell! So for the first time since I was in HighSchool I owned a pair of panties that weren't cotton 'comfortable' panties. I expected to feel self conscious and to be uncomfortable, but nothing could be further from the truth! These panties were soft, fit around my left over baby belly rather than rolling down or resting under it, and the open crotch was hidden when I stood. I turned around and around in front of the mirror for a good 15 minutes really seeing my ass for the first time. My face hurt from smiling and I was excited to show my guys, not what I thought I would feel at all.
I normally wear a size 18 woman's petite pants fairly snugly and a size 20 pants loosely. So I am about a size 19 petite. I chose the 1-2X size based on the fact that I like my panties to fit a bit snugly. I am very glad I did because the 3-4X would have fallen off of me. This was another shock since most of my measurements would seem to suggest that I should be wearing the 3-4X. I would advise ladies that are close the the low end of the sizing to choose the lower size since these panties are roomy and stretchy.
The panties don't rest low on the hips or creep up the crack of the bum uncomfortably like a G string or a thong can. They sit at my natural waist and camouflage my baby belly roll. The front of the panties is a wide, soft lace panel that drapes absolutely perfectly around the belly. The back is exactly the same and allows a cheeky look at the bum that had Sigel smiling more lasciviously than he ever did when I would show him the sexy panties I had bought in HighSchool!
These panties have a sweet little black bow in the center of the front waistband and a larger more noticeable bow in the center of the back waistband.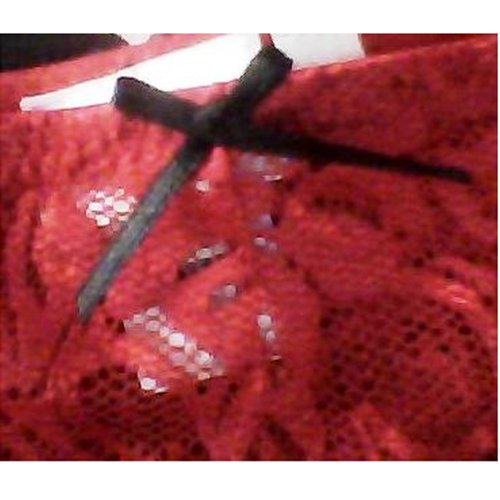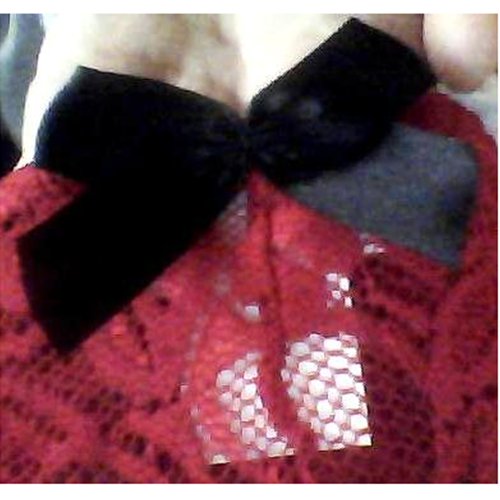 The lace has a floral motif and is 90% nylon and 10% spandex making them super comfortable and form fitting. The elastic of the waistband is strong and sewn very evenly and firmly to the lace. There are no loose threads or knots to rub the wearer's skin.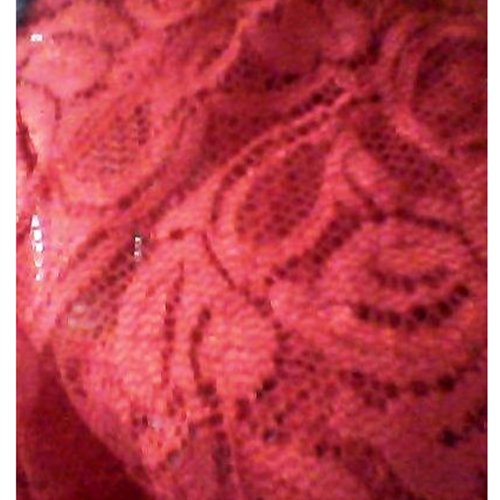 The crotch of the panty is two strips of the same lovely floral lace looped and sewn, firmly, to the waist band. This allows the crotch to remain 'decent' while you are standing but when you lay down they frame the vulva very sexily. They do not interfere with any type of sex be it vaginal or anal, oral or penetrative. They are soft enough that they don't rub or irritate sensitive genital skin even with vigorous thrusting. The only real drawback is the lack of a cotton crotch but since I don't wear these except when I am dressing for the guys it's not a real big issue. If you do decide to wear them under your clothes they don't have uncomfortably seams and you won't have awful panty lines.
It is suggested that you wash all lingerie either by hand or in a lingerie bag and these hold up very well if treated with a bit of care. The amazing part was the fact that they stood up to a washing in a normal load of clothes and being run through the dryer. Still I would recommend either hand washing and drip drying to prolong the useful life of the panty.
Experience
OK, I will admit that I have MAJOR body image problems. I know, I know, how the hell could a woman with 2 committed partners and a few playmates think she has less than a sexy body? Well, folks it does happen. So, anyway, I never bothered with lingerie. My guys, bless their kind little hearts, allowed me to believe they really weren't interested in lingerie so that I wouldn't feel bad.
What this means is I never bought any lingerie, sexy panties or anything that could even be considered a costume, I was too fat and wouldn't look good in them!

Then some very brave ladies began to assert that lingerie wasn't about making a man's eyes pop out but was for a lady to feel sexy. They showed their bodies and I realized that they DID look sexy...maybe I could too.
I bought some lingerie with the 30% discount so that I HAD to put them on and actually try them out. I recommend ladies who are shy try this approach because I bought some earlier and lost out on the chance to return them when I realized they were too big for me!

All in all I recommend something sexy for every woman, even if it's something you wear covered up you will move differently and have this aura of sexuality that is so damn attractive to everyone you encounter. It is so worth it!

When I tried on these panties for Sigel I paired it with a black lace chemise that I had purchased many years ago. He smiled, his eyes lit up, and he sighed happily that it was good to see me feeling sexy again. It was then that he told me that he had secretly been hoping that EF would carry lingerie in plus sizes some day since he wasn't all that interested in toys but he loved lingerie!
Follow-up commentary
9 months after original review
These are still one of my favorite pieces of lingerie. The color has held up to frequent washing and the fabric is free of pulls and stray strings. The elastic is still strong and hasn't begun to give way.
I still recommend these as a comfortable alternative to the thong and G string type panties that are common with lingerie sets.
This product was provided at a discounted price in exchange for an unbiased review. This review is in compliance with the FTC guidelines.

Thank you for viewing
Red boyshort with bow
– crotchless panty review page!