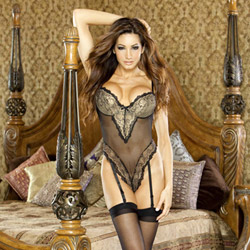 Absolute treasure teddy
Teddy by Fantasy Lingerie
My First Teddy
All in all, I am not 100% pleased with the piece but it really is gorgeous and I can at least say that my fiancé loved it on me. So I can say that my first Teddy experience wasn't a horrible experience, it went fairly well.
Published:
Pros:
Gorgeous looking teddy, snap crotch area, garters, can be worn comfortably under clothes.
Cons:
Top isn't as gold as the picture, leg holes may be too high for some.
I chose to review this product because I wanted to try something new in lingerie. I had never tried a Teddy before and I honestly thought that I never ever would. I don't usually find them appealing, they just look like bathing suits. Though, when I saw this one - I was drawn to it. The antique gold looking top with the gold embroidery and scalloped edge lace along the bra cups; the sexy sheer black mesh with the scalloped lace edging along the panty line. This Teddy looks so classy and sophisticated to me - that is why I decided to try it on for myself. I also ordered some sexy
black backseam stockings
into the mix.
When I received my package in the mail, I was thrilled! I couldn't wait to try on the new lingerie. When I opened the package I was thrilled with the product though it didn't look nearly as gorgeous in person as it did in the image on the website. The antique gold cups on top of the teddy are actually just sheer black mesh with gold colored mesh layered behind it. It's not the brilliant gold shown in the picture but just a sheer fabric that your flesh tone shows through. The gold thread accents are gorgeous because they are embroidered on with a metallic gold tinsel-like thread. There is a cute little black bow between the bow cups to accent – though I feel that it was a bit unnecessary with all of the embroidery on it. The teddy does come equipped with garters on it already to wear with stockings. The bra cups are lined with under-wire, that is pretty strong but flexible. The back of the Teddy is plain black mesh and it has a thong back.
The Teddy is made of nylon fabric that also stretches along the body. Upon closer examination I noticed that the fabric on the bra cups and lace along the crotch line have minimal stretch to them. When I laid the lingerie flat, I measured each sections:
Top: 12 inches
Bra cups: 5 inches each
Waist: 11 inches
Crotch: 4 inches
Garter: 6 inches (minimum length) – 10 inches (maximum length)
I myself, weigh 138 pounds and have a pear shaped type body. I'm smaller up top and wider on the bottom (I have the JLo tush thing going on). My measurements are:
Chest: 31 inches
Bust: 36 inches (I am a 36C)
Waist: 28 ½ inches
Hips: 39 ½ inches
I ordered a size large and everything seemed to fit correctly the way it should.
Experience
The first time I decided to wear the Teddy as a surprise for my fiancé. I wore it under my clothes, but I was nervous to do so because I wasn't thrilled with the idea that I would have to take the whole thing off just to use the restroom. That is when I noticed that it has a snap crotch, so you can unsnap it to use the restroom or if you want to leave the teddy on during love making. The Teddy is very comfortable but one thing I noticed was that if you shorten the bra straps it kind of pulls on the crotch area when you stand up straight which isn't too comfortable. So unfortunately, this set may not be perfect for women with longer torsos. Another thing that bothered me was that when I hooked the garters to the stockings, the lace around the abdomen seemed to stick up which wasn't the most attractive looking thing.

Another thing is, it depends on what parts of your body that you prefer to have covered on whether or not you may feel sexy in it. The leg openings for this Teddy are very early 90's style to me, when they had the really high cut bikini bottoms. Though this is even worse, the top of the leg holes sit exactly on top of my hips right where my waist ends. So it shows off all of my hips and thighs, which I wasn't 100% thrilled about because I need to work on those areas. It took a while to get used to showing off areas I don't normally. I also had to make sure I was trimmed more along the bikini area because it showed off more. If you prefer to have your stomach covered, this does the job and I felt that it definitely flattered my stomach area.

I didn't feel that the bra cups were the most supportive things in the world and the bra cups aren't fully lined – so if you where this under your close you may want to watch out because your nipples may show. The garters worked great with the stockings that I chose to wear them with, they held in and didn't come undone. Though I did have to struggle with the back garters a bit because they wouldn't stay at first.
I washed my Teddy in the washing machine in cold water, on the delicate cycle and dried it on a low heat delicate setting in the dryer. Afterwards I took it out and let it hang dry the rest of the way. That seemed to work fine because I didn't notice any damage to it anytime I washed it. Though for lingerie, they usually recommend that you hand wash with mild detergent and then hang dry it. So it all depends on your preference.
This product was provided free of charge to the reviewer. This review is in compliance with the FTC guidelines.

Thank you for viewing
Absolute treasure teddy
review page!