My nips are showing (and this ain't cupless)
This piece is very cute, flattering, and totally sexy. But, if you are much bigger than a C cup you may not like the fit of the cups...though pasties could be a solution to that!
Published:
Pros:
True to size, flattering, retro look, removable straps, metal parts on garters, thong
Cons:
Cups are barely a C, garters are not detachable, flower is gaudy
This is listed as a bustier, garter, and thong but I find that to be a bit misleading. This is a thong and "bustier" that has 4 garters attached to it. I don't really consider this to be a bustier. If you look up the definition of It is more of a chemise, or even an elaborate camisole. It has no boning, but it does have some ruching and panels to make it flattering. It comes on a black plastic Dreamgirl hanger, in a plastic bag like so: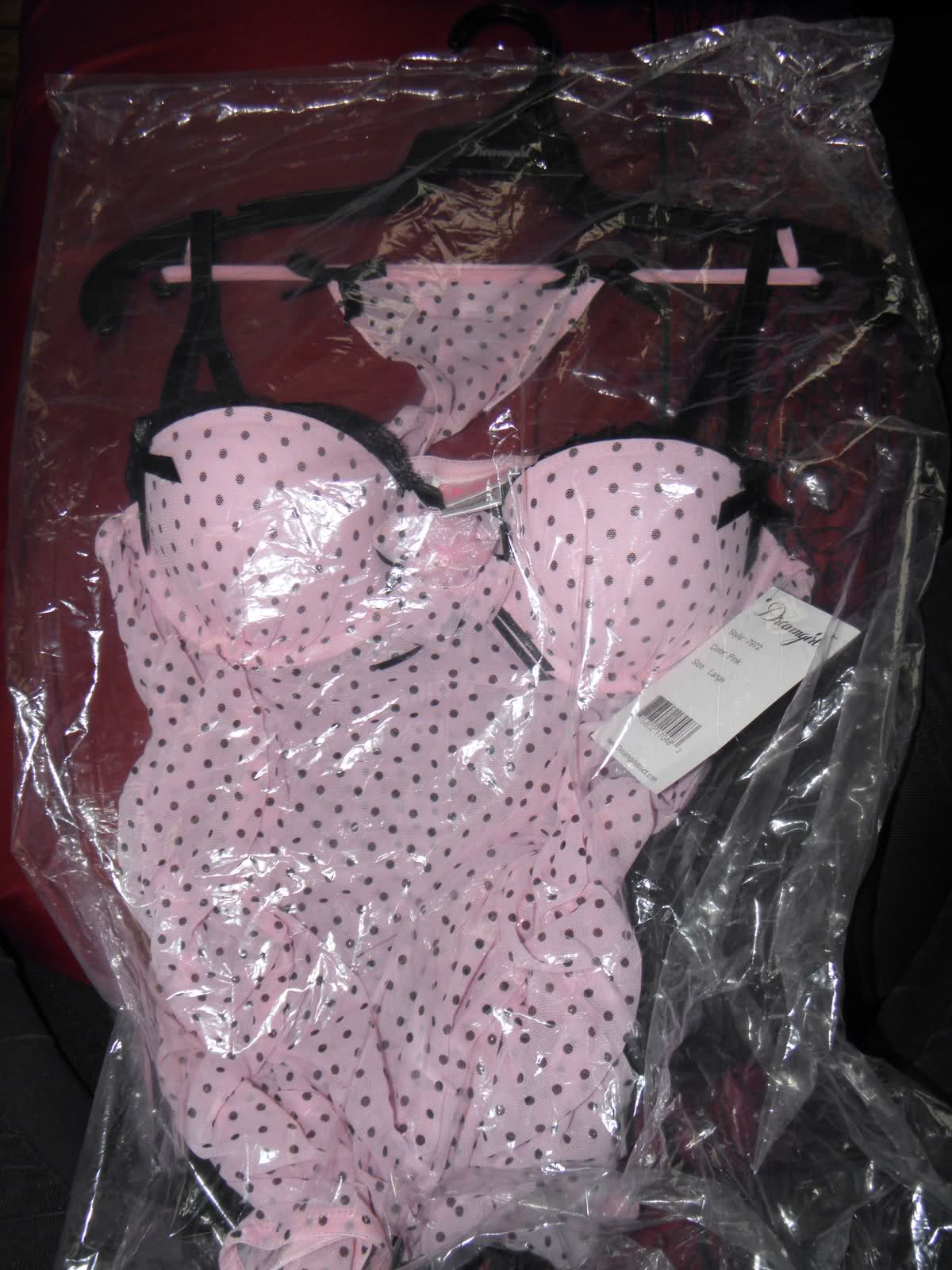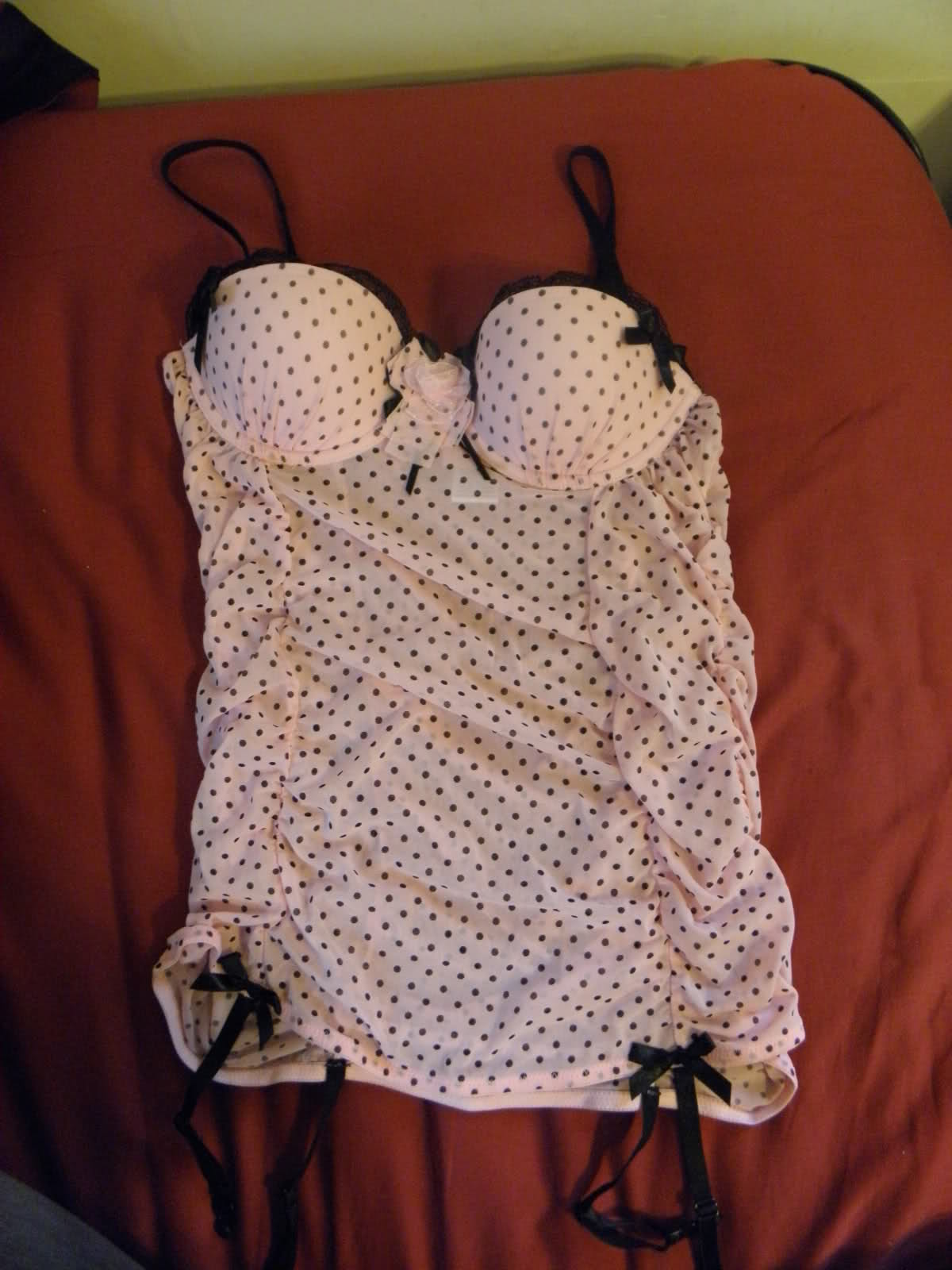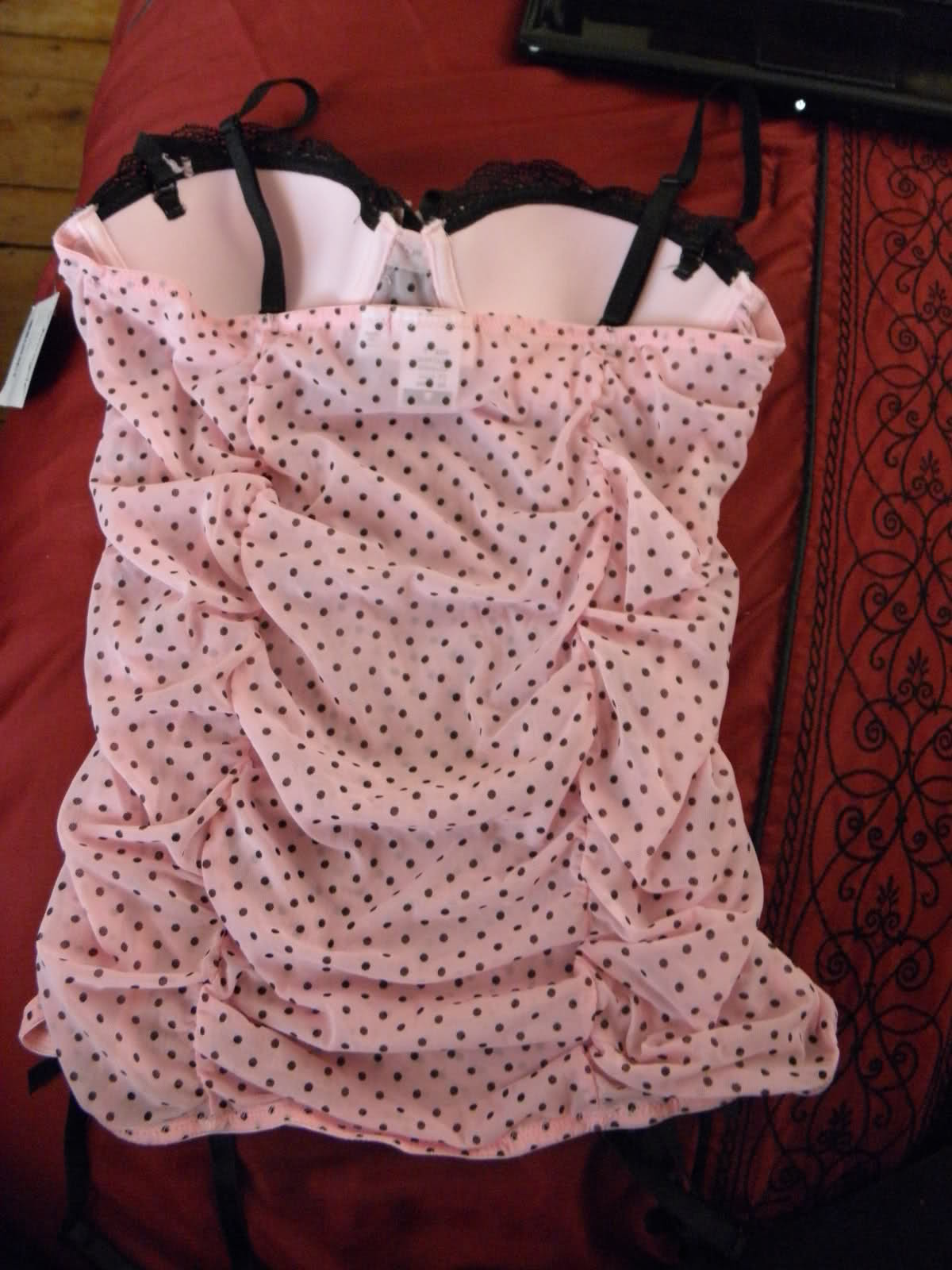 Here is the "bustier" care tag: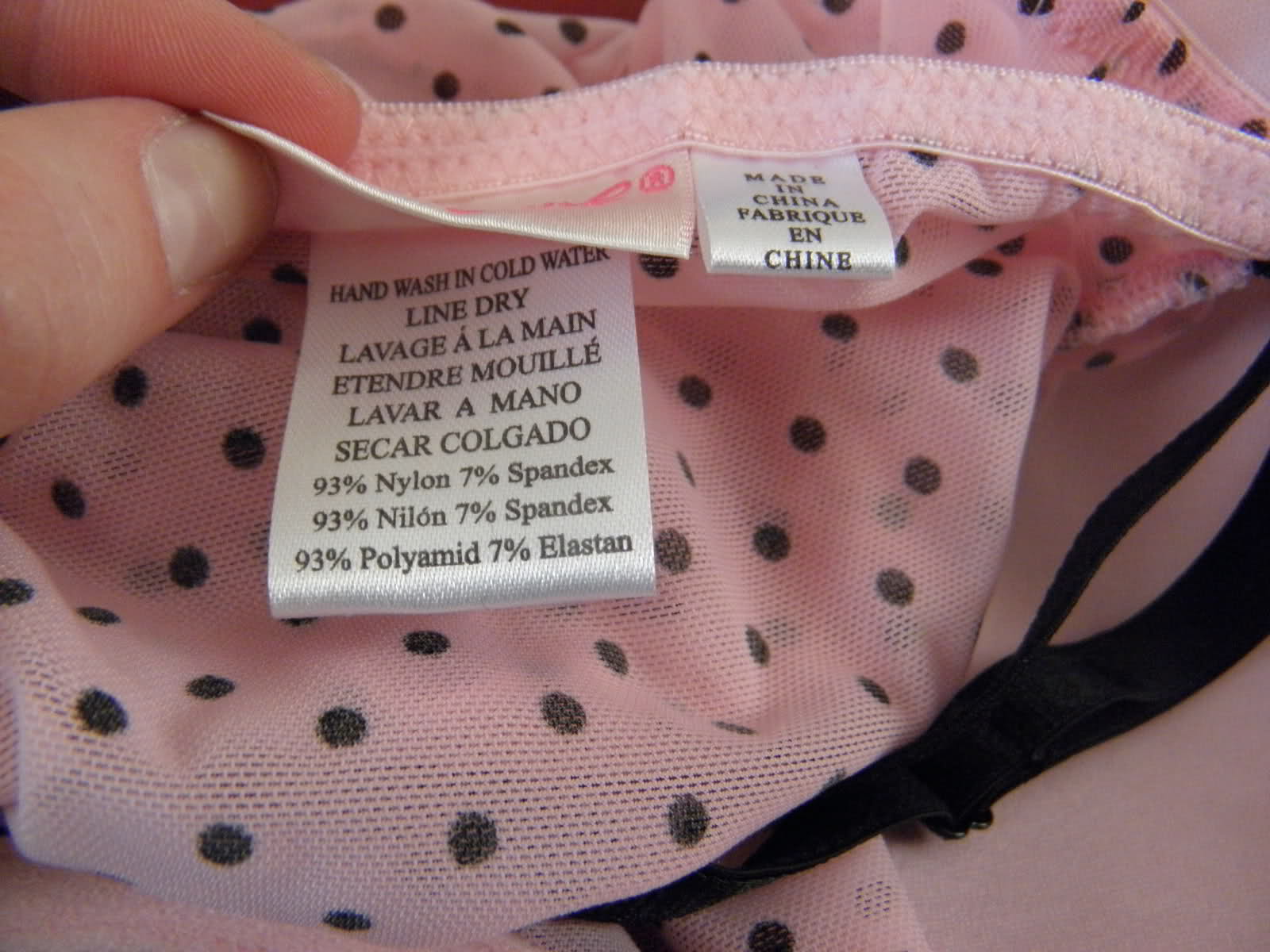 When I first pulled this on I thought that there was a sizing issue perhaps, since the bustline felt like it was very tight. Then I adjusted the straps, and it felt a lot more comfortable and everything feel into place...except the cups. They are just a bit too small. My nipples are about 1/3 exposed when I wear this, and mind you, my nipples are not big at all. If a turn or lean a certain way, they pretty much come out completely. I wear a C or D cup, depending on the brand of bra. Unless you are a low C cup, B, or A - this will not fit your breasts! It has nice support, but the cups are too low for me. The cups are molded, without any real padding, and an underwire. I would say that other than the cup issue, it fits well and is true to size. There is some flattering ruching at the bottom of the cups, and lace trim along the top.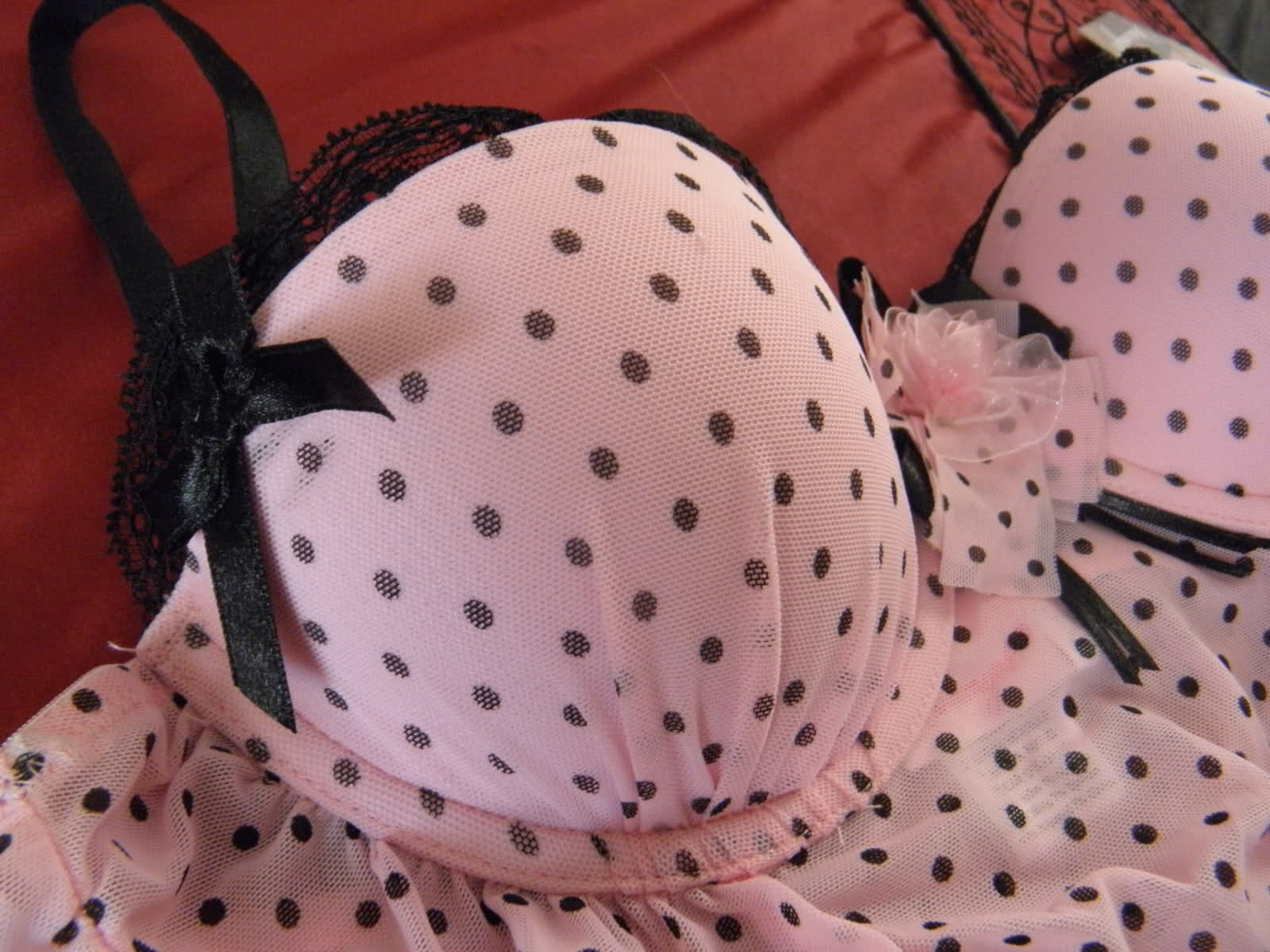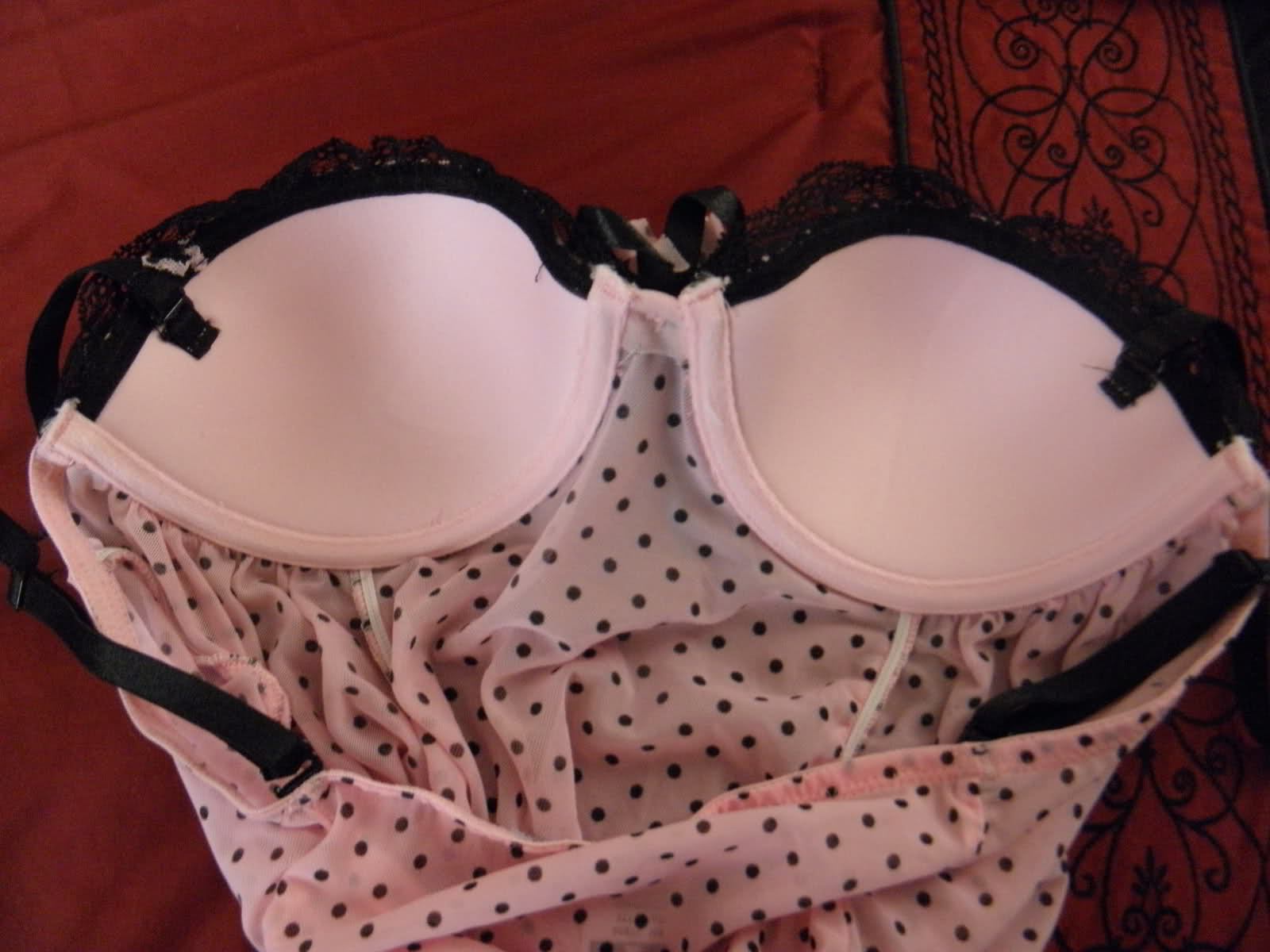 The material is sheer, but not 100% see-through. The cups are molded so they are not see-through at all. This has no boning or lining, just the thin fabric, so if you are self-conscious about your tummy or any other part of your torso you may feel uncomfortable wearing this. However, because of the ruching you can hike up the top and cover up those parts to a degree, or even pull it down to wear it longer. The paneling and ruching help make this to look a lot more flattering. In fact, I think this would look amazing on a "pear-shaped" body. I very much have an hourglass-figure: wide hips, smaller waist, and my breasts aren't that big but they've been called "big" on more than one occasion. This looks really great on wide hips, but if you have wide hips and smaller breasts this would likely look wonderful on you. And if you have smaller measurements than me but still have an hourglass shape, this would probably be adorable on you and fit very well. The style of this brings to mind a 1950's style for me, and then the fabric adds to that. This makes me think of a sweet, girl-next-door pinup.
The thong is very cute and comfortable, and fits me well. It looks great with the "bustier". The little bows on either side are so cute! They match the bows that are on the front garters and on the cups just below the straps. This thong is just adorable.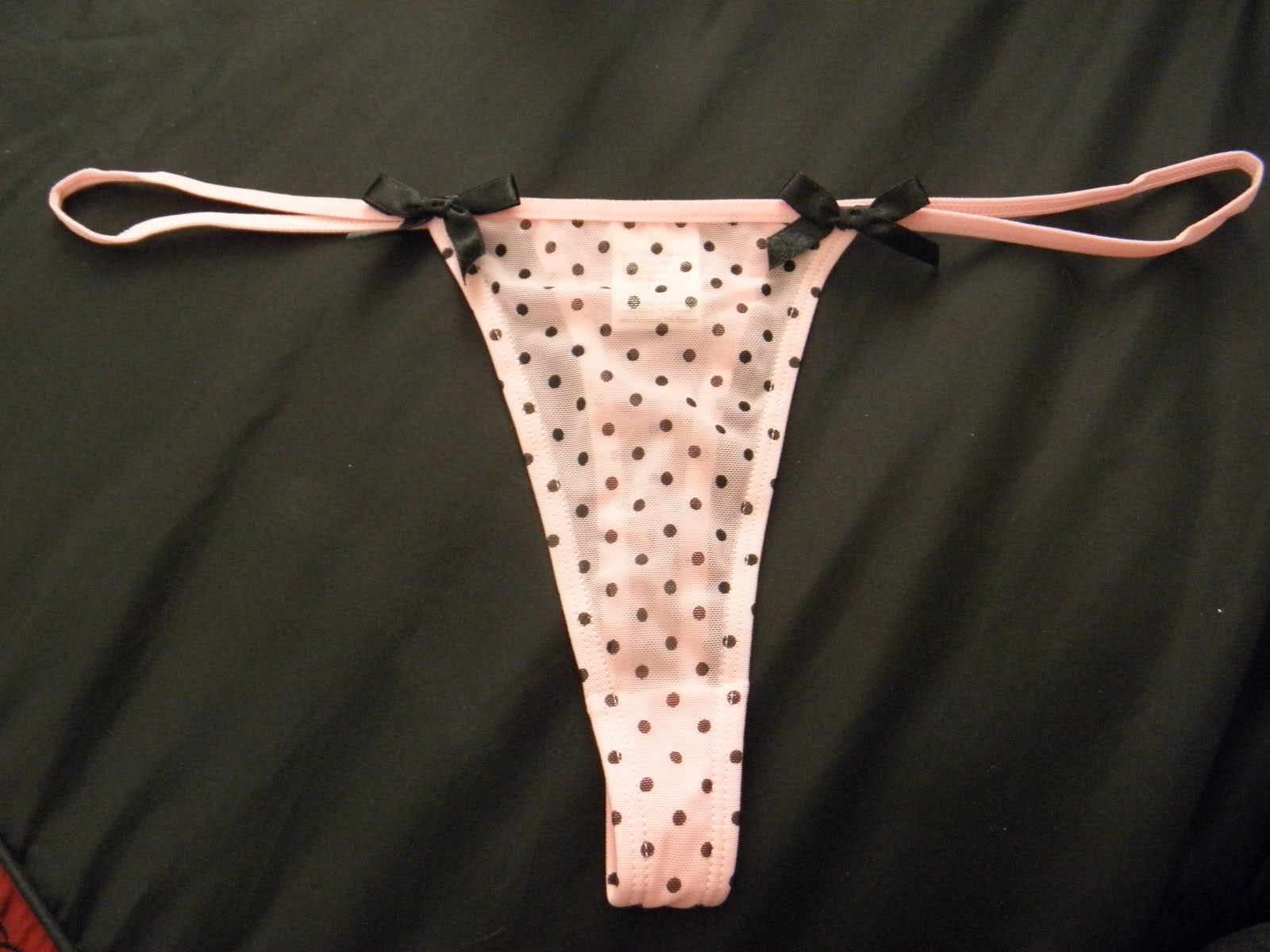 The straps on this piece are removable, but I would not wear it without them or I would really be busting out. However, for those of you who like strapless lingerie, this could be great for you! I wish that the garters were removable as well, but they are sewn on. If they were removable then that would really open up the possibilities of wearing it under clothing, because as it is you kind of need to incorporate the garters if you are going to be wearing it under clothing.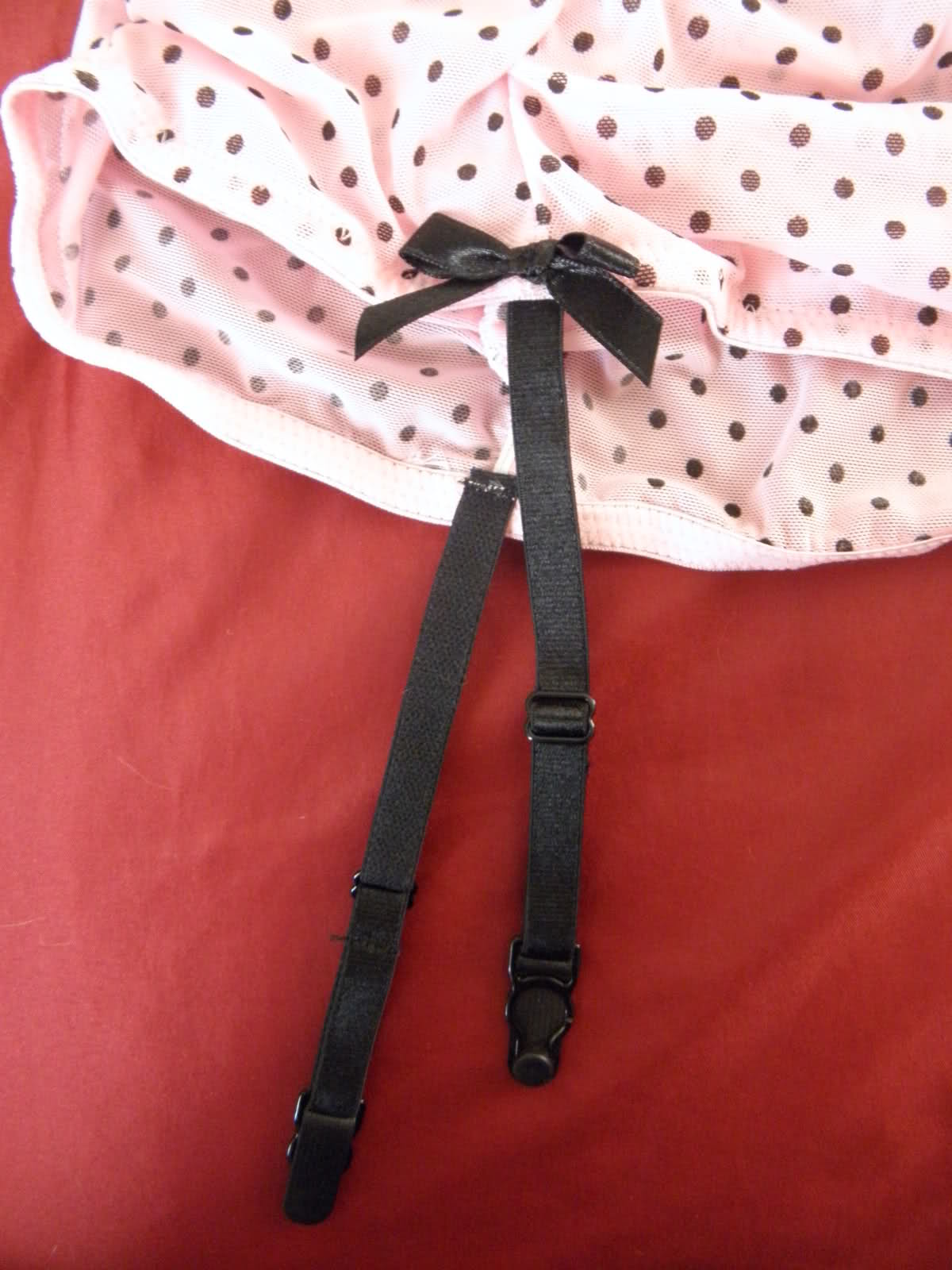 Before I got this I wanted to get a good look at the embellishment on between the cups, but I could not find a photo of it anywhere. Once I got it and had the chance to get a good look at it, I decided that I will probably be removing it, or at least some part of it. I think that it is just a bit much much, it just has so much going on, it kind of looks like a gaudy children's hair clip. I think that if I got rid of it completely it might look a bit empty, but there is just too much going on with it: thin silky black ribbon, thicker black ribbon over that, pink dotted ribbon over that, with an organza flower on top of that, with 4 little pearly-looking things in the middle of that.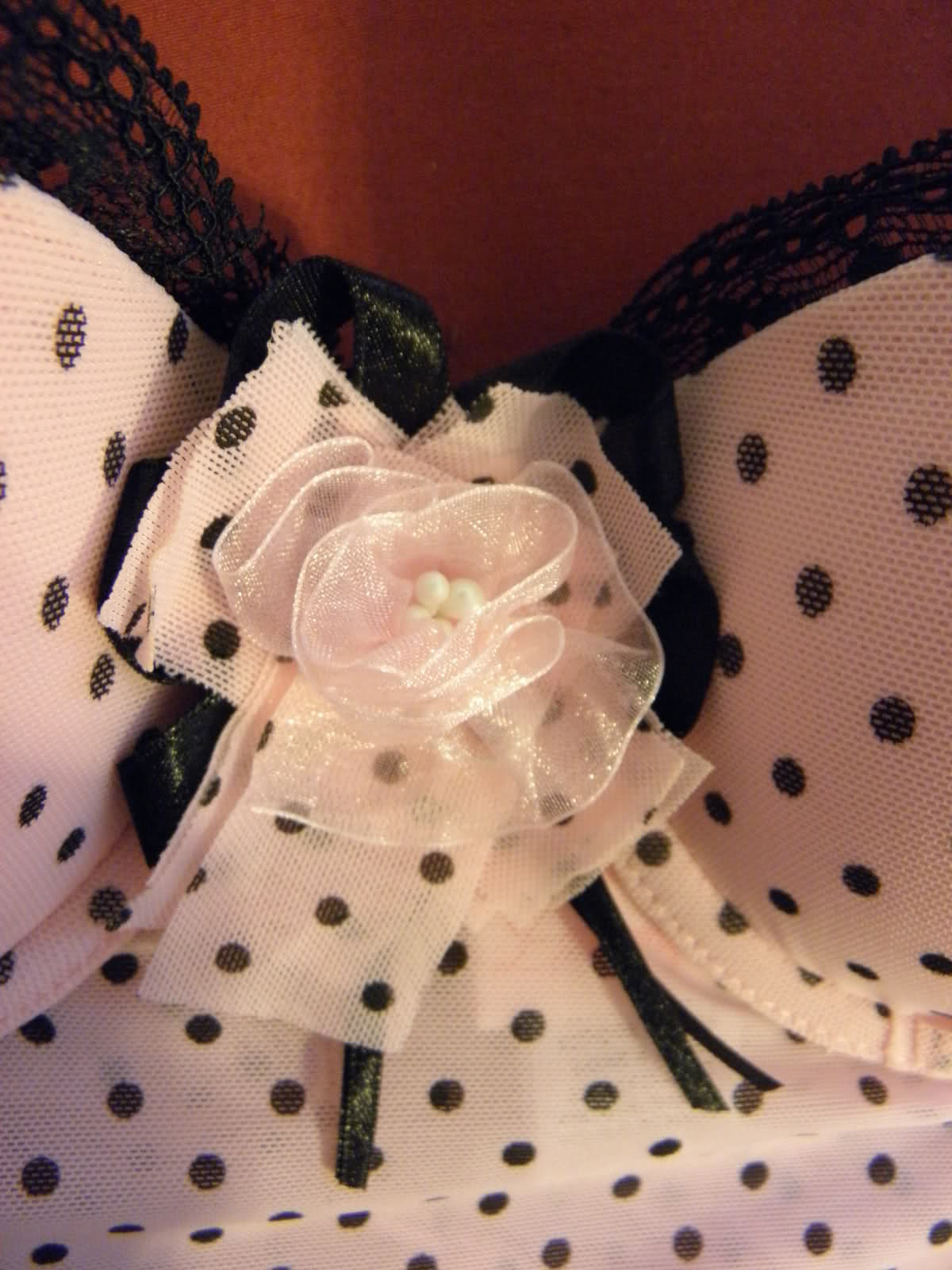 Experience
I showed this to my partner, and he thought it looked appealing. Even though my breasts have to be carefully maneuvered into the cups, it still looks nice on me. I feel like I look pretty sexy in it, at least when my nipples aren't busting out. It is comfortable (except the cups) and cute, but I would be a lot happier with it if it had another half inch on the cups. Hmm..maybe I will try to DIY some sort of lace trim or something onto the cups to give them a little bit more coverage?
Actually...if I had some really cute pasties, that would cover my nipples and probably look awesome with this! I wouldn't have to worry about them coming out, and if the pasties were showing a little bit that would probably look kind of sexy. If
these
ever come back in stock, I will have to get them to try out with this!
Follow-up commentary
3 months after original review
I still think this is very cute, though I DO wish the cups had more coverage. Other than the cups, this is very flattering and I have worn it a few times since I first reviewed it. My partner thought it was very sexy and flattering on me as well. My one issue with it is that the cups could have a little bit more coverage so my nipples wouldn't come out so easily. Still, I think it is cute. And if it better fit my breasts, I'd really love it.
This product was provided at a discounted price in exchange for an unbiased review. This review is in compliance with the FTC guidelines.

Thank you for viewing
Oh so naughty bustier, garter and thong
review page!