My sexy booty showing mini dress
Overall this dress isn't bad, just on my body it doesn't work! I would recommend it to someone that is short and comfortable with showing alot of skin if you plan to wear it out as an actual dress. The plain design leads to many options on how it can be worn with different styles. Being so comfortable I'm going to just wear mine in the bedroom or if I'm daring as a top.. because it is just to cute and sexy for me to not wear at all!
Published:
Pros:
padded underwire cups, comfortable, strapless, pretty dang sexy!
Cons:
short if your under 5', clings to body and puts any imperfections on display!
I was so in love with this dress the moment it came into Eden, and so excited when I got it for an assignment! Awaiting for it's arrival impatiently for days when I finally got it I had to rip the box open immediately to see what I thought would be my next LBD...that thought changed as soon as I saw it. Well it IS little, it IS black, and it IS a dress.. if you are under 5 foot tall. It just isn't something I could step out of the house in and that is what I realized as soon as I opened it, how disappointing!

First of all, anything I've gotten from Escante has atleast been wrapped in clear plastic so I expected the same with this product but instead I received it on a hanger with a garbage bag over it! You know the kind they use in office garbage cans and it had a ripped hole in the top for the hanger to go through. I guess I shouldn't complain I mean atleast it was covered for shipping.

I'm assuming they are calling this dress a slip dress because it's basic black with no embellishments, simple in other words. It's like a shell, a dress you can pair anything with and it would work and look great. Personally I prefer plain dresses as I'm not one that generally likes to stand out and I like having ones that could be dressed up or down depending on the occasion. That is exactly how I thought this mini dress would be.

There is an adjustable, detachable strap so you have the option to either wear strapless or halter style for some support. This strap is plain black in color and adjustable on one side, which is weird to me because when adjusted higher it lifts one breast up more than the other I found. I would recommend though, anyone with larger natural breasts to wear the strap because without it there is no support. The hooks on the dress are located on each side right before your armpits. They are black and blend in so you can not see them when the strap is off. Each cup is lightly padded with underwires for additional support and no nipple "oopsies". Oddly enough though, they must of ran out of black thread when making mine because at the top of each cup on the inside is a line of white thread. Two elastic bands are placed inside and wrap around the back of the dress so instead of an actual bra style strap this is to keep the dress on and the cups against your body. One band is thick at the top of the dress and the other is thin and placed about half an inch from the other. It has a slight A cut which is flattering to most body types. There is three panels of fabric in the front leaving two seams running down. Each seam runs down the middle of each cup to the bottom of the dress and another seam runs down the middle of the back. On mine I noticed quite afew spots of double stitching as you can see in one of my pictures. It's from the elastic band, but I think it could of been executed in a different manner to avoid the mutiple stitches in one area.


I haven't gotten another tape measure yet or found mine so I unfortunately can't give exact measurements. I had ordered a Large in this so my measurements are:
height- 5' 5"
size- 10- 12 ( depending on brand )
bust- 38D-DD
waist- 29"
hip- I don't know..but they are pretty wide!!
weight: 150-155
Now Escante's size chart:

Escante
Cup Bust (in) Waist (in) Hip (in) Weight (lb)
Small 2 - 6 A - B 32 - 34 24 - 26 30 - 32 90 - 120
Medium 6 - 10 B - C 34 - 36 28 - 30 32 - 34 120 - 140
Large 10 - 14 C - D 36 - 38 32 - 34 34 - 36 140 - 160
1X 16 - 18 D 40 - 44 44 - 48 50 - 54 175 - 200
2X 18 - 20 DD 46 - 48 48 - 52 54 - 58 200 - 225
3X 20 - 24 D+ 48 - 52 52 - 56 58 - 62 225 - 250

Being made out of 95% nylon and 5% elastane the dress has quite abit of stretch to it and after being stretched it bounces right back to it's original shape and size. It also leaves it clinging to your body so any stomach inperfections will be revealed.
Experience
CONTINUED:
The material is thick so unless it's stretched out to the max you can't see through it. It is also extremely soft and comfortable on your skin and believe it or not I didn't find one section to be scratchy or irrating. The company recommends to wash by hand in cold water and to line dry without wringing out. They also recommend that if you need to iron it to do so on a low temperature.
I realize they state this as a mini dress but I was alittle disappointed it was so short that it barely covered my booty. Where I live I couldn't wear it out of the house being that short. That is the main thing I didn't like about it, well besides you can see my post baby tummy but I guess I can't blame that on the dress! So between the length, not enough support for my girls and my belly showing I won't be stepping out in this as a dress, but maybe a shirt. It actually could pull off nicely as a top I think.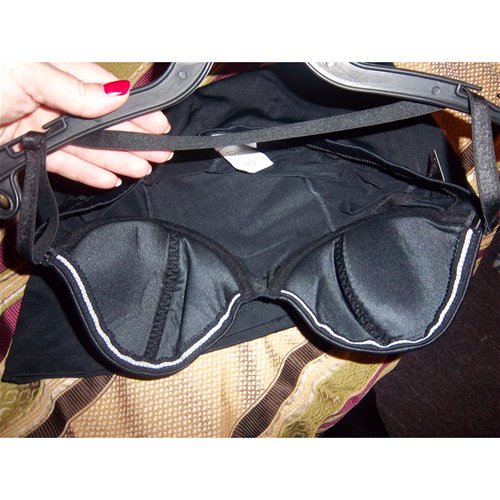 The halter strap and the only white stitching on this dress!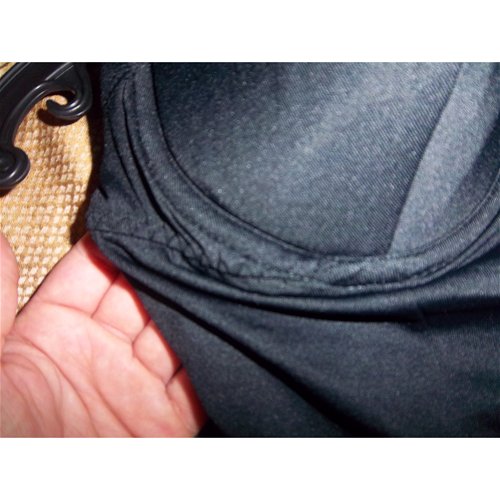 The double stitchings under the cups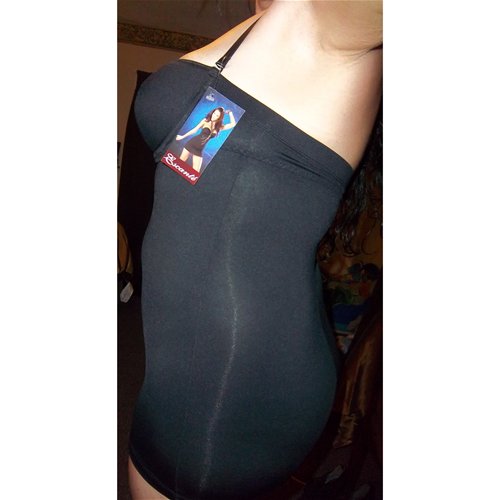 side view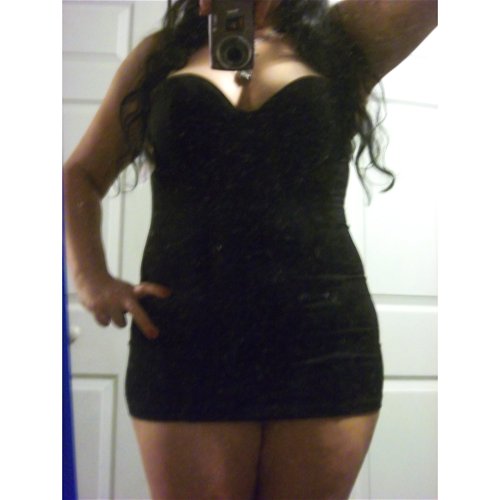 front..yup that is the longest it goes on me.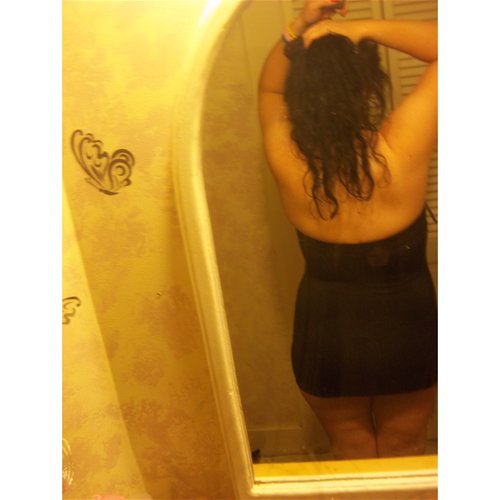 a slightly off angle back shot..sorry took the picture myself!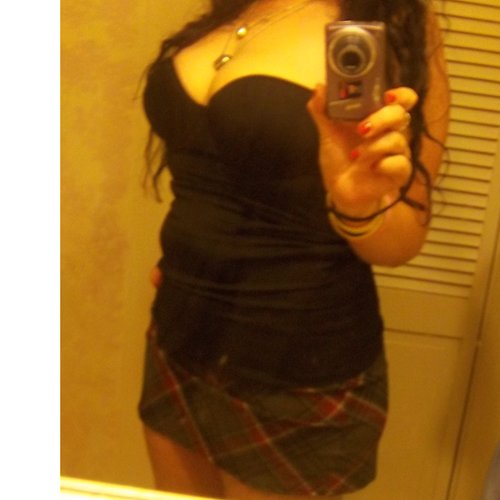 this is an example of how it would look as a top...notbad!
Follow-up commentary
19 days after original review
I say that I don't like it anymore but in actual reality I was disappointed from the get go. I just figured I would give it a chance as a top or bedroom wear. As a top I found that the halter strap left my breasts kind of lop sided and cutting into my neck. There isn't enough support to wear it with out the strap though. As far as bedroom wear, well it highlights my most insecure part of my body...my stomach so I dont feel very sexy in it either. This mini dress could work for some but for me it's just giong to go to the back of my closet because I just not comfortable in it.
This product was provided free of charge to the reviewer. This review is in compliance with the FTC guidelines.

Thank you for viewing
Sexy slip dress
– mini dress review page!