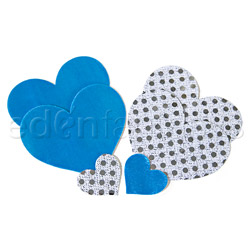 Something Blue heart pasties
Pasties
by Bristols 6
My Something Blue
These are not the pasties you would buy for every day wear. However, they're very comfortable, hold up to long term wear and sweat, and don't cause any irritation, making them a fantastic choice for a special occasion.
Published:
Pros:
Comfortable for long wear, Adhesive sticks well without being impossible to remove
Cons:
Not reusable, my package was missing the minis
My wedding was fast approaching, and I had just about everything else covered, but still needed something blue. My lovely red shoes were already picked out, garters had already been gifted to me, and I couldn't think of a single piece of my jewelry that wouldn't look out of place being blue. Well, my dress was pretty form fitting, and I wanted to get a set of pasties just to make sure you couldn't see my nipple rings through the dress, and decided to go with these.

This particular set of Nippies comes in what is basically a large envelope, 5"x7 1/2" or so. On the front of the envelope, there's a picture of of a woman wearing a set of pasties with a veil and garter belt. Through a little plastic window on the front, there's a similar picture visible. That woman is the image on the back of the card that holds your pasties.

The contents of the envelope are supposed to be 2 pairs of pasties, 4 nipple pads, and 2 mini pasties. My particular envelope didn't seem to have the little ones inside of it, but the last set of pasties from this company I bought did have them. The mini ones are intended to be used to do a patch test of the adhesive before wearing the full sized ones out, and all the pasties are heart shaped.

There's the one pair that I like to call "the disco ball pair," because of their resemblance to disco balls. These ones are pretty rough to the touch, due mainly in part to the little strands of what looks like tinsel in the blank space between the shiny silver sequins. The other pair is a nice, smooth, pastel blue. Nothing out of the ordinary. I do want to make note that the blue ones in the pictures here look much darker than what I received. Mine looked like a very pale pastel shade of blue, similar to what one might find all over the place around Easter.

Each of the larger pasties measures just under 3" across at its widest, 2 1/2" from the tallest part of the top of the heart to the point at the bottom, and 2" from the point where the curves meet to the point at the bottom. The protective nipple pads measure just about 1 1/8" across.

The instructions imply that the backing paper of these Nylon pasties is going to peel up from the top and bottom. These particular ones split down the middle the other way. It realistically doesn't matter either way. Putting them on will be really easy if your nipples aren't pierced, but if you have small jewelry in, piercings shouldn't pose a problem. To get started, first peel off one half of the backing, and attach one of your protective nipple pads. If you have large nipples, I suggest getting them hard before putting the pasty on, because if it doesn't fit under the tiny nipple pad, it'll end up under the adhesive, and I can't see that feeling pleasant to remove. Attach the exposed half to your breast, smooth it out, then remove the other half of the backing and smooth that out You'll want to smooth everything from the center out to avoid trapping any air bubbles.

Unfortunately, these aren't really reusable without starting to get a bit extravagant. The packaging claims that you can stick them to a mirror or note as a reminder of your special time wearing them. I haven't had any of my pairs be up to the job of sticking at all after being removed.

The packaging also recommends that you wear these for at least 6 hours, but no more than 8. Don't use them on sensitive skin, open cuts, skin disorders, sun-burned skin, if you have skin depigmentation, and discontinue use if any irritation occurs. They will definitely stay on all night, no matter what you're doing.
Experience
Like I said earlier, I needed my "something blue" for my wedding. I had reviewed another set of
pasties
from the same company, Bristols 6, and loved how they felt and how well they held up, so I knew that I would be looking for my wedding pasties from them too.
I put these on about 9:30 or so the morning of my wedding, and they didn't come off until about 3 am. They held on perfectly the entire time, I had no problems whatsoever with them at all. No discomfort, no itching, nothing. I wasn't thrilled about peeling them off, but I've never been all that fond of pulling at my breast hair.
Very similar to the last set I got, I love everything about them except for the fact that they're not reusable. I highly recommend them still for special occasions, but there are better reusable options for every day wear.
Follow-up commentary
17 months after original review
I will continue to buy these, and other Bristol 6 pasties, over and over and over again. They're honestly my favorite accessory for when I can't wear a bra and I need to make sure that my nipples don't show at all. No matter which pair I'm reviewing, I say the same thing in the end, and that is that these are awesome.
This content is the opinion of the submitting contributor and is not endorsed by EdenFantasys.com

Thank you for viewing
Something Blue heart pasties
review page!