My Underwear is Working Against Me!
Its unique and beautiful design cannot overlook the fact that you might want to skip out on this if you wear a plus size.
Published:
Pros:
Beautiful contrasting look between the lace and lamé.
Cons:
The cut and pattern is unsympathetic to plus sizes.
Some might find the material itchy.
Today I'll be reviewing these boyshorts in size 1X/2X. Laying flat and unworn, they're 9 inches from the top hem to the crotch and 17.5 inches wide along the top hem, though they have a tremendous amount of horizontal stretch. Just with my hands, I can easily extend the waistline to at least 26 inches across the front. The black lame sticks to itself and gets these little lines in it for that reason, but becomes softer after a few uses. The blue lace is a shade darker than in the promotional pictures, but I don't mind much at all. The stitching and construction is of admirably sturdy quality. The lace has no backing throughout most of it and is pretty transparent, but there is a soft liner in the bottom of the crotch of the underwear. Though my skin doesn't itch or get easily irritated, I could immediately tell it's not the softest material around, and I imagine those with sensitive skin might soon grow tired and irritated of this kind of fabric so close to their nethers.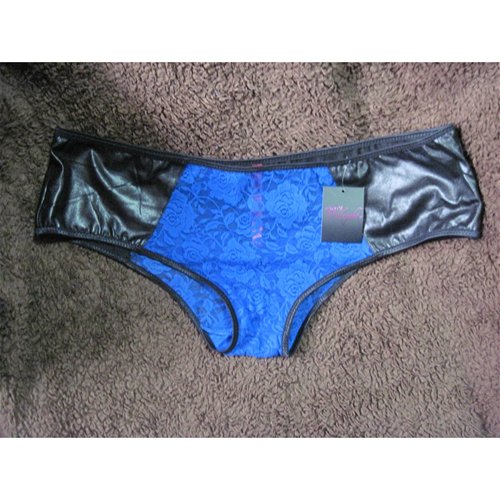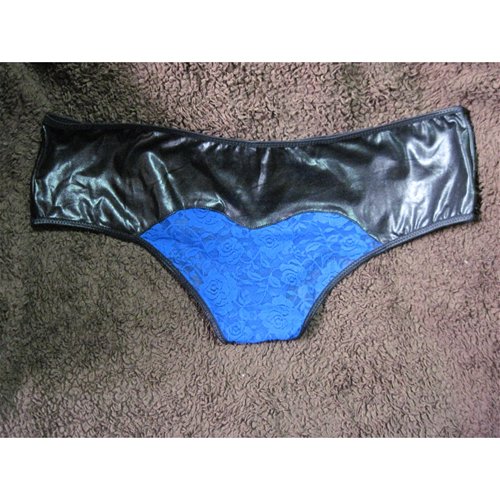 I held off on writing this review for over a week because I dislike being a traditionally super negative critic. However, my feelings haven't changed so I've little choice but to come on out with it. I'm pretty disappointed by these panties. I normally love boyshort style underwear because they flatter my body, but I have had quite the opposite situation with these Blue Royale Boyshorts.
When putting them on for the first time, I got a distinct and familiar feeling that most lovely larger ladies are unfortunately well acquainted with. It's that feeling that these boyshorts were merely small sized panties scaled up in dimensions without stopping to think of the implications of the actual body shape of a person with a bigger waistline.
You see, though the width of the underwear accommodates me with ease, these underwear are meant to be worn low, unfortunately right where my belly is. The hem of these is too low to successfully stay on over my stomach without slipping down but has too much material to stay under under my stomach without being very loose and bunching into unsightly formations. I could pull the underwear backward, higher over my butt, except then they cut into the front of my legs as well as look like they were hastily put on by a grandma tugging up from the backside. Ultimately, the back of the underwear is nice and snug, but the front is left wrinkled and maybe even slightly baggy.
I am far too self conscious of how these make my midsection look, so much so that I outright refuse to post a picture of them being worn, even for the sake of completion in this review. It's just not flattering on me at all. I'd rather post nudes! I would essentially not recommend these if you have a protruding type belly, or body fat that isn't completely evenly dispersed on your lower half.
Though I perhaps have higher hopes for the other lingerie in this Blue Royale Lingerie Series because they look so beautiful and appeal to my fashion sense, I see this particular pair of panties getting very little use. Underwear should work with your anatomy, not against it!
This content is the opinion of the submitting contributor and is not endorsed by EdenFantasys.com

Thank you for viewing
Blue royale boyshort
– sexy panty review page!