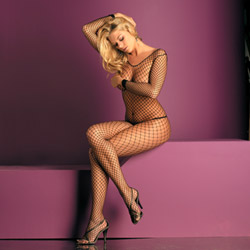 Lycra net open crotch body stocking
Crotchless bodystocking
by Fantasy Lingerie
My very first body stocking...
I absolutely love the appearance of fishnet, yet up until this item I had never tried a bodystocking before. I decided to give it a go with this item, just to see what the fuss is all about. Honestly, I feel ridiculous in it, but those of you that like body stockings might like this one. It's a decent price, it's stretchy, and it's a fairly good one size fits most item. Be aware though, that this item is fragile, and that it will tangle on itself in storage.
Published:
Pros
Stretchy, Good one size fits most item, Affordable
Cons
Itches on my thighs, Very fragile, Gets tangled easily
I love stockings, and fishnet dresses, so why wouldn't I love body stockings, too? That was my logic as I searched Eden's website for a sexy, stretchy body stocking. I had some requirements as I searched... actually, I had one requirement: it had to be crotchless. The long sleeve diamond net body stocking is listed as being crotchless, so I thought that maybe I had found the stocking for me. Then, however, I received the bodystocking, and I discovered that it can be considered crotchless.

Basics:
This diamond net "open crotch" body stocking is made by Fantasy Lingerie. It's priced very reasonably, at $9.99. It's also currently only available in black, and it was made in Taiwan (as according to the packaging).

Both the website and the packaging display a pair of panties being worn with the body stocking. The panties are NOT included.

How to Wear:
When I first thought about buying a body stocking, I was a little skeptical on where I would wear this. Now that I have it, I have found that it looks fabulous under certain dresses. It can also be good just on its own as lingerie.

It should be noted, however, that you will need to make alterations to the crotch area, if you hope to wear this during intercourse. More on that in a bit.

Material & Care:
This item is made out of 88% Nylon and 12% Spandex.

The entire item, with the exception of the cuffs, is made out netting, so it's not a covering garment. The netting on this item is diamond shaped. It's also very stretchy -- although I don't suggest that you stretch this item to its fullest potential. I don't recommend stretching to the fullest because the little threads that sew the netting together are very, very fragile, and if you stretch it to the fullest, you're really risking tearing the piece.

The actual netting feels soft to my fingertips, but I do find that it tends to itch on my thighs after awhile of wearing it. I've worn net stockings several times, and I've never experienced this, so I'm not really sure why this particular one irritates my skin. It's not irritating to the point that I feel like I need to tear this off of my body, but it's a mild annoyance.

The wrist cuffs are made of a thick, opaque material. They're also quite stretchy and comfortable.

My one major complaint with this thing is that it tends to roll up on itself as soon as you take it off, and it just gets really tangled. This is a problem that most fishnet items seem to have, though.

To care for this item, you're going to want to hand wash it separately in cold water, and then allow it to line dry. Use only non-chlorine bleach when needed.

Sizing:
This body stocking is only in available in one size fits most. The packaging states that it should fit anyone that's between 5'0" and 5'9". It also states that it should fit between 90 and 140lbs. I personally am 5'6", and I weigh a little more than the size chart recommends. To be more detailed, I have a 32" waist and 40" hips. I also wear a 34d bra. Overall, this piece does fit me, and it could certainly fit someone that's a little larger, OR that's a little taller.

Now, why do I say larger OR taller? It's simple -- the stretch is limited. If you want it to stretch out so it's wider, it's not going to be able to stretch quite as much length wise. Likewise, if you want it to fit someone taller, you're not going to get quite as much out of it width wise.
Experience
Design:
This is a basic, long sleeved body stocking. The netting is, as I said before, diamond shaped.

The feet are closed in, and the toes are reinforced with a smaller netting. This means that you shouldn't have to worry about your toes slipping through the material.

Going all the way up, you find that the collar is sort of a scoop neck, and that the sleeves actually go down to the wearers wrists. The wrist cuffs are thicker than the rest of the dress.

The biggest selling point with this body stocking was that it was supposed to be crotchless. There WAS a slight opening at the crotch, but it was useless. It didn't line up with my crotch, and it was only about the size of maybe 3 fingers (and I have small fingers). There was just absolutely no way that I could use the bathroom while wearing this thing, and of course wearing it during intercourse was completely out of the question. I ended up altering the crotch by simply snipping many of the little diamond holes surrounding it. It's easily done, and it doesn't seem to have ruined the stocking at all.

Packaging:
The body stocking arrived packaged in a little cardboard envelope. The cardboard packaging features a photograph of the model on both the front and back of the packing. The information provided on the packaging is sufficient for an item of this sort; it gives you basic information about the materials, instructions on how to clean the piece, and a size chart.

Quality:
For the price, the quality is good. Obviously this isn't a high quality piece, and I wouldn't expect it to last awhile. The netting is quite fragile, and it would be really easy to snag. It only cost $9.99, though, so who can complain?

Other comments:
I just feel kind of silly wearing this. This may be because I've never worn a body stocking before, but when I first saw myself in this... I laughed out loud. My boyfriend does think it's sexy, though. I think I'll learn to love it in time, but I do wish that it wasn't so itchy around my thighs. I also believe that I would like this more if it kind of hugged to curves -- it doesn't. It just kind ends up gaping away from my waist area.
This product was provided at a discounted price in exchange for an unbiased review. This review is in compliance with the FTC guidelines.
Thank you for viewing
Lycra net open crotch body stocking
– crotchless bodystocking review page!