Nights in White Satin (and Lace)
This set is very feminine and pretty. I felt both sexy and sweet as soon as I put it on. It is quite comfortable but won't fit everyone. This set will be best for sizes 4-12, and for those whose largest measurement anywhere isn't much over 40". Easy to care for and easy to wear, this versatile piece will be a big hit with anyone who falls within its size range.
Published:
Pros:
Comfortable, Flatters slim and hourglass frames, Flatters small busts, Disguises slight figure flaws
Cons:
Won't fit all sizes and shapes, No bust support, Wrinkles easily, Ribbon unties easily
*Overview / Packaging / Material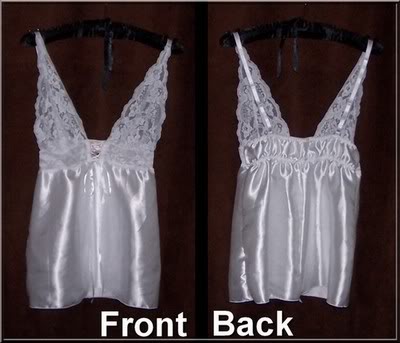 This set comes with a babydoll and a thong. The babydoll is basically like a fancy slip (only much shorter). The top half is lace and the bottom half is satiny. This could easily be worn out under a dress, but you may want to wear a bra underneath.
Both pieces are made of 76% polyester, 23% nylon and 1% spandex. The washing instructions are: Hand wash in cold water, line dry. I had great success washing them both in the machine, inside a lingerie bag, on gentle cycle. I line dried both pieces just to be safe.
The set comes inside a cardboard box. The box says "Dreamgirl" in large print and has a picture of a model wearing the garment on the front and back. The packaging is very basic, and I would not use it for storage because being folded up in there would wrinkle the babydoll terribly.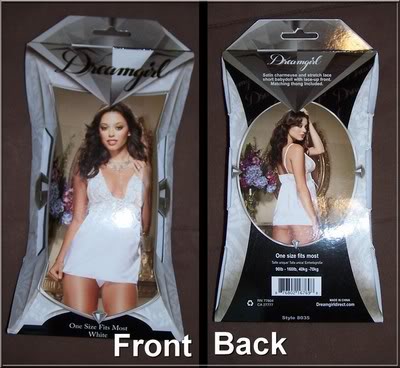 *Thong

This thong is designed differently from most. The part in back is almost as wide as the front panel. For some wearers this will be a pro, while for others it will be a con. It is more comfortable than the really skinny thongs, but personally I didn't like the way it looked on.
The thong's waistband measures 13" unstretched, but can stretch up to 21". The front and back panels measure 7.5" from the bottom of the crotch to the top of the waist band. They don't stretch. The front panel is 4.25" wide at the top and 2" wide at the bottom. The back panel is 2.75" wide at the top and 1.25" wide at the bottom.
While the front and back panels of the thong are unlined, it does boast a cotton crotch liner! Measuring in at 4" long and about 1.25" wide, it's one of the larger crotch liners I've come across in a thong. The liner is only attached on the sides, so you could easily slide a small vibrator in underneath, like a bullet.

*Babydoll
The gown has adjustable straps. They adjust from 7.5" long up to 14" long. Both the adjuster and the ring that connects the strap to the gown are metal. The straps are easy to adjust; I adjusted them while wearing the gown.
*Cups
The sheer lace cups are not formed or molded, but are basically a triangle of lace. They measure 9.5" tall, but some of that will reach up to your shoulder so you don't see the gown straps in front, just the lace. The cups are widest at the bottom where they join the bodice, and measure 5.5" wide. The lace is a bit stretchy, and the cups have 1 seam right up the middle. These cups do not provide any support, so if you don't like how your breasts look out of a bra, you won't like how they look in this babydoll.
I am a full C cup and have a wide set chest. These cups work perfectly for me, and should also flatter chests that are much smaller or even a bit larger, as long as you don't need support.
Where the cups meet the bodice in front, there is a 2" tall panel of lace. The bottom edge of the lace is scalloped.
Front and center between the cups you'll find a small lace-up. The loops that the white ribbon lace up through are very tiny, and there are 14 of them per side. The ribbon is only laced through 4 of them. So while technically you can tighten or loosen the lace up, I would be afraid of relying on that section for fitting. It feels like those tiny loops could easily break or pop off if you apply much pressure to them. It's a nice idea, but they should have made the loops much more practical for it to actually be a functioning part of the garment. On top of all that, the ribbon unties
really
easily. Nevertheless, it does look really pretty.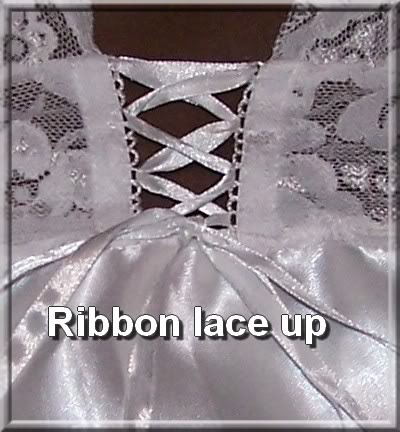 *Skirt
The skirt of the babydoll is satiny, and measures 12.5" long. I am 5'6" tall, and the skirt just barely covers my crotch in front, and lets the bottom of my cheeks peek out in back. It's not sheer or stretchy. There is one seam up the middle of the back.
In back, the skirt has two rows of stretchy elastic to serve as the waistband. The waistband hits me midway between my bust and my waist, as most empire waists do. That way it emphasizes the narrowest part of your body, and floats away from the wider parts. It can forgive slight figure flaws, like small tummies or small love handles.
Experience
*Sizing / Fit

The Dreamgirl chart for one size fits most items is as follows:

Sizes: 2-14
Cups: B-C
Bust: 32"-39"
Waist: 24"-32"
Hips: 34"-40:
Weights: 60lbs – 160lbs

I think this garment will best fit sizes 4-12. I don't think a size 14 would quite work. I also think A-C cups will be fine, as long as you don't need any support. A smaller cup size will look absolutely fine because the cups won't sag or bunch up at all.

I am 5'6" and have an hourglass, or fit but curvy, figure. I generally wear a size 8 or Medium, and my measurements are 39-29-39. I cannot step into this babydoll to put it on, because the waistband will not fit over my 39" hips. I have to put it on over my head, and wiggle a bit to get the waistband to fit over my 39" bust. So if your measurements are much over mine, you may have a hard time getting this babydoll on or off!

The thong fit me just fine, with plenty of room to spare.

*Experience

*Hers

I love this babydoll. I had to wiggle a bit to get into it, but once it was on it was quite comfortable. The material isn't scratchy or itchy; in fact, I could sleep in this gown it's so comfortable. I like the empire waist, because I find that to be a very flattering cut. I also really like how my butt cheeks peek out just a little from underneath.

I was not a fan of the thong because I thought it looked and felt weird. The back panel is a bit wide, so even though they fit fine, I traded them out for a sexy pair of white lace panties I already had. Those matched a little better and they felt better too.

Both pieces can easily be worn during sex. The thong is stretchy enough to pull out of the way, and it's easy to slide the top of the babydoll down or pull the skirt up so you can access everything you need to access during sex.

This would make a great bridal gift, but would also be a great gift to give any time. The workmanship is good and it really feels like a quality piece. It has held up very well to washing and wearing. One of the few drawbacks is that the satiny skirt wrinkles easily.

I give this set 4 out of 5 stars. It would be 5 full stars if I liked the panties more, and if it were easier to put on and take off.


*His

I thought this piece walked that fine line between sweet and sexy like a well-trained circus performer. It also happens to be the perfect length for an ass man.

I give this set 3 out of 5 stars, though I'd rather give it 3.5 stars. I'm taking stars off for two reasons: she had to supply her own panties, and it's not super easy to get on or off.
This product was provided free of charge to the reviewer. This review is in compliance with the FTC guidelines.

Thank you for viewing
Charmeuse babydoll and thong
– babydoll and panty set review page!