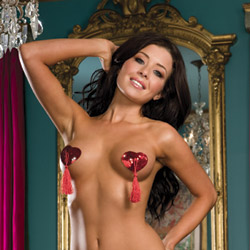 Heart tassle pasties
Pasties
by DreamGirl
Nipple Tassle Pasties: What They Are, How To Use Them, And Why Every Girl Deserves A Pair
Though these weren't my first pair of pasties, they're certainly my first pair of tasseled ones, and boy oh boy did I wiggle my heart out getting them to spin. I don't know how often I'll bust these babies back out, but until I do at least I have a hell of a conversation piece for my curio cabinet.
Published:
Pros:
High quality, easy to apply, fun conversation piece
Cons:
No longer sticky after two to three uses
So you've decided on a pair of fancy pasties with sequins and tassels and all. Great choice! Every woman needs a pair of these in her drawer of secrets. Here's why:
-Pasties are a fun way to decorate your boobs for whatever the occasion, and were often used in the old burlesque shows.
-Burlesque is making a comeback, both in fashion and for the real deal! There are many traveling burlesque shows that are popular in the states where strip clubs aren't allowed.
-Owning a pair suggests to anyone who finds them that you're of a higher class of kink, more vah-vah-vah-VOOM than say a pair of edible panties.
Pasties can be worn for any number of reasons, whether it's a professional dancer whose state requires that she cover her nips, as a part of a costume, or just for a fancy private show for your mister. Pasties are pretty cool in that they expose most of the breast while leaving just enough to the imagination. They also work well at hiding imperfections. Dating back to the 1930's, the pasty is a piece of decorative covering made famous round the world in perhaps one of the most awesome displays of sexy WTF "hey look what I can do"-ery ever: the tassel spin.
Now this is a trick that should not be attempted if you have had recent breast surgery, or if you're one of those who gets sore breasts right around that time of the month. But first, let's get to how to put these babies on.
Your pasties have just arrived and you can't wait to take them for a spin! Now hold on a minute, there's a few things you need to know about the application process before you take off.
-These pasties are self adhesive (though if you were to use them often you may want to purchase pasty tape or glue, which should be removed from the backing of the pasties each time they are taken off to give the pasties the longest life possible.)
-Lean downward so that your boob fills the pasty sort of like a cup. This will make the most sense and give you the best fit as the pasties themselves are pointy! Then stand straight and press firmly with your fingers to ensure that the pasty is totally stuck to your skin. Because these ones are pointy, getting them lined up with each other isn't hard, that is unless your nipples aren't symmetrical. In that case, eyeball it and make adjustments as needed.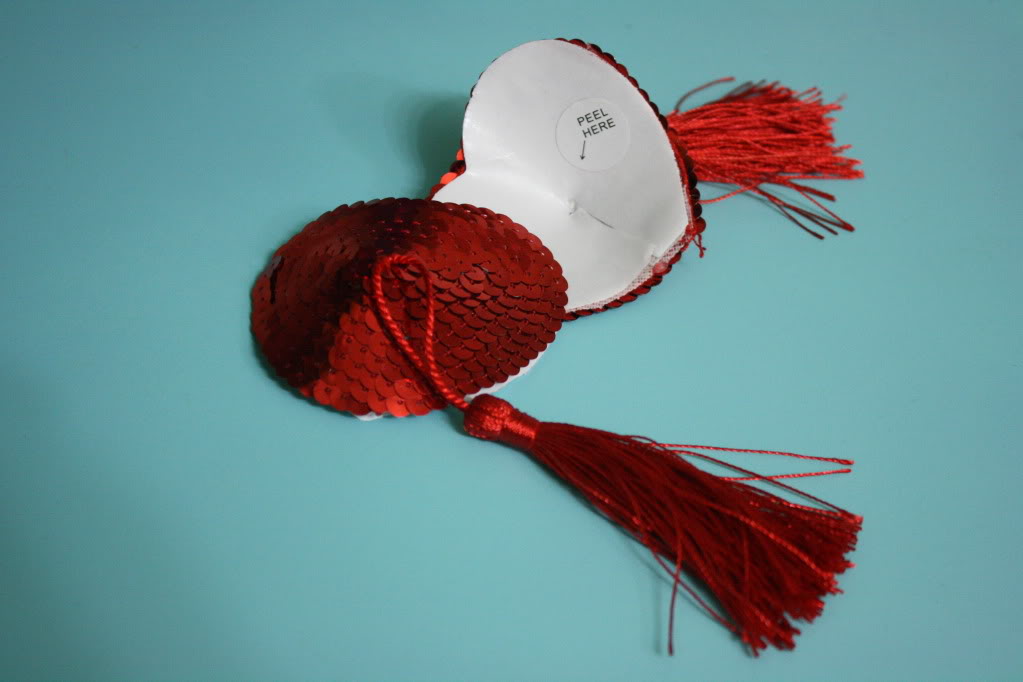 See how they're cup shaped and kinda pointy? This is to help you have the best fit!
TAKE CARE OF YOUR PASTIES! I'm not going to tell you twice about this. Here's the thing, if you take them off in haste you're just going to be in a world of hurt, so let's try to be civil. When removing your pasties, slowly and carefully peel them without messing up their shape. If this is your second or third use and you've applied your own tape or glue, remove it from the back of the pasty or it will get all old and gunky and eventually separate from the pasty. You fling a pasty across the room due to your old glue separating and you hit someone in the eye? You're not very sexy now, are you? Plus the nudity may get you into legal trouble.
Allergy concerns with latex or gum arabic based glues? Use a medical grade double sided tape instead!
PS, I'm keeping the backing paper on as dust covers, but they actually no longer stick now that they've been peeled off.
Experience
How to do the spinny trick (for amateurs)

Girls, this here's a big big winner to impress your fella. After you are sure that the pasties are secure, and I do mean SECURE, you're going to start by using your shoulders to move your upper body in small circles. Depending on how well the girls are holding up these days--maybe you're young and they're perky and cute or maybe you've had some kids and they're a little swingier than they used to be--your inertia should be causing the tassels to swing around in little circles!

At least that's how I got it to work.

For my next trick, I sort of made an up and down motion and successfully got the tassels to spin in opposite directions!

I don't make any claims as far as how serious people will take you. I had my boyfriend in TEARS laughing over my little "show." It's okay, it was a fun laugh and not a making fun laugh. He actually thought it was like the cutest things he's ever seen me do.

I should probably also mention that when I do nipple tassel twirling tricks, I scrunch up my face and make an EEEEEEEEEEEEEEEEEEEEEEE sound while jiggling around like this.

All in all, great product. Five stars!
Follow-up commentary
2 months after original review
Spinny! I'm getting rather good at these things, and have sold a few of my friends on why they need them.
This product was provided free of charge to the reviewer. This review is in compliance with the FTC guidelines.
Forum
| Discussion | Posts | Last Update |
| --- | --- | --- |
| tassels | 2 | |
Thank you for viewing
Heart tassle pasties
review page!