No Wild Nights for me in this bustier.
If looked up in a dictionary the definition of a bustier is:a woman's close-fitting, sleeveless, strapless top, often elasticized, usually having boning or facing to give it shape, and worn as a blouse. I feel as though this "bustier" doesn't do any of this so can it still be called that?!
Unless your small breasted and with no stomach flaws this might be the piece for you, otherwise it will just leave you feeling like a self conscious mess.
Published:
Pros:
Material is soft, pretty colors, three piece set, underwires
Cons:
extremely sheer, non detachable garters, micro-sized cups, no hook and eye
I'm going to start this review out by saying that it is so disappointing to inpatiently wait for the arrival of your package to recieve it and find that nothing is as it seems, as I'm sure you all have experienced. Let me explain this bustier to you and why it won't be seeing any wild nights with me!
This bustier is a three piece set made my Escante`. Not only do you get the bustier but you also get a matching thing and a pair of nude thigh highs. It belongs to the Wild Nights collection that came out in April 2012. Which also has a chemise set and bra with garter skirt set that boasts the same color scheme and design as this bustier. The colors are an ocean blue (as stated by Escante) and just enough hints of pink to make it stand out. The bustier set is made out of 91% nylon and 9% elastane (excluding the trim) so it is very soft and stretchy.
The straps are pink and start as a lace look in the front and half way to the back turn into a bra like strap so they can be adjusted for better support. The pink "lacey" look goes over the cups on each side and stops underneath them. There is also the same color pink bow that sits inbetween the thickly padded, underwire cups.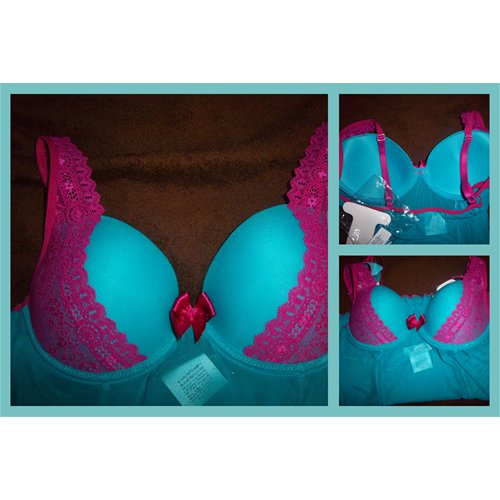 The torso section is an extremely sheer ocean blue color as you can see in the picture. This is one of the things I was mislead on from the product page as it states that it is solid. Yes you can see the models belly button ever so slightly, but I didn't think it would be quite so see through. There are two seams that run down the torso section and with some stretch you are able to see the white thread they used to put this piece together. This is the first bustier I have ever gotten that didn't have some sort of hook or eye closure. So yes it could be a god send not having to mess around with a bunch of hooks but it could also be a pain in the ass because unless you want to ruin the moment...or minutes to take this off your going to have to do the deed with it on! Also note that there is not one piece of boning in this. So between the stretchy sheer material and lack of even plastic boning nothing is going to be held in. At the bottom of this bustier there is a cute little ruffle that goes around it, and little pink bows at the top of each garter. Even though the garters are non detachable I think it would take away from the look if they were as they are the same lacey look as the straps. The garters aren't very long (2 1/2" long) and are not adjustable either so if you have long legs you might not have much luck with this. At the end you will find plastic, cheap clasps that like to give you a heck of a time trying to clasp them with something inbetween.
The thong is pretty basic with the body being the ocean blue and the thin string being the pink. It does have a much needed pantyliner in it. I didn't try this on but the measurements for the large are as follows: 13" long for the waist unstretched and 7 & 1/2" long from the top band to the bottom of the crotch, unstreched.
On the product page I saw alot of comments from people asking why the company chose nude thigh highs instead of black, pink, or white, well personally I think the nude works for this set because it doesn't take any attention away from the bustier and thong. I also think any other color would look to heavy with it. Even though they are delicate and probably won't withhold to much, they are actually very comfortable and stretchy without causing any muffin tops! Unstretched they measure top to bottom at 19 1/2" long and when you put them on the furthest I was able stretch them was to 28" !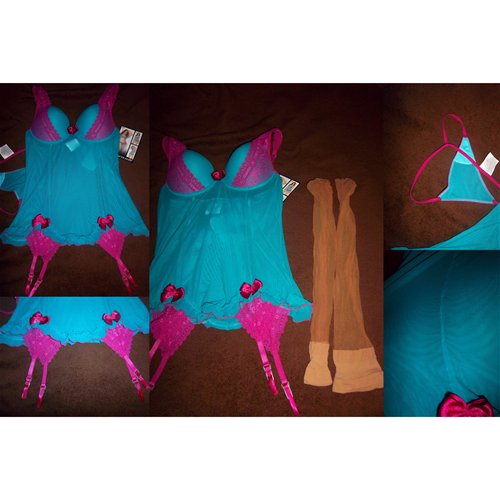 Experience
It's hard to write about a product when you were not able to use it or wear it, like me and this bustier. Escante has it available in three sizes being small, medium, and large. I had ordered the large because yes even though my cup size is bigger than they list I usually can get away with it, but not with this piece!
Escante size chart states:
size cup bust waist hip weight
Small~ 2 - 6 A - B 32 - 34 24 - 26 30 - 32 90 - 120
Medium~ 6 - 10 B - C 34 - 36 28 - 30 32 - 34 120 - 140
Large~ 10 - 14 C - D 36 - 38 32 - 34 34 - 36 140 - 160


From top to the bottom of garters is 21".
Width of the at the ruffle is 17".
The cups are about 7" from one side of the underwire to the other.

My size:
155lbs.
38DD, but can wear some D's
size 10-12 (depending on clothes as I have a big booty and thighs!)



The cups on this bustier are just nipple covers for me!Although, even though you could see every figure flaw because of the sheer material, the rest of the bustier fits me fine. I couldn't even take pictures of what it looked like on me for you guys and I'm sorry about that but I felt like to much of a hot mess to let even a bunch of strangers see me in it! I actually gave this to my friend and only kept the thigh highs because I really do like those as simple as they are. The messed up thing is she is the same size as me but with a B cup and this fit her perfectly! Yup, you heard me right...a B cup, so I want to know what the heck the cup size is for a small?!

If you do decide to own this set it is recommended as with most lingerie to hand wash in cold water, and to line dry. If the bustier happens to get wrinkled you are able to iron it but it must be on a low, delicate temperature.
Follow-up commentary
8 days after original review
I still don't like this because I had to give it away do to the cups never being able to fit me. Can we say DISAPPOINTING!
Although, the woman I gave it to said she loves it and fits her B-cups perfectly. She also said that it was comfortable to wear and wore it under her office attire for a whole day until she got home to suprise her husband. So I'm happy to hear I could make someone's sex life even spicier with something that could never work for me.
This product was provided free of charge to the reviewer. This review is in compliance with the FTC guidelines.

Thank you for viewing
Wild nights bustier
review page!