Normally I don't mind skimpy panties...
These panties would be great to wear for a few minutes with a sexy outfit, but when you want to wear them with normal clothes all day... They fall short. The design makes them not cover what I need them to, and they're a bit too short in the crotch area, as well. The band is super comfortable, but that's about it.
Published:
Pros:
Cheap, comfortable band, stretchy
Cons:
Uncomfortable along crotch, awkward fit along crotch, no panty liner, doesn't cover pubic area
Because I've had such mixed results with Baci but I can never pass up free panties on here, I decided to give these a go. They looked like they had a wider waist band than the last panties I got from them to review, and black is always a great color when you're looking for something sexy and sleek.

Packaging

Like all of the Baci Lingerie, these came in a small cardboard envelope. The pictures on the product page of the model wearing these are printed on the front and the back of the sleeve, and it has a small white box where it lists the size and gives care instructions through small images. It's not very discreet or classy, so if you plan to include these in a gift basket or anything you will want to unwrap them.


Inside the sleeve is a small plastic 'bag' and a cardboard insert, and inside the plastic bag in front of the insert are the panties. I feel like this is a bit excessive just for a cheap pair of underwear, but it would be good if they were being sold in a store. I wouldn't keep these in the packaging just because it's huge and I keep all my panties in a drawer with my socks and bras.

Fit

As soon as I took these panties out of the package I was a bit taken aback, I have several small g-strings that I've gotten at the mall and such, but usually if something is meant for every day wear it has either a lot in the front and just a string in the back, or it has a medium amount through the entire crotch-covering area: This has little in the entire part. It also has almost no cotton liner.

I also personally found that the crotch-covering band length was a bit awkward. If I pulled it down far enough in the front so that the fabric was where it needed to be, it was so short that it may as well have not been there at all. If I pulled this up so that it covered my mons a bit more, my labia were only being covered by a thin elastic band. The good news is that the sides are stretchy and lay flat wonderfully, so I feel it will fit a lot of different people.

This panty comes in either small or medium, and I went with the medium. The size charts are as follows:
Small
Size 2 - 6
Hip 34 - 36
Weight- 90 - 120

Medium
Size 6 - 10
Hip- 36 - 38
Weight- 120 - 140

Because of the stretchy band, I feel like it's rather up to you which size you want to get. I'm unsure if a large would have given me less trouble with the awkward fitting issues, but I'm glad that I didn't get the small in those respects.

I wear a size 6 in jeans, but my hips are about 40 inches wide. I feel like these would fit up to a size 10 well, and you may be able to squeak by if you're a bit larger as long as you don't mind the band possibly rolling a bit. If I was a bit smaller (a size 4) the band would be a tad bit too loose on me, so if you're under a 6 go with the small.

Care and Material

These panties are made of nylon and spandex. This allows them to be so stretchy and flexible. The sides ad front of these panties are made of a soft, lace like material but the part that sits in your rear is a standard elastic band.

These are easy to care for because you can just toss them into your delicates bag and wash them with the rest of your clothes. I wouldn't recommend drying them in the dryer, but rather hanging them or laying them flat because the heat from the dryer can degrade the plastic fibers in the lace. So far they've held up well to washing.

Overall

Overall, these panties? Not for me. I normally don't mind g-strings, but it gets on my nerves when my panties are so low rise they're almost showing where my 'lady area' ends and my genitals start getting R-rated. I would recommend these for sexy wear, but for daily wear? Not so much.
Experience
This is showing the basic design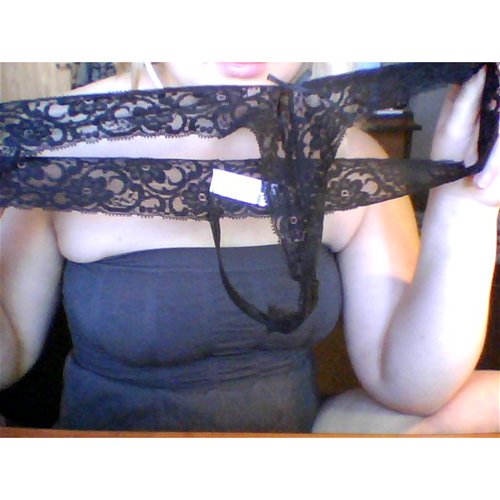 This is showing the part of the panty meant to cover your labia and sit along your butt (See the tiny liner?)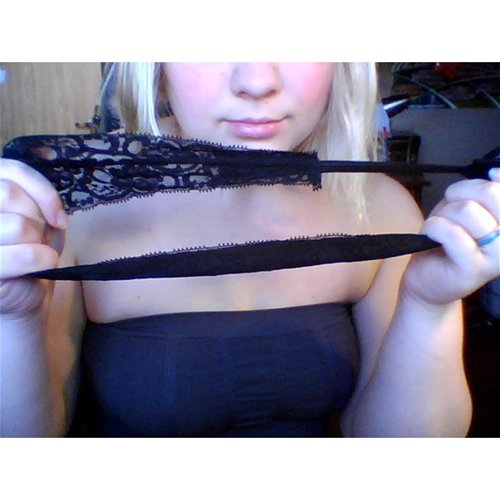 This is showing where the elastic meets the back, lace band of the panty.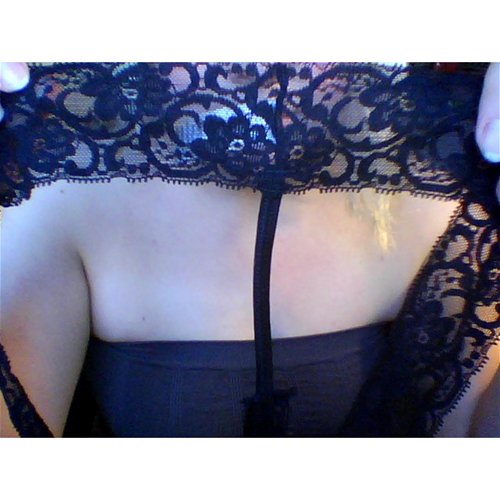 This content is the opinion of the submitting contributor and is not endorsed by EdenFantasys.com

Thank you for viewing
Black lace g-string
– sexy panty review page!