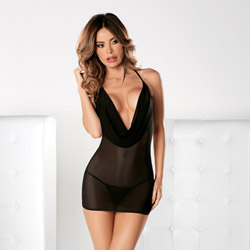 Cowl neck dress
Mini dress by Escante
~~Northern Exposure~~ (L)
Sexy peeks, comfortable fit and decent price, the Cowl Neck Dress does give you more exposure than you may be planning! Riding up and letting your booty hang out is fine for seduction, but may not be what you had planned for grabbing a drink or other errand that takes you out of the bedroom. Fun for teasing, leaving it on is always an option but wearing for other ventures....not an option!
Published:
Pros:
--Stretchy.
--Sexy and comfortable.
--Affordable.
Cons:
--Sized very small!
--Material can run if snagged.
--Shows figure flaws.
----------------------------------------------------
Manufacturer: Escante
Size: Large
Included:
**Cowl Neck Dress
**Thong
Packaging:Black plastic hanger inside clear, sealed bag.
----------------------------------------------------

Design:
This is designed to be a dress, but even with the stretch of the material it is more of a babydoll than a dress. The unstretched length is about 26" and it will stretch to 38"--however, it will not stay there, and rides up exposing an extensive amount of your backside. I would call this a 'booty dress'.

The front has a bit of 'extra' material that forms the cowl and it does drape nicely over the breast area, allowing you to decide how much of a peek your partner is allowed. It took about a minute to arrange it to my satisfaction and it does wiggle around as you move. I did have fun teasing my hubby with this feature!

There are two ties that form a halter. The halters tend to pull too much on my neck, so I tend to find creative ways to adjust them for my comfort. With this one, I ran the strings under my arms and tied it in the back. This also added a slight bit of length to the 'dress', and since it has no bust support anyways, I did not lose anything in that department.

Quality:
There were a couple of loose threads on the back, right over the seam that hits my lower back area. They were tied off and a quick snip took care of that issue. The bottom is hemmed with a stretch, but very thin bad and the cowl is raw material on the edges. I am worried a little bit about fraying after awhile, but will cover that in my follow up.

I estimate the quality as average for this style garment. It is not going to last forever, so if you can get it at a discount, this would be a good fit for budget and worth. However at full price, it is not quite up to par as far as my standards on cost per estimated wear.
Material:
The material is very fine mesh and does have a lot of stretch. The stretch is greater on the up and down adjustment rather than around, but it will fit many sizes. The mesh is larger than nylons, but much, much smaller then fishnets. It is soft, comfortable and breathes easily, however it is also very sheer and this design does show your imperfections rather than hiding them.

Made of Elastane & Nylon, the material will get runs if it is caught on a fingernail or other grabby object. Sturdier that basic nylon, if cared for properly, it will retain its shape very well and definitely holds up better. This material does hold up very well for a longer period of time than most nylons due to the interwoven mesh and the addition of Elastane.

Elastane is better known as Lycra or Spandex. It is a more durable material with a high stretchiness and has the ability to keep the original shape better than many other stretchy materials. Commonly used in workout clothing, dresses, undergarments and lingerie, it is used as a blend to strengthen and improve the qualities of the material(s) with which it is paired.

Fit:
As mentioned above, it does ride up as you move. The fit is reasonable tight but not restricting or uncomfortable. I would suggest going a size or two larger than you normally wear to make sure you get the length you may desire. This dress fits a bit small, and the stretch will cover some things--but leave others exposed. (Not a bad thing for your partner, but it could be a bit too exposed or uncomfortable for wearing around the house for you...)

Care & Storage:
I recommend hand washing and definitely air drying! Use a gentle detergent, Ivory, Dreft or Woolite and do NOT wring out the material. I gently squeeze the water out with hands while the garment is held against the side of my bathtub.

You can store this on a hanger, folded in your lingerie drawer or rolled up in a drawer. It is not prone to wrinkles and if any appear, a few minutes of laying flat or being worn removes them. This is a wonderful addition to your travel lingerie, it takes up minimal room, does not wrinkle and an airing out will keep it smelling fresh until you can wash it properly.
Experience
Size Chart:
My Measurements 43D Breast - 30" Waist - 42" Hips - 28" Inseam - 22" Thighs - 5"2" Tall & 150 Lbs.

Escante (Chart copied from EF):
Cup Bust Waist Hip Weight
Small 2 - 6 A - B 32 - 34 24 - 26 30 - 32 90 - 120
Medium 6 - 10 B - C 34 - 36 28 - 30 32 - 34 120 - 140
Large 10 - 14 C - D 36 - 38 32 - 34 34 - 36 140 - 160
XLarge 14 - 16 D - E 38 - 40 34 - 36 38 - 40 160 - 180
Sm/Med 2 - 8 A - B 32 - 36 24 - 28 34 - 36 90 - 130
Lg/XLg 8 - 16 C - D 38 - 42 30 - 34 38 - 40 130 - 170
1X 16 - 18 D 40 - 44 44 - 48 50 - 54 175 - 200
2X 18 - 20 DD 46 - 48 48 - 52 54 - 58 200 - 225
3X 20 - 24 D+ 48 - 52 52 - 56 58 - 62 225 - 250
Follow-up commentary
23 days after original review
Cute but short...kind of like me!! Seriously, this is super comfy and does really enhance the mood when teasing your partner. I do like wearing this and it is convenient for hiding my pooch when having sex....
This content is the opinion of the submitting contributor and is not endorsed by EdenFantasys.com

Thank you for viewing
Cowl neck dress
– mini dress review page!