Not a Cinderella Look
The Classic Corset resembles a chest binder more than a lingerie piece. This awkward top is scratchy and does not cinch a waist or push up breasts.
Published:
Pros:
Laces up and zips.
Cons:
Runs large, Bad fabric, Plastic boning
White Tesa's Classic Corset
by Escante is a simple piece of lingerie that isn't sexy. This corset both zips on the side and laces up in the back. The zipper is plastic and huge and does not add to the sex appeal of the top. The laces are white polyester and resemble the strings on shoelaces. The laces are thick and round. This corset could easily fit a person about 10 inches larger than whom it was made for.
The corset is relatively simple without much added frills or colors. The breast portion does not have any fabric to stop nipple chafing on the uncomfortable, scratchy fabric (ouch!). The neckline of the corset is straight and not even a little sweetheart. Breasts look terrible in this corset. Rather than push them up, it smashes them down. Instead of allowing them to spill over the top the corset works more as a chest binder than a corset. There are no straps or under-wire that would provide breast support.
The corset is made of Polyester with plastic boning. The boning could be replaced with metal boning but I doubt anyone would expend so much energy on such a cheap top.
The bottom of the corset runs a little long and does not give off the, "muffin top" appearance that some corsets have. The boning runs down the entire length of the piece, but because the plastic is so forgiving it does not dig into my skin. This corset is comfortable to sit and move in. Even though it is semi comfortable, it is not at all sexy. I feel like I am strapping myself into football gear when I put this top on. It has no girlish or interesting detail and this adds to its ace-bandage "binding" look.
This corset does great at squashing down your breasts and making you look like you are healing from broken ribs.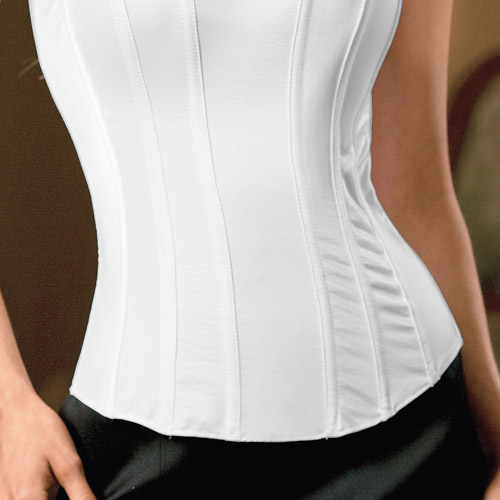 This picture is extremely misleading. It looks as though the waist is cinched whereas the real corset does not cinch my waist at all.
Experience
This top reminds me of the top portion of those two piece dresses. The corset is not at all revealing and because its sex appeal is so minimal, it would be fine to wear outside. I could see pairing it with a shirt or pants to wear out. I don't think this outfit would be cute but it wouldn't be inappropriate.
Follow-up commentary
4 months after original review
I have doctored this up a bit. I bought some fabric and lace at a thrift store which I attached to this corset. The purple lace looks great on this corset and I would suggest buying this piece if you love to fix things up. This corset can look great with a little work.
This product was provided free of charge to the reviewer. This review is in compliance with the FTC guidelines.

Thank you for viewing
White Tesa`s classic corset
review page!