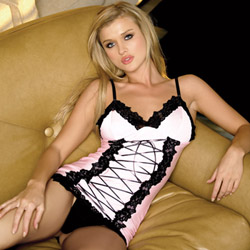 Lace up front dress
Mini dress by Leg Avenue
Not a dress, but still a sexy piece!
This piece is lovely as pretty/sexy sleepwear. It works as sexy lingerie, but I felt pretty rather than sexy. I love it and will wear it often, but when I'm looking to feel strikingly sexy it's not what I pick up. It's a comfortable way to feel pretty and feminine. The lace was not sewn on at the top, but that's fixed. Other than the bust being uncomfortable and leaving extra fabric gathering, I'm totally happy. No matter how tight I adjust it, the material still gathers under the breasts.
Published:
Pros:
Pretty. Well fitting. So comfortable!
Cons:
Won't fit everyone.
Bust is uncomfortable.
Lace wasn't sewn on.
The lace up dress is a pretty, feminine piece, but it's certainly not a dress. When I first saw it I knew I wanted it asap! It's comfortable and although there are a few flaws, it's a pretty piece for lingerie or sleepwear. It feels great on and looks pretty. I expected it to look cheap and fall apart. I must mention, where the lace starts right under the bust, on the left side it was detached, not even sewn on when it arrived! I was able to fix it in seconds though.
I've worn it all day today and it seems comfortable enough to sleep in. It's sexy, not something extremely unique, but very nice and the one size fit well, but it's not one size fits all. I'm a small so it worked and would fit a medium, but sadly I doubt it'll fit anything over large. I wish they made actual sizes rather than one size. With the ribbon tie-up middle you're able to adjust slightly (tighter or looser).
I measured the dress from top of bust to lace strip around the bottom to be 23 1/2" long. The lace strip alone is see through and measures about 2" long.
This piece is pink and black, but not as pink as the product photo. It's a light pink, one size fits all. The chest is lined in lace-like material, but is not actual lace. I'm unsure what it is, but it's soft. I was surprised that it gave me irritation under the arms as it's not scratchy, but rubbed that sensitive area a bit. Not enough to complain, but worth noting. The back (top) doesn't have lace, it stops under the arm. This same lace material is used on the 2 strips down each side of the front and lines the bottom (all the way around) it looks pretty and hits right below my cheeks.
The thin, but sturdy ribbon can be removed from the garment for any reason i.e. washing. The two black lace strips that run down both sides of the front have tiny loops all the way up for lacing. It arrived pre-laced.
The back isn't decorated. It's just silky, soft pink material with the lace that lines the whole bottom. There's a straight seam through the breasts. I didn't find the chest flattering as it bunched up even with a bra on. The bust has no wire or support, but I didn't need any. You can wear a strapless bra underneath won't show if you need to. Besides the lace not being sewed on and a flaw in the sewing between the breasts, I love this. Between the breasts the stitching curves upward instead of being a straight stitch. This causes folds (extra material hanging) in the breast area. I've considered wearing it as a top and have all day, but I'm not sure if I would in public. It's sexy as a dress for bedroom use, but I'm short and lucky that it barely covered my cheeks (not a complaint, but worth noting). If you're taller than 5 2" I doubt this will cover your cheeks. It doesn't come with matching panties, but those never fit me anyways. You can pair it with black panties for a sexy bedroom piece! The photo isn't meant to be a boobie shot, only to show the bunching and stitching.
It's made of 97% polyester and 3% spandex "exclusive of decoration" it says. It feels like it could snag if caught on something, but hasn't. The straps are sturdy and adjustable like a bra. I doubt the material will hold up to much stretching without running. You should be careful to avoid damage as it's thin, but like I said, the sizing seems right on. There's extra room making it comfortable without clinging. It's flattering and it does bring out curves! It does make me look much more curvy which can be a good thing, it depends on your preferences. It flattered my body type well and I'm petite, a size 0 and 5 "2 with one breast an A cup and one a large B-C.
This should be hand washed ONLY. Hand wash with warm water and let it air dry. Of course you shouldn't iron this piece nor use bleach.
If it's of any importance, the stitching is "zig zag" style.
Experience
I certainly love this piece and find it pretty and feminine. The fact that it flatters my body and feels comfortable without feeling the need to 'suck in' while wearing it makes me really love it. However, I wish it came in all sizes because this would look great on large and up as well.

My partner said it looked great and he thought it was flattering to my body... especially the backside! Lol. I love the lace-up. I think that adds a bit of sexy to it, but it does feel and look more like a night slip or gown than a piece of spicy lingerie. That doesn't stop me from wearing it as a mini dress and using it to try and be sexy though. I want to wear it as a top too, but I worry since the fabric is so thin and light that it will be see through. It's a well made piece and certainly worth the price. If taken care of properly I see this being around for a long time.

If you're tall and worry about this not fitting properly don't let that stop you. You can always pair it with a pair of jeans and wear it as a top. Even if you're tall it will still look amazing on, it might just be short. I should add that the bust fits weird on me. If you have a large chest they bust area will probably ride high on the chest leaving the breasts under their little triangle cups. The 'cups' aren't molded or fitted or padded. It's a quick and easy piece of lingerie and I do feel pretty in it.
Follow-up commentary
2 months after original review
First I want to say, adjusting the ties DOES NOT fix the bunching problem. That is due to the was it is sewn, like I already said.

Now, I do still like this camisole. It's not a dress in any way and shouldn't even be called one. It is a simple, thin cami which is fine. It looks nice with jeans and a black sweater and looks cute as lingerie. I wouldn't say it's the sexiest item I own because, it's very far from it. But it's a nice, sweet look. It's easy to wear, but I do find myself picking between the bust where the bunching is. Again, this is something to do with the way the stitching is sewn in a half-circle like deal rather than a straight stitch.

It is nice and if you're looking for something on the pretty side rather than the hot and spicy side then this is a good choice. I prefer wearing it as a camisole. I think it's great for that and had it been marketed as the camisole it is, I wouldn't have been disappointed that it was not a dress.
This product was provided free of charge to the reviewer. This review is in compliance with the FTC guidelines.

Thank you for viewing
Lace up front dress
– mini dress review page!