Not All Diamonds are a Girls Best Friend!
A wonderful design that unfortunately appears to be thrown together. From the rope necktie to the rhinestone strands that are spot stitched, the combo leaves a lot to be desired. Truly a one size-fits-most garment that will not fit larger women.
Published:
Pros:
Nice design despite construction.
Cons:
Rhinestones barely attached. Rope-like necktie. Size won't fit larger women. Seems a lil cheap.
With a name like Bound it's gotta be good...right?
The description on the box makes the Bound by Diamonds Baby Doll with G-string combo sound like packaged sex. Unfortunately the patent leather combo doesn't hold up to all of the hype.
Despite the one size fits most warning, I still had not completely made up my mind about the set. When I encounter a garment that claims that one size fits all or most, I prepare myself for it not fitting the way I like. I am a pants size 15 and have size 40D breast. I try not to let past failures dictate my next experience but the set clearly is made for a breast size no large than a C cup. And although the pantie has some stretch to it, I do not recommend it for those larger than a size 15. Although they fit me, it was a bit tight for my taste. But since I didn't plan on keeping them on long it didn't bother me too much.
So let's take this little set apart starting with the G-string...
The bottom is made like a lot of G-strings. A simple triangle front with a stretchy string back. The patent leather triangle measures 4 1/2" at its widest point. You then have a strand of rhinestones that adorn the top and a satin bow right under them. My biggest gripe with this are the rhinestones. First they are in a plastic setting which makes them look cheap rather than exquisitely luxurious. To top it off, the rhinestone strand is not secured completely. There is one stitch in the middle and one stitch on each end. It is terribly easy to pull the strand away from the pantie with the huge gaps. I will say that I liked the fact that the stretchy string portion was more like a flat 1/4" binding rather than a piece of dental floss.
The triangle will sit a bit low on your pelvis area. But the way it sits on you will vary depending on the size of your hips and pelvis region. And the G-string portion sits comfortably between your ass cheeks, but again, depending on your size it may ride too deep.
Now on to the top...
First you have two patent leather triangles that cover the breast...barely. But the lack of coverage actually adds to the sexiness in my opinion. When I am trying to seduce my mate I like to have as little on as possible while still giving off the illusion of cover. What takes away from this part of the top are the dang-nab-it rhinestone that are barely stitched on. "Why Cal, Whyyyyyy!!!"
Moving on...
There is a 1 1/2" space between both triangles with a black satin bow in the middle. This space is part of the stretchy binding that goes all the way around. Hanging from it is a pleated sheer material. (I did rather like this part of it)The binding does stretch but if you are on the wider side, you may have some issues.
The halter portion consists of a rope like string on each triangle and ties along the nape of the neck. The issue with this is the rope like strings. The ends are melt to prevent fraying, however one of my ends showed signs of fraying straight out of the box. Over time I foresee them coming apart.
I will admit that the set does look sexy and reminds me of my younger days as an adult entertainer. But the cheaply-made garment leaves a bad taste in my mouth. And I see only one romp around the bedroom in it. There is potential here and I hope that Cal Exotics remakes this set and take a little more care in the design. I have always enjoyed Cal Exotics because they usually make affordable toys with the quality of the more expensive ones. This vision was obviously not carried-out here.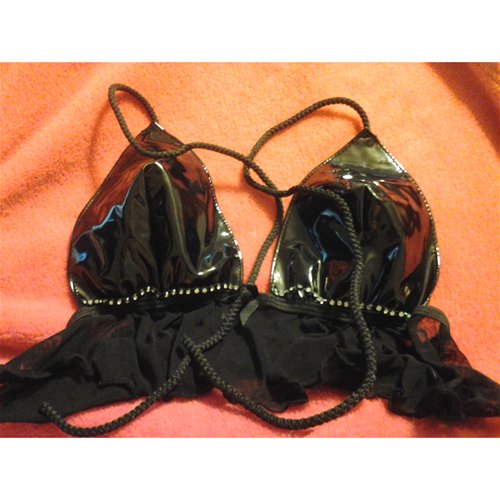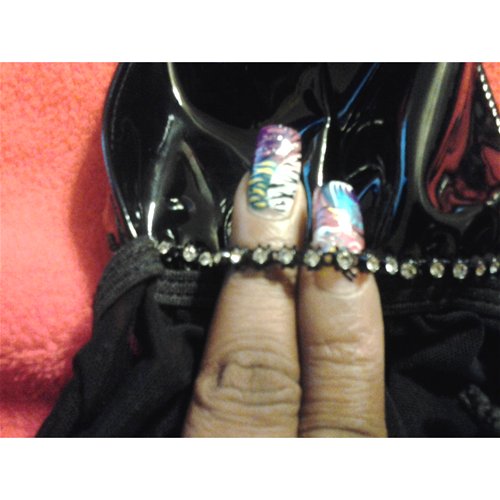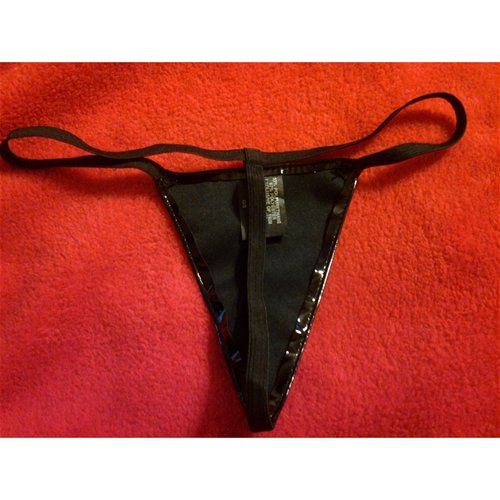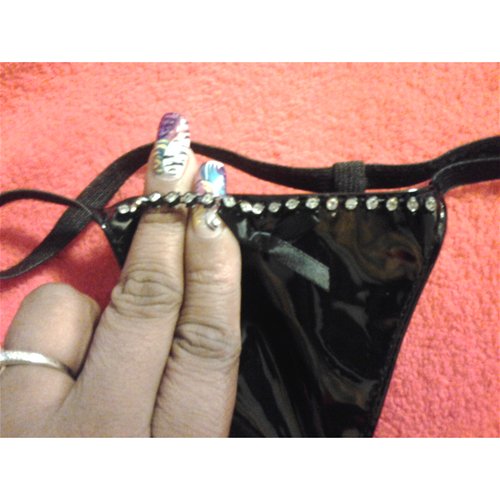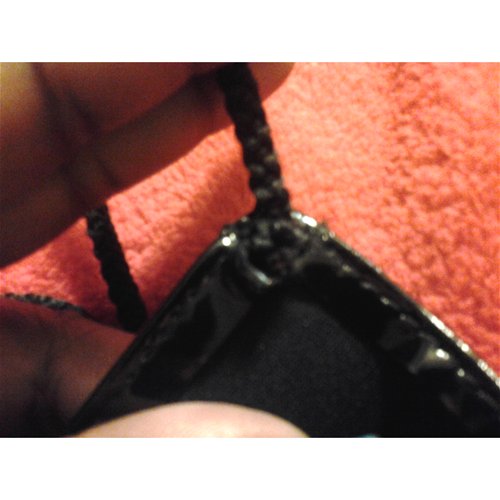 This product was provided free of charge to the reviewer. This review is in compliance with the FTC guidelines.

Thank you for viewing
Bound by Diamonds babydoll
– babydoll and panty set review page!