Not All Teddies are Cuddly
The Double Spaghetti Straps Teddy by Music Legs is a nylon and spandex teddy that looks cute by design, but is very ill fitting for women with C cup breasts or larger and does not feel like it is made of material that will last a long time. I would recommend spending the money on a teddy with an actual size rather than "one size fits most."
Published:
Pros:
+Inexpensive
+Not itchy
Cons:
-Very small cups
-Large bottom
-Straps do not adjust
The Double Spaghetti Straps Teddy by Music Legs is a "one size fits most" teddy. The teddy comes in your choice of black or red. In this case I chose red since I don't have much red lingerie. It is made of a combination of nylon and spandex. The bodice is slightly opaque while the cups are a see-through floral lace design. Due to the see-through cups, I would not recommend this for wear in public.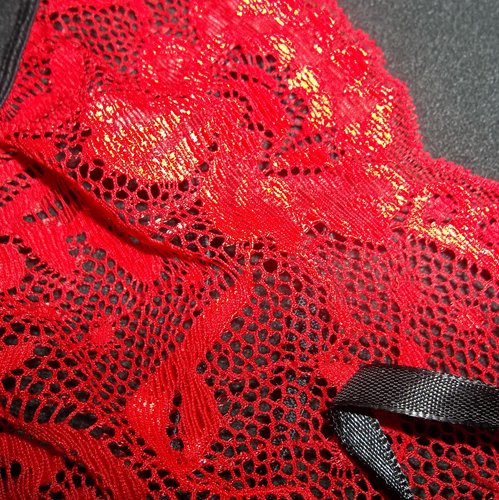 The same lace also borders the leg holes of the teddy. On the bodice between the breasts is black ribbon in a laced up corset design with ribbon that unties from the bow it comes in and can be removed.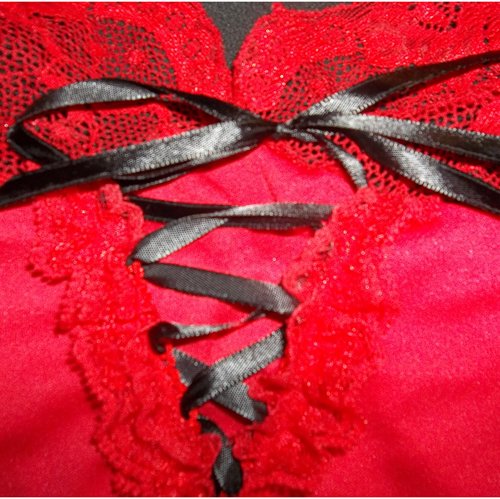 As with most teddies, the crotch has three snaps to close the crotch. If planning on wearing this during sex, you would need to undo these snaps or simply pull the material to the side, but that could be irritating because of the lace. The double spaghetti straps that the title boasts are black and made of elastic.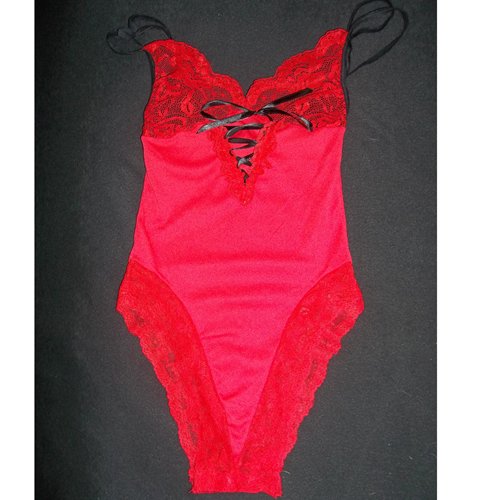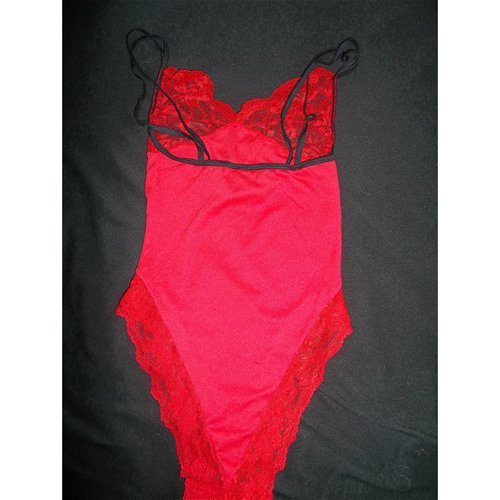 The material, while not scratchy or irritating, does feel a bit cheap and not very strong, as if I could rip it while putting it on and wearing it. It is soft and smooth on the bodice and the lace is very textured, which can be good if you like the feeling against your nipples with sensitivity play. The elastic straps do tend to cut into the shoulders, but that could be because they are non-adjustable. A major downside to these straps is that they do twist up terribly and get tangled in the wash.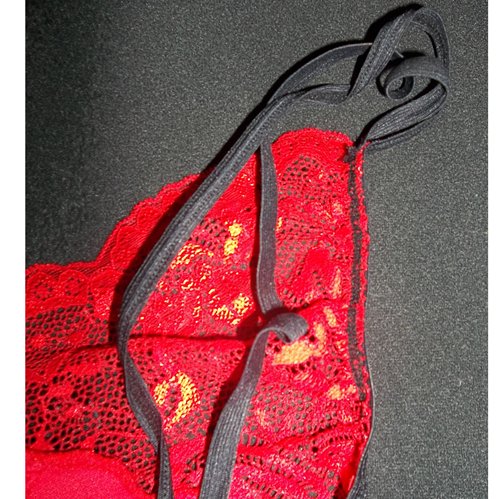 The fit of the teddy was horrible on me. I am a 38D and the cups just squished my breasts down in an almost painful way, but more than anything it was very unflattering. If I had to venture a guess, I would guess a B cup could possibly fit in this teddy. The bottom of the teddy reminded me of the bathing suits from the 50s with the full bottom covering. The tummy portion was not so bad, but overall the bottom felt baggy and the cups felt way too small. Let me sum it up by saying that when I tried to adjust myself as best I could, then walked out to show my husband our latest addition to my lingerie collection, he literally laughed out loud! I did not feel sexy in the least bit and just felt very uncomfortable.
All-in-all, if you have a long torso and small breasts, this should fit you, but for those of us with larger breasts and shorter torsos, I would not recommend this product. It is cute in theory.
Follow-up commentary
2 months after original review
The Double Spaghetti Straps Teddy by Music Legs has only been on my body once more since the initial encounter. I thought that I would put it on and see if perhaps I could alter it some way. Make the cups push up more instead of squishing my breasts flat, taking in the cut around the bottom to make it more of a sexy french cut, but no. This piece would not be saved my sewing skills. I still do not like this piece. I did go to check on how others reviewed it, but saw that it has been DISCONTINUED! So, even if after reading my review you still wanted to try it, I am sorry that it is no longer available.
This product was provided free of charge to the reviewer. This review is in compliance with the FTC guidelines.

Thank you for viewing
Double spaghetti straps teddy
review page!