Not just for brides!
Unfortunately, this gorgeous lingerie set was discontinued just as I received it for my assignment. I am thrilled that I was able to obtain it before it left Eden, but it's a shame that it will no longer be available for anyone else to enjoy here. If you ever do come across it in the future though, despite some construction flaws, I very highly recommend it.
Published:
Pros:
-Very pretty and sexy look
-Comfortable and well fit
-Can be mixed and matched with other lingerie
Cons:
-Stockings are very delicate
-Lots of loose threads where the sequins and beads are sewn on
This lingerie set comes with four pieces: a shelf bra, a garter belt, a g-string, and pantyhose. It comes in large, medium and small. I got the small size. Here's Escante's pasted size chart:
Small 2 - 6 A - B 32 - 34 24 - 26 30 - 32 90 - 120
Medium 6 - 10 B - C 34 - 36 28 - 30 32 - 34 120 - 140
Large 10 - 14 C - D 36 - 38 32 - 34 34 - 36 140 - 160
Here are my measurements:
Dress: 0-1 Cup: 32B Waist: 25 Hips: 34 Weight: 105
I'm in the perfect range for the small, and I'm happy to report that everything fits according to the size chart quite comfortably. Let's look at the set piece by piece.
The shelf bra:
The bra is decently stretchy, and measures 25" from one end to the other, unhooked. There are three rows of two eyelets and hooks, and the straps are adjustable, like any normal bra. The cups are underwire. The lace on the cups measure 3" from the wire to the top of the lace, which teasingly exposes the breasts from the nipple up. The material is 95% nylon and 5% elastic. The tags (which are huge and itchy, but easily removed) say to machine wash warm on a gentle cycle, separately, and line dry. However, I wouldn't risk washing this way, because of the details of the construction. Small, iridescent sequins and pearly beads are embroidered into the the lace, and they are not that well sewn on. In fact, on both the lace of the bra and the garter belt, you can see the loose threading where they were sewn. It would probably be safer to wash by hand and line dry. It's one of the design flaws of this set, though it's so pretty and I love the way it looks when I wear it, that I'm willing to overlook it.
The straps to the bra are another nice detail. The part that connects the bra to the stretchy part of the strap is a string of white rhinestones, and a loopy metal heart design. I love this detail, and it repeats on the four straps of the garter belt. The straps on the bra are removable (and I would remove them before washing), so you can wear the bra strapless as well. The set also comes with an extra set of regular white straps that are also adjustable, so you can switch the look up a bit if you like.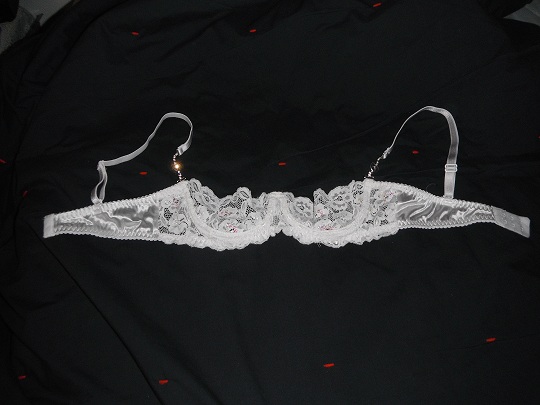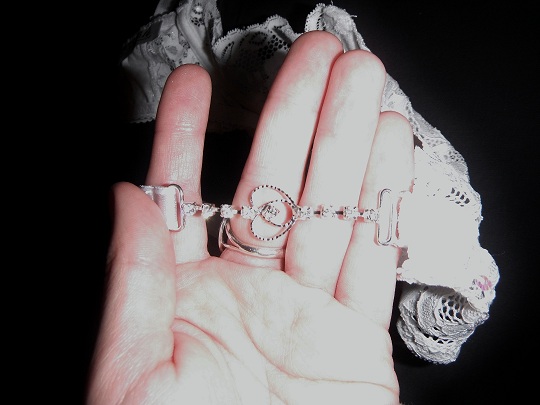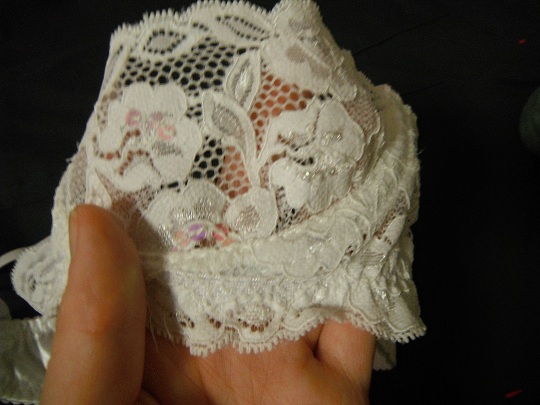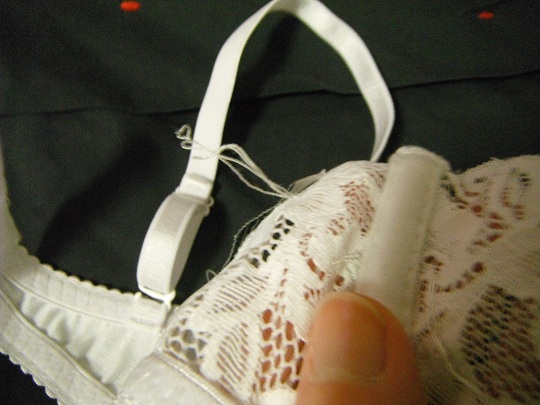 The garter belt:
As much as I love the bra, I adore the garter belt; it is gorgeous! It is satiny smooth and shiny with the same lace detail as the bra, sewn at the bottom. The back has a satin-like white ribbon that laces like a corset. There are four stretchy, adjustable garter straps that have the same design as the bra straps with the rhinestones and heart. The garter straps are also removable, so if you need to make a replacement, you can do that. The belt has an elastic waist that measures 13" unstretched, but stretches another 9" or so at its maximum.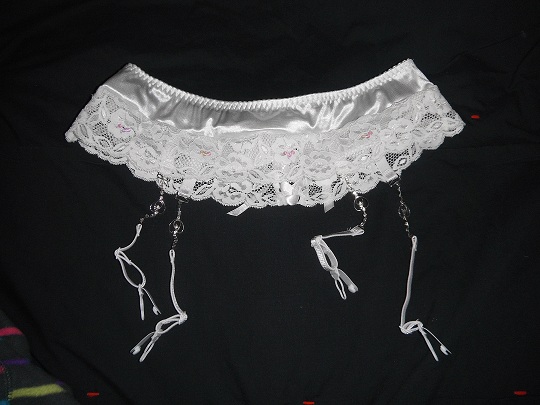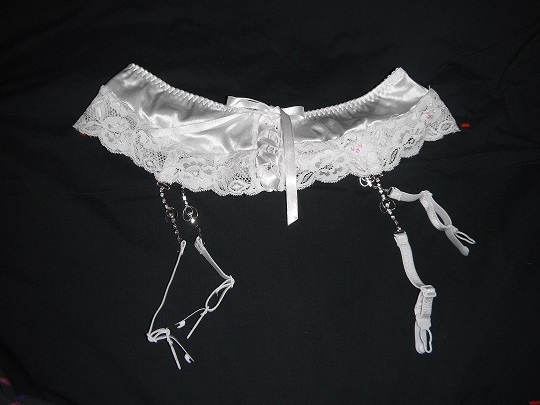 The g-string:
The bra and garter belt are really the star of the show with this set, so there really isn't a whole lot for me to say about the g-string. It is comfortable and has a liner in the crotch, and could be worn as everyday underwear. The front is soft and satin-like, and though it's a tad too big for me, it's not a big deal, because I have other pretty panties I could wear with this that would match the bra and garter belt, or I could go commando. The g-string is, like with so many lingerie sets, mostly there because it's expected to be. The band of the waist is about 12" unstretched, and can stretch to 21."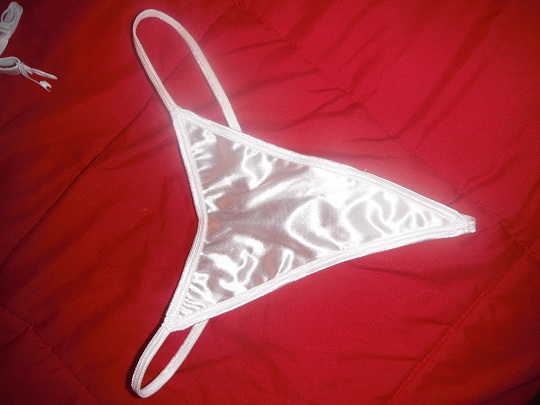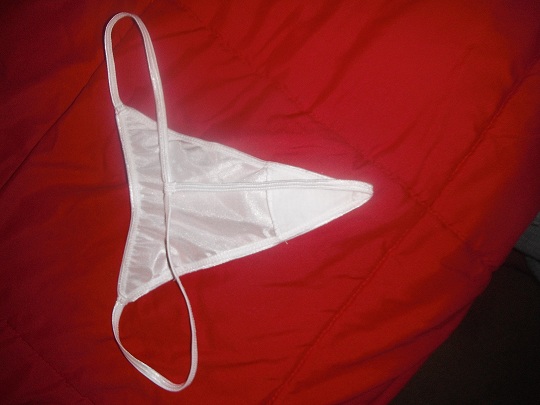 The stockings:
The weakest link in the whole set, is the stockings. They are white and ultra, ultra sheer. In fact, they are too sheer, and had a run in them the second time I put them on. It's a little disappointing, and they are the most delicate set of hose I've ever owned, and I have nearly a drawer full of various styles of hose as I write this, not to mention the dozens of others I've gone through over the years. Still, it's nothing that can't be replaced with something sturdier. The stockings are about 21" unstretched. And when stretched? I don't know, but they stretch a lot--I didn't want to tear them in half, so I didn't get a good measurement of them stretched at their maximum.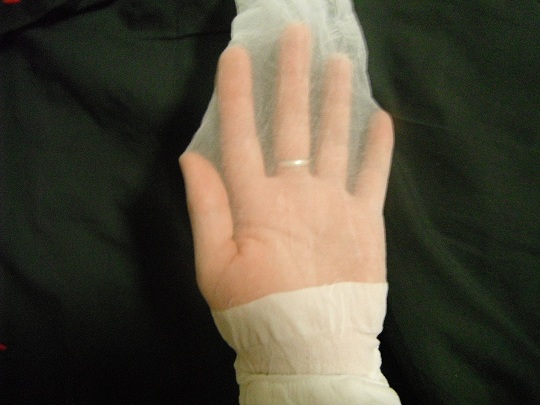 Experience
Escante's bridal jeweled garterbelt set is a lovely, and while silky, lacy, and white, is not only suitable for new brides, but for any intimate occasion. A similar black version, the
black jeweled garterbelt set
is also available, and this one is unfortunately, discontinued. When I got it, I was on the market for white lingerie (I have way too many black pieces), a shelf bra (I think they are sexy and I had never owned one), and a white garter belt. This set have everything I was looking for in one package, and while it has some noted flaws, I absolutely fell in love with the bra and the garterbelt as soon as I took it out of the package. It is elegant, sexy, seductive, and perfect for keeping of during sex, as your partner has access to your most intimate areas as you wear it. I dressed up in it and sent it to my long distance lover, who I am about to be reunited with, and he loved it on me. So while I'm giving this three stars because of the loose threads in the lace, the underwhelming g-string,and the far too delicate hose, it is still a huge hit for both me and my partner, and I'm glad I was able to snatch it before it became discontinued.
Follow-up commentary
6 months after original review
I'm pleased to see that since my review, this lovely set is back in stock! This was a big hit in the bedroom, though I'm disappointed to report that one of the garter straps snapped the first time I wore it for him! I'm not really surprised, because the garters are pretty delicate, lovely as those little rhinestones are. Still, I adore the shelf bra, and it really does accentuate smaller busts very nicely. I also have found that even with the broken garter strap, the belt part itself makes for a hot little accessory to wear if you remove all the straps. It's not the ideal way to wear this set, but it still looks very alluring and feminine when altered a bit. I also use a different set of hose when I wear this, because the unbelievably delicate pair that this set comes with are already snagged. So, while this lingerie set is far from perfect, I still like it and feel very sexy while wearing it.
This product was provided free of charge to the reviewer. This review is in compliance with the FTC guidelines.

Thank you for viewing
Bridal jeweled garterbelt set
– bra and panty set review page!