Not Quite As Pictured
Fantasy Lingerie promised alot with this set, and they just didn't deliver. I expected a satiny finish on this beautiful design, but got cheap, tacky mesh instead. The bra was unflattering and didn't support my breasts, and the thong was unreasonably uncomfortable. A big fail.
Published:
Pros:
Beautiful design
Cons:
Material rough
Not as pictured
Thong uncomfortable
Top unflattering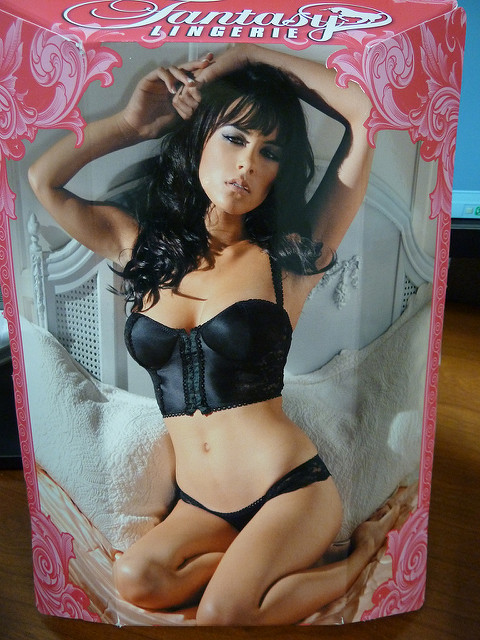 Fantasy Lingerie promised alot with the Knit Bustier set. Not only did their model make it look hot, but the photographs of it made it appear a silky, satin set that would make just about anyone look gorgeous. Sadly, it was not so.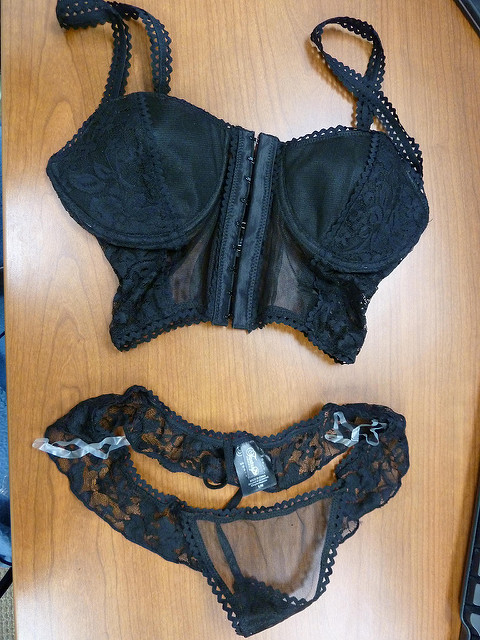 The Bra
The set came in the standard Fantasy Lingerie box, tucked away inside a simple plastic bag. I ordered the S/M and was pleased when I pulled the bustier over my head. It fit just right! My boobs were lightly padded and hugged. As an A-cup gal, getting a top to fit right is difficult.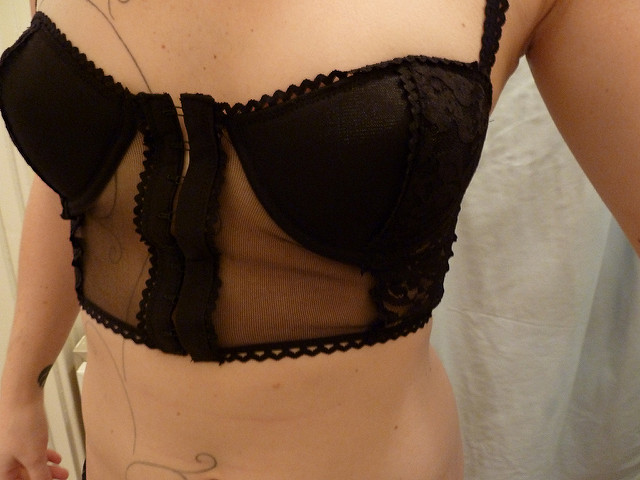 It did take some tugging to get the cups down below my breasts, which initially were showing the underboob. My breasts are perkier than a spring chicken, so that was odd. A bit of adjusting of the stretchy lace straps and voila! Time to suit up proper.
The front features a set of 9 bra-clasps. The clasps close outwards, saving your chest from poky metal parts. It's tricky to close them all, and it's a good thing the sides are stretchy lace. You have to pull the material away from your body to close each clasp.
The sadness set in once I got the top situated. It wasn't an illusion; the seemingly-satin front of the bustier was anything but. It was cheap mesh! Tackily, my chest's underbelly was displayed. I felt more like a stripper than a sexy diva. This was supposed to be a classy set. I sighed. I can't stand it when things aren't as pictured.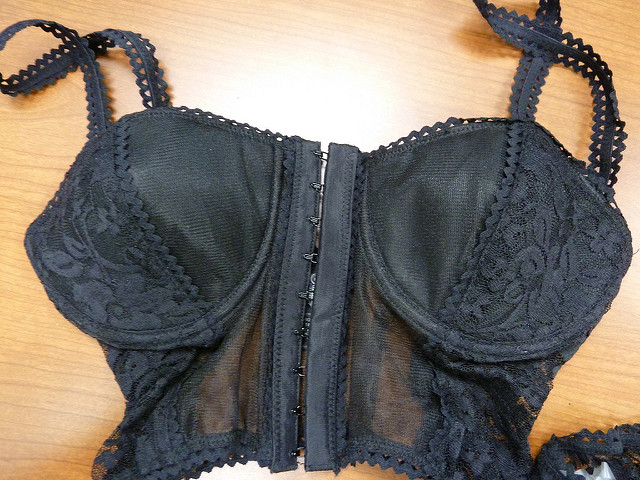 The bra has lace, mesh and rick-rack accents, and all-around appears cheap. The satin finish of the advertisement would've been much preferred. Also, the Nylon/Spandex material was not soft. I can see how extended wear would be anything but comfortable.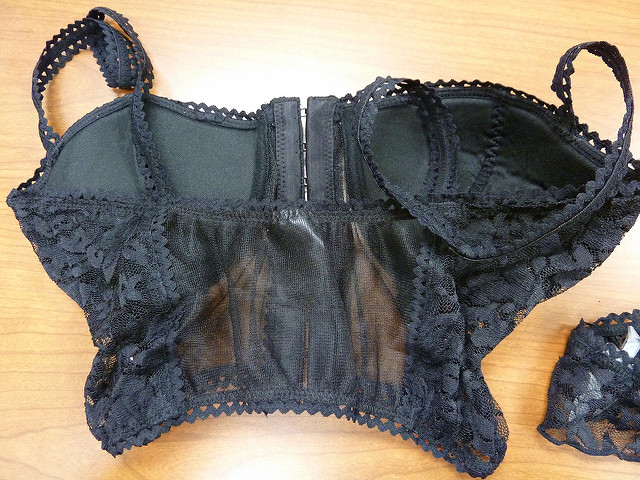 Even the back panel was the same dreaded tacky mesh. As you can see here, the breast cups were sewn quite well, and molded in a seemingly smart design. However when it came to performance, they didn't fit the bill. As seen in the photo above, my breasts were not supported or lifted at all. They just looked plain. Like someone had stuck a bra on a board and called it a day.
Also, the front buckles and bends in an unflattering fashion when not tugged taut at the ribs.
So that's that. I'll never wear this bra to look sexy, as I think it's trashy. Nor will I wear it to support my boobs, because it doesn't. Nor will I wear it to be comfy, because it isn't.
The Thong
Whoever designed this thong has some kind of funny crotch. I wear size 5-7 pants. This panty fit me fine in the hips. The issue came in at the crotch. It's almost like a crotchless panty, but more like cunt floss. The triangle of the panty front ends at about my urethra. From there on it's a dangerously thin piece of elastic hiking itself up in my nether regions, in a way no proper G-string ever would.
Fantasy Lingerie even put in a
1.5" triangular cloth panty liner
just for shits and giggles. And to say they had a panty liner. At least they tried.
The hips of the thong are lined in a 2" wide, medium-sized floral print lace. They're Spandex, so they stretch, but not enough to comfortably fit a gal over size 9. The fabric, again, is not soft by any stretch of the imagination. Just not meant for grazing your most delicate parts.
The triangular front-piece of the thong is the worst. It's the same tacky mesh! As someone with pubic hair, this is not my big vision. It's just ugly, with hairs poking through the holes and getting matted down behind it. Do not like!
Experience
Also is the issue of the WTF? clear elastic
hangers
on either side of the thong. Like those in strapless evening gowns. I mean, who hangs a thong up in their closet? Really, Fantasy Lingerie?
Overall, I could never wear this thong. Ever. It's so uncomfortable with the crotch-thong aspect, and it's unflattering with the transparent pubic-piece.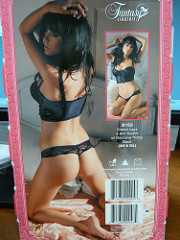 The box is difficult to open without damaging. I recommend storing this in your lingerie drawer with the rest of your unmentionables. The bustier you can store on a hanger in the closet if you like.
A tag at the back of the bra and panty state this is 92% Nylon/8% Spandex. Machine wash on warm on gentle cycle, with like colors. Tumble dry on low.
That is, if you can get past all the sad hangups about this set. Really, Fantasy Lingerie, I would expect more from you.
This content is the opinion of the submitting contributor and is not endorsed by EdenFantasys.com

Thank you for viewing
Knit bustier with stretch lace accent
review page!