Not quite lingerie, not quite a top.
This is a cute tunic and I think it would've been perfect as a tunic for public-wear rather than lingerie. Had it been made of less sheer material, it would've looked fabulous. However, the way it is makes it far too showy for girls that aren't comfortable bearing it all. In my case, I am usually comfortable bearing it all, but the fabric is too clingy. Wearing it with a cami underneath really brought attention to my love handles, and wearing it as lingerie made me feel less than sexy.
Published:
Pros:
Pretty color.
Very comfortable material.
Boat neck.
Cons:
Too transparent.
Clings to my body.
The comfortable, stretchy mesh tunic conforms to your body, showing off every wanted or unwanted curve. The lightweight Nylon material feels comfortable against the skin while the black lace trim adds something unique to the solid blue color. That brings me to the actual color. While the true color of this is very close to what the photo shows, it actually has a more teal look to it rather than turquoise.
This top is transparent making it tough to wear anywhere but the bedroom. If you're like me, always looking for ways to turn bedroom clothing into public wear, you may find a similar colored cami to be useful under this. I have a turquoise cami that doesn't completely match the color of this, but wearing it underneath the tunic made it wearable outside the bedroom. White or like colored camisoles will work fine under these mesh tunics. I paired mine with black leggings and the turquoise cami. However, doing that made me really uncomfortable with my body in this, but we'll get to that later.
If leggings aren't your style, you can wear this as a top with jeans, this looks fabulous with jeans! And if all else fails, wear it for its intended use--as lingerie, with nothing underneath except the included lacy G-string. That happens to be the most comfortable way to wear this.
This has no tags on it and neither did the panties. To bathe this pretty, delicate tunic, handwashing is best. I have a feeling the Nylon will do fine in the washer, but have yet to go there.
If you've ever worn a body stocking, it fits similar to one of those, clinging to your body. The material is extremely stretchy, and like a body stocking, it looks tee-tiny before putting it on.
Measurements:
Width : 9 1/2" wide. Keep in mind this stretches to fit your body so measurements are tough.
Length (including lace trim): 24". Again, this can be stretched for longer or shorter length. The longest it stretches is about 25".
Each lace trim around top and bottom measures 2" long. The lace trim on the sleeves also measures 2".
Sleeves are 4" wide, but will stretch.
The sleeves are 3/4 length, hitting right past the elbows on me.
As you can see, this tunic features what is known as a "boat neck" or "off the shoulder." They stay up fine and if you're a fan of the 80's, this might be right up your alley. I often cut the neck out of my own t-shirts to give something funky to them. This tunic isn't low-cut so you won't be showing cleavage, but you'll be exposed plenty through the transparency of the material. Nipples stand out like a sore thumb.
My measurements:
Bust: Right: between a B and C cup. Left: 34B
Jean/short/bottom size: Zero
Weight: 93lbs
Height: 5 2"
Waist: 26"
Lower waist, where I'm a bit wider, the love handle area: 29"
Widest part of my thigh: 18"
Rear: 32 1/2"
The tunic hits right around my waist, covering my tiny hiney barely. It's not dress length, but when I adjust it, it will hit a few inches below my rear. In order to do that though, it requires constant tugging and pulling, something I've come to dislike about the entire garment.
This basically fits like any other tunic, only the material makes it cling like an extra layer of skin. As uncomfortable as that sounds, it's really not. Again, think body stocking. Even with a day's worth of constant tugging and pulling at this tunic, it's still in perfect condition. One important thing to note is the delicacy of the material. While it will certainly hold up to a great amount of tug and stretch, it won't withstand your unfiled nails! Nail biters, beware! The smallest hang nail or jagged nail will snag the material. The snag mine bears is hardly noticeable though.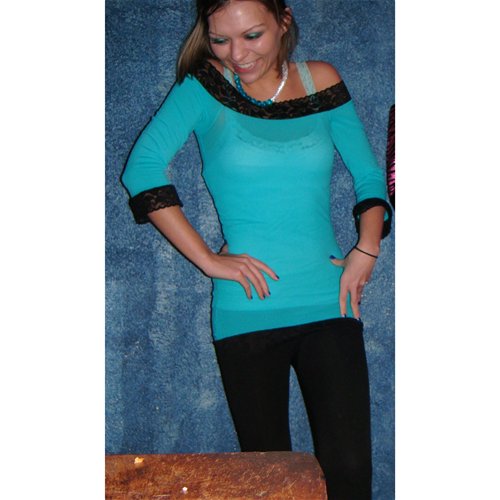 Experience
The G-string is your average lingerie panties. It fits, but I'm not fond of it. They are uncomfortable, but you'll be happy to know there is a soft lining! It seems to be cotton, but there's no way of knowing for sure. The turquoise color looks a tad more turquoise than the top, which is teal. The lace has a floral pattern.

I find myself almost at a loss for words at this point, which is something most of you are not used to. I have mixed feelings about this tunic, and feel there's little more to say about it.

It's important to take into consideration how you feel about your body before buying this. I normally feel fine in this material, even though it shows off everything. However, I don't feel sexy in this. It's not the kind of garment you can slip on and feel good in. I had to keep adjusting it. Wearing it with nothing underneath felt best. That's because pairing it with a cami caused bunching, which brought out my love handles. I can be self-conscious about that part of my body some days and this week, I've been just that. It's not just the tunic, some of it is me and how I'm feeling this week. On days where I'm retaining a little extra, I don't find it easy to wear anything and feel good, whereas the rest of the month, I do. That, plus the way the cami created extra thickness made this an item I'm not comfortable in.

As for wearing the tunic as lingerie, with nothing underneath, I looked better, but it's not lingerie that made me feel like a sex kitten. I think it's because this comes off as a casual top, not lingerie. Next week, I'll be a little more confident, but I don't look forward to wearing this again. I guess you could say it "just didn't do it for me." It's unfortunate, but it shouldn't deter anyone else from buying it. I think it will flatter most body types as long as there's no extra clothing underneath to bunch up. It clings to my body though, rather than flowing over my curves gracefully.

I'm stuck between wearing this as a top and wearing it as lingerie because neither way works for me. Like I said, I feel sexiest in lingerie that has something special to it and this feels like simply wearing a top for lingerie. I would feel better being fully naked than wearing a top as lingerie. That doesn't mean this isn't adorable, it is, but it's not for me. The product itself was well made and durable. It seems it's my own body and preferences that are the problem so I chose to give this 4 stars. Four because it's not special or sexy enough for five, but the construction and design for such a simple tunic is worth four.
This content is the opinion of the submitting contributor and is not endorsed by EdenFantasys.com

Thank you for viewing
Stretch mesh three fourth sleeve tunic
– mini dress review page!