Not so easy to snap off, but it's definitely sexy and workable!
Besides the flimsy material and the butt being so revealing, I think this bikini is fabulous! It's sexy and stylish. I love that lingerie brand bikinis fit me on bottom so well without cutting in. It's great for swimming at home, and perhaps if I ordered a size up, it'd cover my hiney better.
Published:
Pros:
So comfortable.
Well done.
Nice fit.
Not transparent.
Cons:
Cheap, flimsy, non-sturdy material.
I have the Bikini set size small, not medium. It wouldn't give me the option to review under the small, so better to have one than none.
The simple design is made very much like swimwear, only better fitting. Lingerie brands have better fitting bottoms than regular swimwear, in my opinion.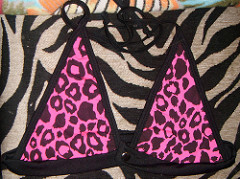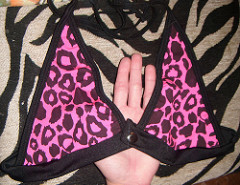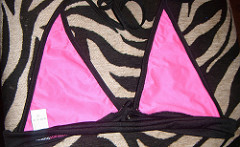 Like your typical bikini, this has halter strings that tie behind the neck. The difference between this and most swimwear is 3 metal buttons - one between the triangle cups and two on either hip. Thankfully, they don't come undone without force, so it can be worn swimming. In fact, when unsnapping the buttons, it feels as if the material will tear. Snapping them is easy, but after noticing how hard you need to pull to unsnap them, I only remove it via the ties now.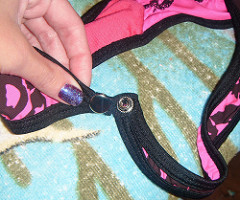 The product photo looks like dull purple, but I was happier to see it's more of a magenta. It looks neon pink in my photos, but it's not quite that pink. Neon would always be better, but it's still lovely.
The cups, crotch & butt are magenta with black leopard print. The trim, halter ties, back strap and bikini sides are black.
Bikini's Measurements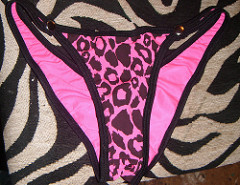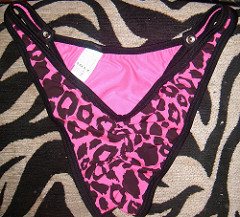 Waist: 12 1/2" wide.
Halter ties each measure 20" long, so there's plenty of room for adjusting tighter or looser. However, the strap that rests mid-back isn't adjustable, but an almost 1" wide, non-sturdy strap. Since it's loose around my back, the small cups are too revealing, so I tied the back strap. I'll either cut it in half and tie in a bow or sew hook & eye closures.
The cups are your typical triangle, non-padded cups. The have black trim, and the almost 1" wide trim, which runs around the back making the back strap I explained. The cups measure 8" long from very top to bottom trim and 5" wide at the widest area, near bottom of the cup. About where my nipple lands, measures 3 1/2" wide, leaving me exposed a little. The button is in between the cups sewed onto this black trim that makes up the back strap.
You have 18" long of this black back strap.
Measuring only about 5" in long and 6" wide in the crotch, these will be super low-rise on taller torsos, but for my petite frame, it was a nice fit. It could stand to have more coverage, but I can swim & move about freely without any cooter becoming exposed. This has a pink cotton crotch liner. The crotch liner spot measures 2" wide, so it fully covers down there.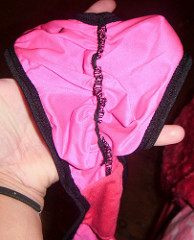 Butt has a "V" dip. Due to the extreme amount of ruching up the butt crack (shown above,) these are overly exposing of the cheeks, redering these inappropriate. I swim mostly at home, but I still feel too exposed to wear this at our pool when the kids and family are often around. I'm considering un-sticthing some of the ruching to give more coverage. I've added ruching to a swimsuit bottom before, but never taken it out.
The butt measures 5 1/2" wide, which exposes even my tiny booty. It tapers down to measure only 4" wide near the butt cheeks. That's so unfortunate because I wanted to wear this as a swimsuit. The butt only measures 5" long. Had it not been ruched to heck and back, it'd be a lot longer. Thankfully, my small butt fits, but any larger than my size and your crack would peep or either you'd have to pull it so far up that you'd be sporting a major wedgie.
The hip straps measure half an inch wide, but taper to a full inch near the back.
My Measurements
Bust: Right: between a B and C cup. Left: 34B
Jean/shorts/size: Zero
Weight: 93lbs
Height: 5 2"
Waist: 26" Lower waist. Where I'm a bit wider, the love handle area: 29"
Materials
84% Nylon, 16% Elastane
The bikini doesn't have a lining like most swimwear, but the material feels much like a swimsuit and isn't see-through, even when wet, which is just what I'd hoped for! Unfortunately, the fabric is thin and won't hold up to pulling and tugging, especially when trying to support larger breasts. The fabric is so thin my nipples were just-a-shinin'. I'll sew in a foamy piece, which you can remove from your old swimsuit tops, or sew in a pouch to remove and replace.
Both top and bottom have 2 tags on them. You can remove them with scissors while keeping the garment intact if bothersome.
Experience
According to size chart, this fits a 34" bust, 25" waist and 34" hip. If you're more than a few inches larger in the chest or bottom, like I said, I would order up because it may be overly revealing leaving your parts hanging out or won't support you.

Caring Instructions

Non-chlorine bleach, no iron, hand-wash and hang to dry. However, I always wash swimwear in the machine, so on delicate this did fine. Putting it inside a cloth bag will be a less risky approach if you plan to machine wash. Wash separately since colors can bleed, although I didn't notice if this did.


Fit
The material is so soft and comfortable! It's more comfortable than my actual swimwear. I love how soft it is and how the bottoms just lie gently on my hips without digging in, but also without sagging. Unfortunately, the ruching of the butt takes away a lot of stretch this would've had to accommodate even larger sizes. As is though, anyone more than a few inches larger than my posted measurements will find this tight and unsupportive, as well as possibly hang out of the garment.

Experience
I once purchased a Foreplay bikini in hopes of sewing in a liner and wearing it as real swimwear. Once I got wet, it wasn't see-through even with no liner and being white and black zebra print! That was one of the first "swimsuits" I ever felt truly attractive in. It just seems that all swimwear has saggy bottoms that cut into my sides and really show off my love-handles. So I've been using lingerie brand swimwear ever since, except my one other one that is a real swimsuit and flattering on me, and that blasted thing costed around $100! This fits so easily, without any discomfort. It just lies on my body instead of being tight in any area, well, except the bust, but that was fixable.

I like this bikini very much. It's one of the most comfortable ones I have. And it's much cheaper than actual swimwear!

So, whether you want to wear this in the bedroom only or in your own pool, it'll work. It's fun, stylish and sexy! I ain't complaining about how my hiney shows in it, because it's very flattering back there, but I just wish it wasn't so terribly revealing so that I could wear it more.
This content is the opinion of the submitting contributor and is not endorsed by EdenFantasys.com
Thank you for viewing
Hot pink snap off bra and bikini
– bra and panty set review page!