Not so flattering, has several flaws, but the colors are irresistible!
While this bustier has the fabulous colors, material and cut going for it, the stripes going every which direction make it unflattering to my mid-section. It's not ugly on me, but could've been more flattering if given more attention. It's something I'll wear, but only when I'm feeling my best.
Published:
Pros
Well made.
Sturdy.
Beautiful colors.
Comfortable material.
Cons
Stripes are unflattering.
Angled boning is crooked.
Non-removable garters.
Bustier
The bustier and panties are a gorgeous bright pink and black, super silky material. The bustier is made to be form-fitting, but not tight. It still shows everything. There are black stripes going in different directions all over both pieces. The front of the bustier has black stripes straight across, and angled stripes on the side and cups. This kind of creates a busier design than if they were all one direction. It also creates a bulkier appearance. There's black, lacey trim along the cups, hem and upper back.
The cups have underwire for support, but no padding. They're flattering except for the way the top, near the strap rides so high up (shown in photo.) The straps aren't removable, but do adjust with a slider, like a bra.
The bustier has 8 bones total -- 4 in front and 4 in back. I love the placement of them. Instead of putting two down the side, there's two on either side of the lacing and two more located an inch beside those. The side boning makes me look too curvy. These are placed nicely and are comfortable as well as a little supportive. I don't much care for how everything is angled. The bones are all angled making it look funny on. The bones on the front are crooked. You can see in the photo how the bones in the front are angled, creating a sort of "V" as you look down the bustier. This would've been flattering had the stripes not been going in different directions. The two bones located on either side of the front panel aren't angled, and are spaced an inch away from each other, unless you count the space where the others are angled, and then it gets wider as you look down. My photos will do a better job of describing this.
Another flaw is the bones being so short, in the photo you see how much fabric is left over and this just causes the fabric to roll up in the front and back, and it looks downright bad. Perhaps I should've just gone a size up for longer length.
The bustier has sturdy metal closures that are sewn onto sturdy black strips of material on either side of the back. Thin black, satiny ribbon laces the back up. The ribbon is too thin and wads when tightened. I had to lace it as tight as it'd go. Unfortunately, the bones aren't as long as the fabric, so the trim around the hem rolls up and looks bad.
Panties
Photo on left is the back of the panties, the right photo is the front.
The panties have black lacey-like trim around legs and waist, and a silky black bow on the butt. The butt has subtle ruching, which is the only thing that kept them from sagging on me. They're slightly baggy in the crotch, but fit well and provide full coverage. Unfortunately, the garters aren't removable or they could be worn under clothing. However, they can be cut off and replaced with removable ones as long as you sew a loop. The panties have ribbons sewed inside for hanging.
The panties have two seams on either cheeck, and the slightly ruched butt crack seam. The stripes are up and down on the sides and at an angle on the crotch and butt. There are 3 seams on front of panties -- one down the middle, two on each side. I think it's sexy, it breaks things up.
The elastic garters are made like most. They're sturdy with a lot of stretch and feature plastic clips. They're 10 1/2" long at longest and 5 1/2" at shortest.
bold|Panties Measurements]
Waist: 12"
Butt: 8" wide, 6 1/2" long from waist to bottom of butt.
Crotch: 6 1/2" long from top of waist to bottom of crotch.
Crotch liner area measures 1 1/2" wide allowing plenty of coverage and no wedgies!
Crotch-liner sewn in!
Bustier's Measurements
Torso: 11" wide.
Bust: 10"
Cups: 4 1/2" long and 5" wide.
Waist: 10 1/2"
Can loosen up to 13" while still tying the ribbon laces.
Length from top of cup to hem: 13"
Length from between bust to hem, where the bustier dips lower: 12"
My Measurements
Bust: Right: between a B and C cup. Left: 34B
Jean/shorts/size: Zero
Weight: 93lbs
Height: 5 2"
Waist: 26" Lower waist. Where I'm a bit wider, the love handle area: 29"
Experience
Look closely to see it rolling up in the front in the photo where I'm pointing down, and looking closely at the back photo you can see it rolling up at the bottom.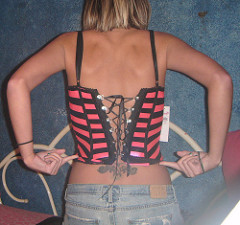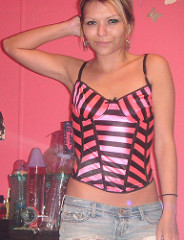 The bustier rides up, it's short and dips lower in the front, higher on the sides while being a straight cut in the back. My photos show just how short this goes in the front, then on the sides and in the back. It leaves a few inches of my lower back exposed and a couple inches of my lower abdomen.
Materials & Care Instructions
92% Nylon, 8% Spandex, exclusive of trim, underwire, closures and plastic boning.
Machine wash warm, darks separately, tumble dry-low, remove prompty, no twisting or ringing. Panty has hanger hook.
Made in China.
Packaging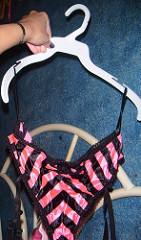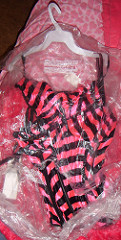 The panties and bustier came on a bent hanger and wrapped in plastic. I like that it didn't come in a box full of photos, but a simple bag. The tag didn't even have trashy photos on it! It just said "Fantasy Lingerie," which was much appreciated.
The size chart states that the small will fit size 6-8 with 35-37" bust, 26 1/2" - 28 1/2" waist and 37 1/2" - 39 1/2" hip. Any larger than a small may not find this comfortable or flattering. The laces do allow for more room than my measurements though. Tightened fully, where the back two pieces meet, this fits me without being uncomfortably tight.
I have loved this bustier's beautiful colors, but was hesitant about it being too short and unflattering on me. Shiny, silky material usually highlights your middle, and the way the strips run so many different directions make it less than the most beautiful bustier on me. I'm slightly disappointed, but I knew it'd be a little short. I feel fine in it, it's comfortable considering, but would've really liked to feel down right smokin' in this. My lovie was impressed and said "how can you look at yourself right now and not think you're beautiful?" That gave me the boost I needed to continue wearing it. I personally thought I looked decent, but not overly sexy.
While this is well-made, stretchy enough to accommodate a few more pounds than me, I think things could've been better. The garter straps on the panties should've been removable. Who does that? I can definitely see a big difference between Coquette's bustiers and this, but for the price, it's worth it.
This content is the opinion of the submitting contributor and is not endorsed by EdenFantasys.com
Thank you for viewing
Marquis de pink bustier & booty short
review page!