Not Sure What to Think...
This Criss Cross Bustier had my head spinning. It's not at all what I thought it would be. It's no surprise that the lifeless mannequin gave me a different expectation. What you see on the real model picture I found is more representative but is unlikely to fit many people the way it does on her. Plus, it looks bloody uncomfortable.
Published:
Pros:
Unique?, Strong materials
Cons:
Smashes boobs, Odd and impossible sizing, Runs way small
I honestly don't know what to really think about this strange piece of lingerie. It's constructed very peculiarly and fits even stranger. It is made by Leg Avenue and must be one of their older pieces because it can't be found on many websites. I'd had it on my wishlist for awhile but was unsure if it would be a good fit for my body type since the lifeless mannequin isn't a good representation. It is also hard to confidently say who this is best for. I do know that it is clearly not best for me. It is probably best for those who are more petite.
*Contents/overview:
One piece bustier
This Criss Cross Bustier from Leg Avenue has minimal plastic boning, mesh panels, and a custom three tired eye and hook closure in the back. The corset has no designated cups, padding, or underwire. It is made in one color - black. It comes in sizes S, M, and L. The sizes run small in the bust area.
*Material:
Not sure...
The tag that is attached to the corset says it is made of 100% polyester. The tag on the indie says it is made of 80% nylon and 20% spandex. So, I'm not sure what is up with that. The trim is the plastic boning, metal hook and eyes, and mesh panels. The polyester is s bit shiny on the outside and feels like fine felt on the inside. It's not the most comfortable thing in the world because the polyester panels are thick and somewhat rigid. They are kind of like power-netting with a strong stretch. The mesh is very thin and see through.
*Design/craftsmanship:
Strange, Not great
The Criss Cross bustier has a very interesting design which is what makes me believe that it won't work for a lot of people. It's cropped shorter than a traditional corset and will fall between the lower waist and high hip on most people, depending on their torso length. The bottom and top are identical, so it doesn't matter which way you put this one. It's all up to personal preference about which way you want it to hook, right into left or the opposite. There are only four pieces of boning, two in front and two in back. The ones in the front create the triangle points because they run between them. The boning in the back is where the straps connect. In between the "straps" of fabric are panels of mesh. It's actually one big piece of mesh behind it, but it creates the illusion of small panels. They are see-through and give a glimpse of the skin beneath them.
In the front the boning creates the longest part of the bustier at 12 1/2" inches. In the very center where it dips in it's only 10" long. In the front the elastic band criss cross over each other. The middle ones are loose but the top and bottom ones ave a single stitch in them to keep them together. There are no cups, padding, or under wire for the chest. After all the bands attach at the boning pieces in the back, there is not more mesh backing. There are three sections that split off. Each has two of the fabric bands. I've included a picture because it is so hard to explain well enough. At the end of each section are eye and hooks. Three to each section. On the opposite straps there are three rows of sizing. This is very useful because this bustier is going to fit very differently on each person depending on your bust, waist, and upper hip ratios.
*Cleaning/care/storage:
Hand wash
The tag says to hand wash separately and then drip dry. The tag that says this is the one that says it is made of 100% polyester. It came with no packaging and has no hanging loops. You can spot clean and sit out to dry too.
Experience
*Sizing/fit:
Runs very small, horrible fit
Leg Avenue runs small, but I don't think they have been this bad before! This bustier is incredibly odd. Looking at the sizing chart, I'm on the small end of the medium. I had planned on wearing this out over a tank, so I got the large, but the large doesn't even fit right. The pictures on Eden make this look like one solid piece, so I never imagined I'd have THIS much trouble.
The large is supposed to fit a 12-14 dress, C cup, 36-38", 27-29" waist, and 38-40" hips. I weigh ~142 pounds (size ~8); curvy but fit, with size 34/36 D breasts. My waist is about 30" and hips 38". There are two ways to wear this. One way to wear it like the actual model picture shows, low on her breasts, so it meets her pants. This is the only way I can get it to fit my waist and hips at the same time. It is good in the second band which goes around my waist. However, if I pull it down to accomplish this, my boobs are WAY popping out. If I pull the bustier up so that it covers my boobs more, it completely smashes them even worse. Then the lowest band is way too big and creates a wavy look. No way I tighten or loosen any of the bands makes this fit even remotely well.
My Re-done chart:
For the large - very small
Dress: 4-6 (or a size 8 with small breasts)
Cup: B
Band: 33-36"
It's hard to judge the rest of the measurements...
Waist: 26-30"
Low Waist: 28-32"
OR
High Hips: 34"-36"
Seriously, it's just FUBAR. Honestly, I have very little confidence in this resizing. It's THAT odd!
*Possible accessories:
You won't need any...don't buy it! I suppose if you do, tight little
black crop pants
or a
skirt
might be cute..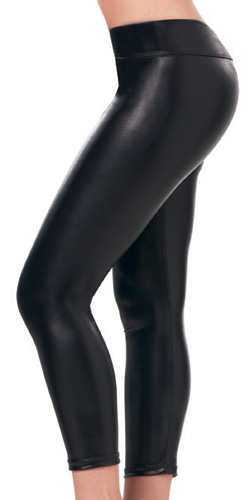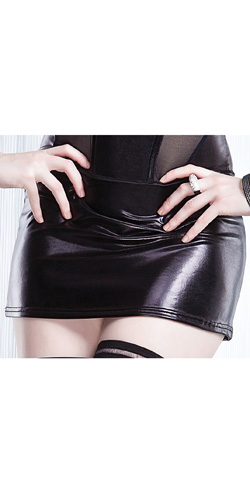 *Putting it on:
The bust is where you will likely have the most trouble. It's easy to hook the clasps behind you back. I'd start with the middle strap and then move on from there.
*Conclusion:
2 stars ★★
Because of the infuriating design, this is getting 2 stars from me. My breasts are smashed no matter where I put them in bustier and the sizing is horribly off. I bet it works for some, but not many.
Follow-up commentary
9 months after original review
I still hate this poor excuse for a bustier and hope to find a new owner for it with a much different body type than my own.
This content is the opinion of the submitting contributor and is not endorsed by EdenFantasys.com

Thank you for viewing
Criss cross bustier
review page!