Not Swooning Over The Honeymoon Set
The Honeymoon Set cute to wear once or twice but, it is not worth your money; unless you're in love with the top.
Published:
Pros:
Cute
True to Sizing
Unique Design
Cons:
No Breat Support
Frustrating Wrist Cuffs
Uncomfortable Panties
Manufacturer: Escante
Size: S/M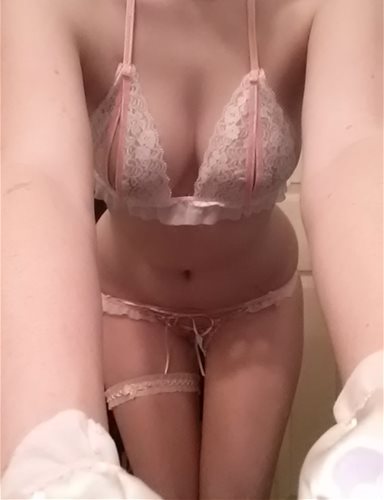 Overall Opinion
I'm not a huge fan of the Honeymoon Set, but it's not the worst piece of lingerie I've gotten. I feel it has a few more negative aspects versus positive ones.
I found that I like the top and garter the best. The top does not offer any support however it still manages to be quite flattering, especially with nipples peaking out to say hello. The garter is also nice because it does not fit too tightly.
I really just hated the panties and wrist cuffs. The panties were fine to put on the first time, but the second time was a nightmare. The strings on the front were all tangled, and I never could get them to look like they did the first time. The wrist cuffs were just plain ugly in my opinion, I don't think I would ever wear them again.
Honestly, I'm probably just going to go ahead and save myself some space by throwing out the panties and wrist cuffs.
Here's the whole Outfit on me!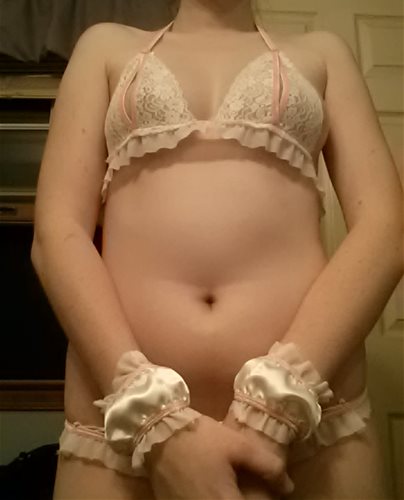 Details/Quality
The material is made out of 91% Nylon, and 9% Elastane.
The top is made of a see through white lace, with a pink seam. It also has a pink strap with whit elace attached to it that tied in the back. The breast cups have a pink slit down the center outlined by pink again.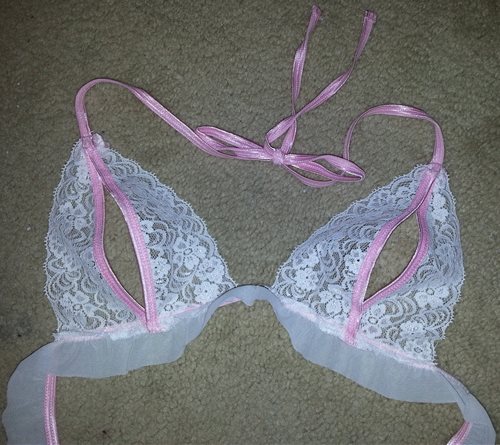 The garter is also made of a pink ruffled band with lace and a small pink bow. This is sewn onto a small strip of elastic, which is not noticeable once it is in place.
The panties are the most complicated piece in this set. They have the same pink seam with white lace, but on the back there is sort of a 'butt veil' with a white bow. This 'butt veil' is also white and see through. The front has a pink lace up string covering the vagina, but that is it. So needless to say it does not leave a lot to the imagination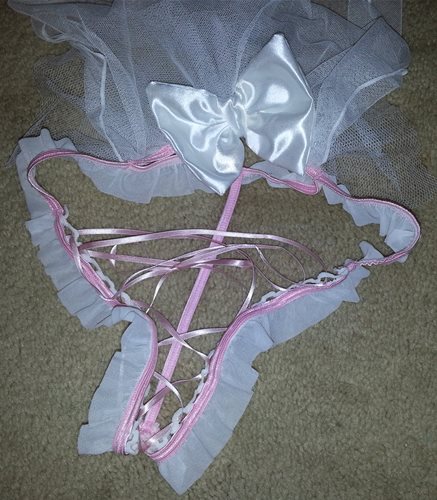 The Wrist cuffs are the most disappointing piece of the set.They have the same theme as the rest of the set. The lace trim always wants to tuck under the cuffs so it would not be exposed, and it's quite difficult to get the lace to stay out. They also each have a pink string attached to them so they can be tied together.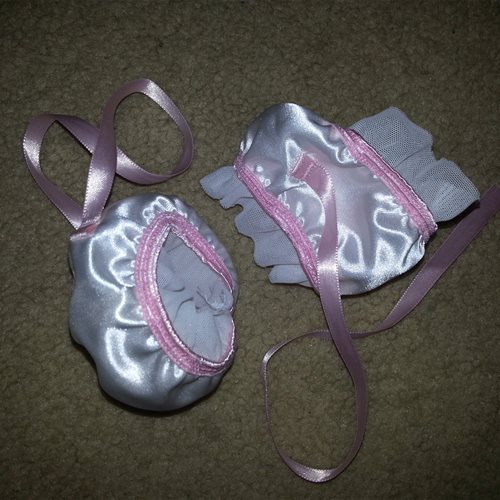 Size & Fit
*My Measurements: 32C Breast - 36" Hips - 26" Waist - 5'4" Height - 110 Lbs
Escante Size Chart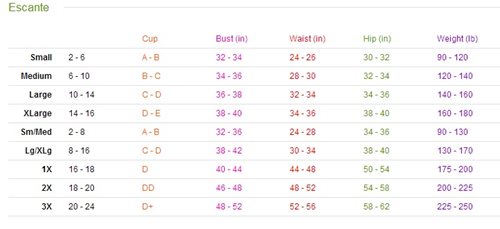 OR you can find it online
HERE!
As you can see most of my measurements fit within their sizing chart, except for my hips.
Panties:
Unfortunately for me the panties don't stretch very far past what the sizing chart says. My hips are 36" and it defiantly cut into my hips uncomfortably.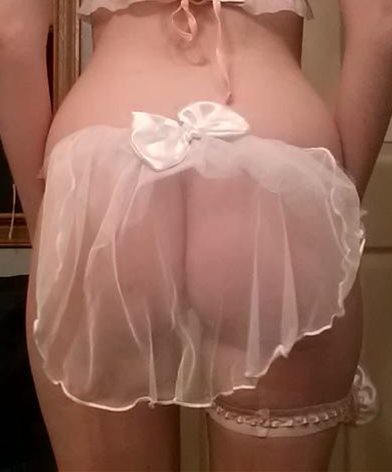 Top:
The top fit my breasts very well, however it does not offer any support if you require that. This was sized true to their sizing chart as I am a 32C. Even though there was very little support I still thought it was flattering. The top also ties in the back to comfortable accommodate anyone.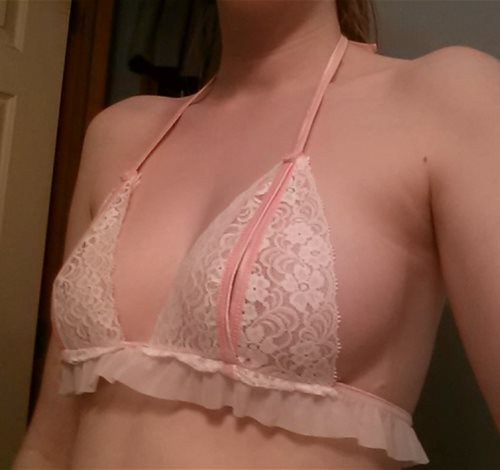 Garter:
The Garter has enough stretch to it that it did not cut into my thigh, which is about 21.5 inches. It looks like it could stretch quite a bit further before it would start to cut in.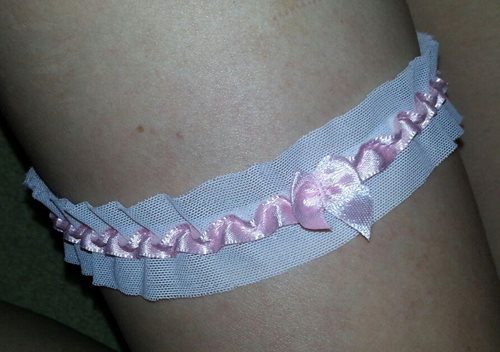 Care & Storage
Care:
This piece can be put through the washing machine, however I would suggest you take the string out of the panties before so, or you will have a giant knot afterwards. If you choose to put it though the washing machine wash with warm water on the gentle cycle. Wash separate from other items. No not twist or wring out. Line dry. I personally find it easier to wash by hand, and leave hanging to dry.
Storage:
You can really store this however you want, you don't have to worry about anything getting bend it breaking. I have it thrown in a drawer with the rest of my lingerie, as I did not find it nice enough to put on a hanger.
Follow-up commentary
8 months after original review
The panties broke while I was trying to tie them, so I decided to just throw them and the wrist cuffs out. The top and garter seem to be holding up much better.
This product was provided free of charge to the reviewer. This review is in compliance with the FTC guidelines.

Thank you for viewing
Honeymoon set
– bra and panty set review page!