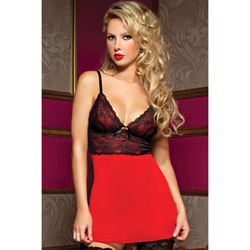 Naughty little secret chemise and g-string
Chemise
by Seven 'til Midnight
Not what I was expecting, but sexy anyway!
This chemise appears opaque in the stock photograph, but it's actually completely sheer. While it's not completely as pictured, it's still completely sexy. It's also very comfortable. That being said, some wearers might find themselves bothered by how clingy the material is. This chemise certainly will not hide any of your secrets!
Published:
Pros
Gorgeous colors, Beautiful Contrast, Sexy, Comfortable enough to sleep in
Cons
Hand wash only, Cups are a little small, Completely sheer, Clingy material might bother some
I purchased this item thinking that it was opaque. The stock photo makes the item look opaque, and the product overview says that it's solid. It's not; it's very sheer! While I do wish it was actually opaque, it's still a sexy piece -- and I like it a lot.

Basics:
The Naughty Little Secret chemise and g-string are made in China, by Seven 'til Midnight. Priced at only $25.99, this two piece set (including the chemise and the g-string) is an absolute bargain. The chemise is currently only available in one sexy color combination: red and black, but that is a combination that most anyone should be able to rock.

Material & Care:
Both items of this set are made of 92% Polyester and 8% Spandex. The fabric meant to cling to your body -- and that's exactly what it does. This isn't a chemise that's going to hide your flaws at all. The material does have a limited stretch to it, but even if you were to size up, this material is just intended to cling. If you prefer more "flowing" chemises, you'll want to look elsewhere.

The red material on both pieces is a very fine mesh. As it's mesh, it's quite sheer -- your bellybutton, and everything else, will be visible. The mesh is not the softest mesh that I've felt, but it's not exactly rough either. It feels fine on my skin, and I do think that the mesh texture gives it a hint of "touchability". The mesh also features some stretch, so it should fit over those curves just fine!

The chemise also features black floral lace around the bust area. The black floral lace is actually sewn over the red mesh, so you can see a hint of the red through the lace -- which is what gives the lace a sort of wine colored look to it. Very sexy!

The black lace is not as stretchy as the red mesh, so the bust does not have much stretch as the rest of the chemise. The lace feels durable, and soft to the touch. I'm definitely impressed by the feel of it!

According to the tag, you're going to want to hand wash this piece, and then line dry it.

Sizing:
This item is currently available in four different sizes: small, medium, large, and extra large. I purchased the large, which is what I usually wear in lingerie.

According to the size chart, a large should fit someone with the following measurements:
Cups: C-D
Bust: 36-38"
Waist: 28-30"
Hips: 38-40"

I wear a 34D bra, and have a 32" waist. My hips measure 40". As you can see, my waist measurement is slightly above the size chart. Thanks to the stretch of this piece, that isn't a problem -- it fits my waist nicely. The chemise can fit the full extent of the size chart, and as my own experience goes to show, it can even a fit a few inches larger in both the waist and hips, thanks to the stretch of the material.

The cups, however, are definitely meant for someone with a C cup. My D cup breasts do fit fine, but I find that I get a little of side boob with this piece. It's not enough to be uncomfortable, or unflattering, but it is there.

The g-string also fits my 40" hips just fine -- which is always a pleasant, and unexpected, surprise!

My only real complaint about the sizing is that it's a little short, but I kind of expected it to be. I'm 5'6", and this doesn't cover all of my ass. I wish that it did, but it's no big deal.
Experience
Design:
This chemise is intended to slip over your head, so it's easy to take on and off.

It's meant to cling to your body all around, and that it does! Some might find that the clinging material is unflattering, but it actually didn't bother me -- and my figure is far from perfect!

I loved the contrasts that existed between the upper and lower portions of the chemise. Firstly, there is the color combination. The black lace overlay creates a deep wine colored look for the top portion of the chemise, which looks fabulous next to the bright red material. The contrast in style is also striking; the top portion is busy, with lace covering the entire bust, whereas the lower half is just simply solid red. Very eye catching, certainly!

The bust doesn't offer a whole lot of support, as there is no underwire or padding. It does, however, offer me amazing cleavage. From the stock photo, I assumed the back of the chemise would be lowcut, and that it would be impossible for me to wear a bra with. That's not accurate. There is a slight v-cut dip in the back, but I've found that I can wear a black bra with this chemise, and have it look okay. The bra does peak out a little, but it doesn't look bad, and it offers a lot of support. So, for sexy nights, I prefer to wear a bra under it, but for sleeping? I go without a bra, because this chemise alone is comfy for sleeping in.

The lower half is, as I said, really plain. There are little slits on each side of the chemise, which add a little bit of visual appeal, but that's about it.

The g-string is your basic g-string. There's a red triangle of mesh fabric, which is bordered in black. Then there are the black elastic straps. The g-string does feature a small cotton pantyliner, which is only sewn at one side.

Quality:
The quality is impressive. I have absolutely no complaints in that department!
This product was provided at a discounted price in exchange for an unbiased review. This review is in compliance with the FTC guidelines.
Thank you for viewing
Naughty little secret chemise and g-string
review page!