Not what I was hoping for!
Overall the product isn't awful, the quality is good, the color is good, the front zipper is great, the design is simple but BOMBSHELL and the satin feels super soft against the skin.
Published:
Pros:
Good color, great quality, made by a top brand.
Cons:
Doesn't fit my figure well/ isn't as flattering as I was hoping
I have to admit that I had very high hopes when I first ordered this product. I thought that it would offer me the world for a great price (under $40.00). It looked like an amazingly flattering style and color for my body type. My measurements were almost identical to the size chart. Fit should not have been an issue. My hips are nice too, right? Why didn't this work for me?
When my corset arrived in the mail (along with a few other things from Escante) I was SO EXCITED! I thought that the corset would be my absolute favorite thing in that little brown box. Oh, how I was wrong.
I tore into the box and there it was. My corset! I was so excited! The blue color was an exact match to the gorgeous picture on the product page. Everything seemed like it was falling into place perfectly. I began to get more and more excited. I quickly put it on.
My hopes where a mile high as I pulled the front center zipper up. I walked over to the mirror. I was as excited as a kid in a candy store. That, my friends, is when it all went down hill very rapidly.
My hopes fell from a mountain high to the depths of the valley. I was embarrassed to even see myself with no curves. I thought I had a pretty curvy figure but this corset made me look like I had absolutely no hips! I wanted hips. I needed hips. I had hips. What did this corset do with them? Bye-bye curves. Bye-bye hips. My dreams were shattered.
I was disappointed. I was very disappointed. I wanted to log in to my EF account and replace my icon with a sad face with the caption, "Why doesn't Escante love me anymore?" Instead, I decided to pick myself up from the ashes of my disappointment. I am woman--hear me roar. I am strong. I can face this head on and defeat this unflattering corset. I owed it to my fiance. Heck, I owed it to myself. I am going to be a married woman soon. I need to know how to get myself out of awkward situations. I need to know how to fix things (flat tires, leaky pipes, unflattering lingerie...). You get the idea. I need to change. Wait!! Something was happening to me. I gasped when I looked in the mirror. I was...I was...Yes...it was true...I was... WONDERWOMAN (only with a sewing machine--or at-least a needle and some thread). I began to think. "Hmmm....Maybe if I do some simple alterations, I can make this corset work for me." But what would I do? Returning the corset and requesting a smaller size was not an option. I had the size small in my hand and there is no extra small for this item. I tried taking an inch (or so) in from both side seams. This was very difficult to do with such stretchy fabric but I continued to try. The corset fought back. The left seam: BAM!!! The right seam: POW! Eventually I managed to get on my feet and try this on again.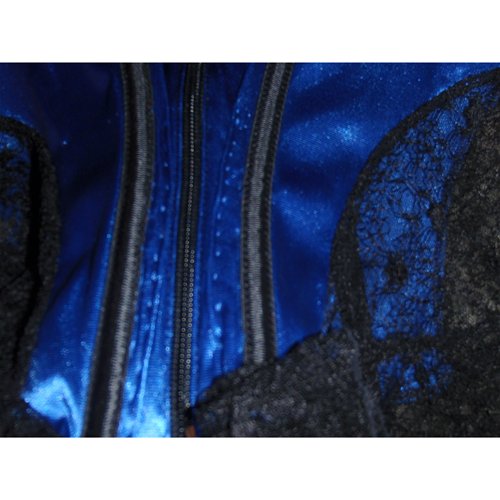 It was a little better. The waist line looked OK but nothing great. That was when I looked doesn and realized it. There was another problem.)
MY TORSO WAS JUST TO LONG!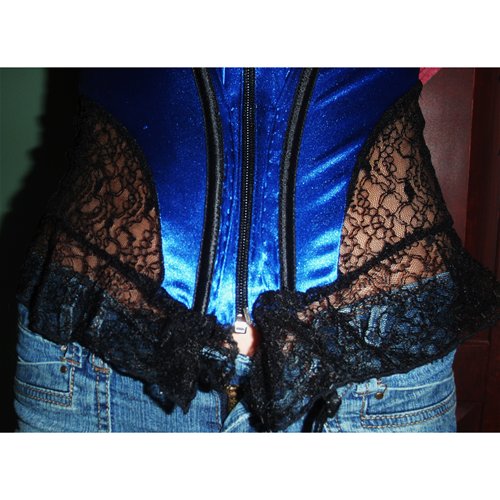 Now I knew why my hips looked so awkward! the lace wasn't falling anywhere near them!
So I pulled the corset down further and further, until the corset was actually underneath my breasts(looks around) Did I just say that out loud? *hehe* and then, the hips finally looked right! Wow!
But wait… then my breasts are left in a very (awkward) situation*snap* and the bottom half looked so good too.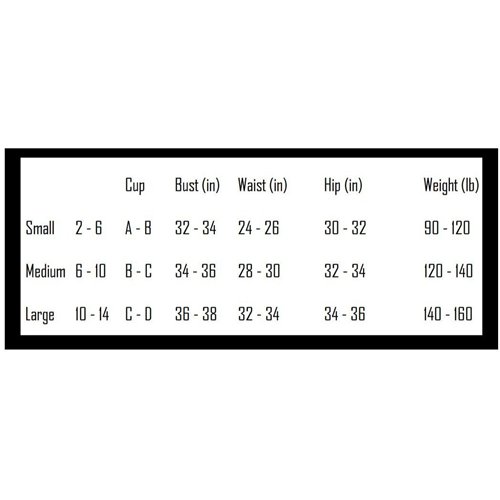 My measurements
Bust: 34-36 B
Waist: 24 inches
Hips: 34 inches
This all in mind I should have fallen in-between a size small and a size medium. Sadly though, the size chart said nothing about torso length, which is a major thing with this piece and as you know, Wonder Woman doesn't like to be kept guessing.
So she called in her side-kick (Captain Tape Measure) and got down to the busy work, finding out what went wrong. BOOM*BANG*POW*. Never underestimate the side kick!
The size small (from right under the breast area to the lace) is only about 3 1/2 inches long. For it to fit me properly it would need to be much longer(about 2 1/2 to 3 inches longer)to be precise.
Experience
After a month or so of trying I have finally given up. I should have just sent the corset back and exchanged it for something else. Eden has tons of amazing lingerie available. Sadly, it's too late. Wonderwoman has already done these alterations. There is no hope for this corset. Wonderwoman? Hah! that's a laugh. She didn't help me at all. She is not very good with a needle. Overall this corset isn't THAT bad. My figure just isn't right for it.
I would recommend if you are thinking of ordering this, to take a look at my size chart below. I measured the corset torso length(from under the bust area to the lace) and then measured myself. This way I could determine how many inches shorter my torso needed to be in order to have the lace fall correctly on my hips. Then I compiled this size chart. Hopefully you find it helpful.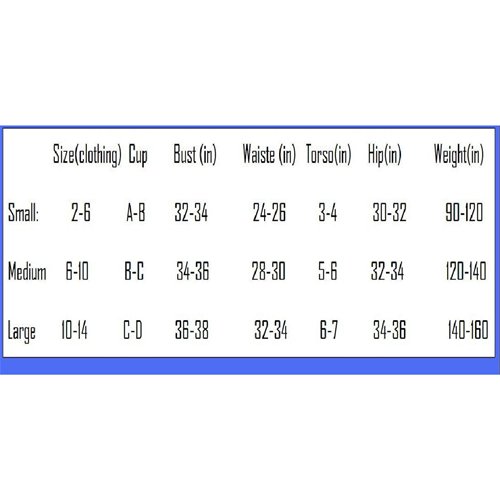 If it doesn't fit: Send it back. Don't bother messing around with it. I know I have been pretty critical about this corset, but I do have a few nice things to say about this piece before I go:
1. The color is absolutely stunning, I really do love gorgeous blue.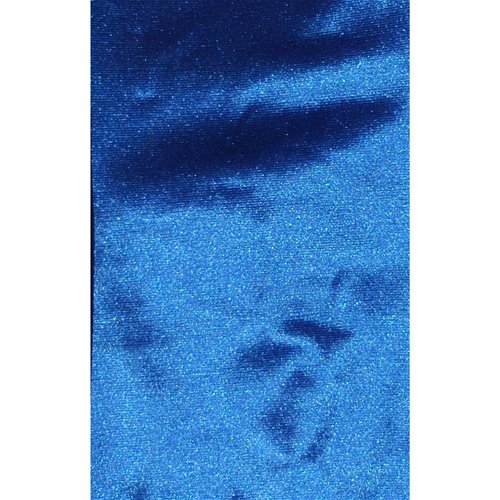 2. The satin fabric is very soft and shiny.
3. The lace is nice and seems to be pretty sturdy.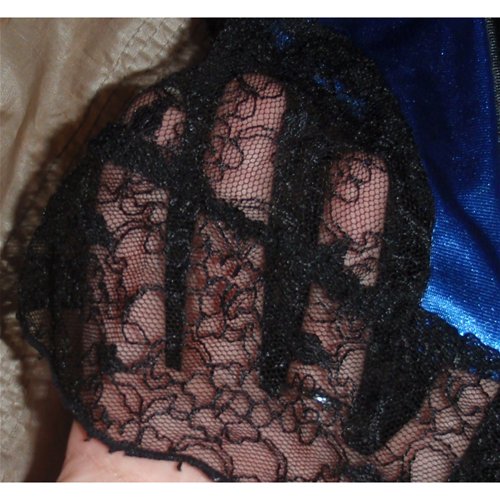 4. The price isn't bad, so long as it fits you right!
5. The front zipper is really nice! It makes it very easy to get on and off.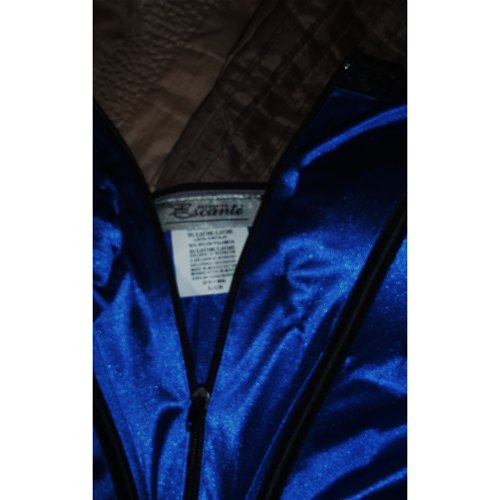 6. Its made by Escante and Escante's lingerie(from my experience) has been very high quality.
7. There are a few different sizes to choose from.
8. The bust is very flattering and almost makes you appear slightly larger then your actual cup size.
A few other notes I would like to add is that, this corset has boning(obviously) but it has absolutely no cup area and it has no push up or under wire of any kind, so as far as support, don't expect much as far as that goes, but hey, at least its not sheer.
My experience(I am sad to say) has not been that great. I was let down this time... which isn't something that usually happens. I guess my figure just kept this corset from working.
I am attaching an image of the BACK OF THE CORSET here. I know I was wondering what it looked like before I ordered it.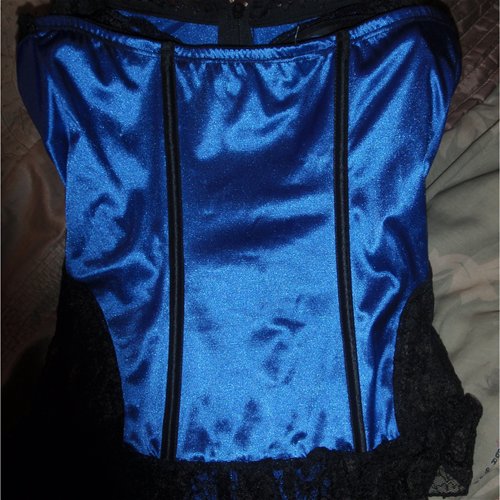 This content is the opinion of the submitting contributor and is not endorsed by EdenFantasys.com

Thank you for viewing
Midnight oasis corset dress with hose
review page!