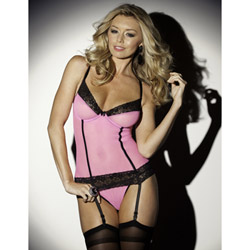 I love pink bustier set
Bustier by Escante
Now THAT is PINK!
If you like hot pink, this is the set for you! This is a simple but bright three piece set made from soft, stretchy material.
Published:
Pros:
Very soft, stretchy material
Cons:
Garters aren't removable, accessories are just ok, too small for my bust
Right after I ordered this set to review, I sent the link to my friend and asked what she thought of it. "That's sort of...bubblegummy" was her reply. I was okay with that, though, because I love pale pink and black as a color combo for lingerie! Bubblegum is a-ok with me.
Imagine my surprise when I unwrapped this set and found that it was neon, super hot, Barbie barf pink. You know that hot pink tissue paper Eden wraps things in? This makes that color look pale and weak in comparison. This is PINK. It makes Pepto Bismol look practically grey in comparison.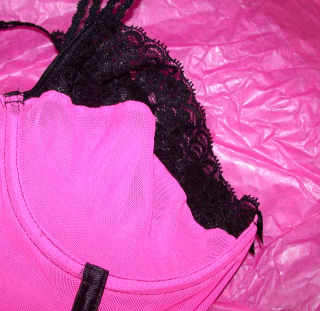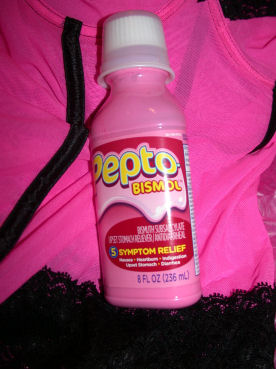 Couldn't resist.
So, now that we have the fact that this is OMG SO PINK out of the way, let's get on to the actual review! This set is made in Mexico by Escante, and is made of 91% nylon, 9% elastane. It should be hand washed separately and line dried, with no wringing or twisting to get the water out, as it is quite delicate. It came wrapped in not-so-pink-in-comparison tissue paper, and has a cardboard tag attached with the size (large) and photos of models in both this and a similar item.
The main piece is described as a bustier, but it's basically a mesh camisole with underwires and garters. The garter straps are not removable, which is kind of a bummer since I don't wear stockings that often, so they are sort of left to dangle there. There are black stripes up both the front and back that look like corset boning, but don't actually have anything in them. The bottom hem is decorated with a thick strip of soft, stretchy black lace, which also adorns the top of each bra cup.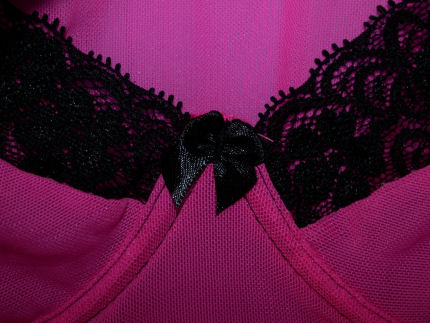 The bust area is not padded or lined, so the only support comes from the underwires. My boobs were way too big for the narrow wires, so they were smooshed into awkward shapes that the thin mesh couldn't do anything to help.
The bra straps are also black lace, but this is a little sturdier, but unfortunately also a little scratchier. The straps are fully adjustable, just like regular bra straps, although it can be a little hard to move the buckle along the thick, bumpy lace. An elastic band around the top of the garment helps to hold it in place. There are no zippers or fastners anywhere on this, it just slips right on over your head.
Escante's size chart says that the large should fit size 10-14, C-D cup, 36-38" bust, 32-34" waist, 34-36" hips and 140-160 lbs. I fit that almost exactly at size 10/12, 38 D, 33" waist, 39" hips and 155 lbs. While the bodice of the bustier fit me nicely, the cups were a little too small. The fabric is quite stretchy, but the underwires were way too narrow for my full D breasts (close to DD). I'm 5'11" so it was a tiny bit shorter than I'd like, but really not too bad in terms of length. If you have measurements similar to mine but a bust closer to 36C, this should fit almost perfectly.
The bustier measures 14.5" long from the bow in the center of the bust down, 15.5" down each side, and about 15" across the middle when laid flat. The mesh fabric is VERY stretchy, though, so I think this would fit up to about a 35" waist without any problems. The bra cups are about 7" wide if you measure diagonally across from each edge of the under wire, and about 7" tall in the middle. Again, there's a lot of room for stretch here!
Experience
(continued)
The thigh highs are plain black, and came wrapped around cardboard in a little bag. I've never seen stockings wrapped like this, I found it sort of odd, but interesting. These seem to be very basic black stockings. They're 100% nylon, but felt a little scratchier than most stockings I have. They're very sheer, so you'll still be able to see your skin quite well through them. I wouldn't expect to keep these around long-term, they're most likely good for two or three uses at best.
The matching g-string is made from matching pink mesh with a tiny pink crotch liner. It isn't going to cover much, measuring 6.5" across the top front of the triangle, and 8" from the front back to the apex of the triangle. It's basically enough to cover most of the esesentials, but nothing more. The waistband of the thong measures 15" across when laid flat, but easily stretches to 25", so this should fit almost any hips. I didn't actually try the g-string on, since I knew I'd be returning this set and I try not to make other people handle underwear I've tried on!
Overall, this is a pretty nice set, but not spectacular. If my boobs would actually fit in the bra area, I would totally keep it and try to find a way to remove the garters without damaging the rest of the top. This isn't an investment piece, I can't see it holding up more than a year at the most with light use, but for around $30 it's a fun, feminine, PINK PINK PINK addition to your lingerie collection!
For a little extra color comparison (and mostly for my own amusement) I photographed the bustier next to a couple of common Coquette items, the
Stretch Lace Corset
and the
Mesh Babydoll with G-String
: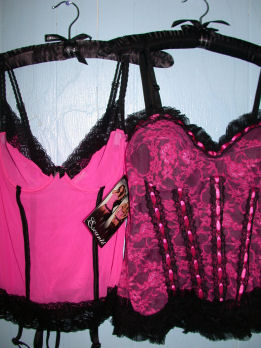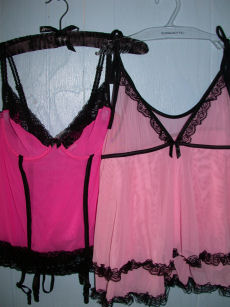 This product was provided at a discounted price in exchange for an unbiased review. This review is in compliance with the FTC guidelines.

Thank you for viewing
I love pink bustier set
review page!