Now That is Some Sexy Sailing!
I am not crazy, I know this costume is a bit cheesy. I mainly got it for my husband who likes sailing and because it reminded me of back in the day pin up looking styles. Overall, I am super jazzed about it! I would recommend it to anyone that is looking for something new - something other than your typical red and black lingerie. I took a risk with this, and fell head over feet for it! I know for sure I am going to rock the boat when my hubby sees me in it!
Published:
Pros:
Cute when wearing.
Fun and unique.
Great quality.
Nice reusable packaging.
Cons:
Cheapy belt.
Does not come with hat, gloves or shoes.
Only available in M and L.
This sailor outfit definitely takes me back to another era. It feels 60s to me. It is a cute little number that I debated on buying for a long time. I finally made the move when my husband and I decided to go on a sailing trip this summer in the Gulf of Mexico. (SO EXCITED) He is a big sailor, me not so much. He even lived on a sailboat one summer during college. (Didn't know him then, thank goodness – I can only take ocean stink for so long!) Anyway, I knew how much he loved sailing, so I finally took the plunge (no pun intended) on this outfit.
Packaging:
Great for storing!
The Curvaceous Captain by Leg Avenue came in a nice sealed plastic costume bag. This bag is just like you would find in a costume store. It even has the hanger to hang on those long shelves of never ending costumes to choose from for Halloween!
I am very happy with the packaging and continue to store my outfit in this costume bag. Everything fits inside the plastic bag well, and I can see what is inside! I did choose to keep the cardboard piece that comes with the item because it has some good information on it for care, materials and items included.
Made in China
Contents include: Epaulette Shrug, Teddy and Belt
Not included: Hat, gloves or shoes.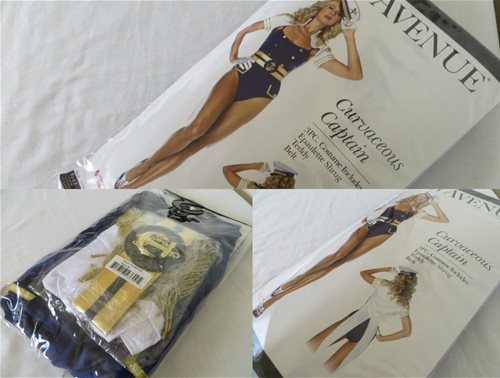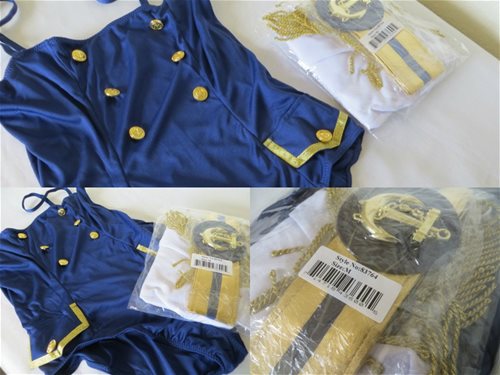 Care/ Maintenance:
Handwash, what's new?
The care instructions for this item: hand wash only in cold water, drip dry, and don't iron.
Care instructions found on: Teddy and the cardboard insert
The care instructions are to be expected for this delicate item. There are delicate buttons and materials, so I plan to wash this in the sink with a lingerie wash or free and clear detergent. I don't want to take any risks with this!
Size:
M and L, that's odd
It is available in the sizes: M & L
I ordered the size: M
I found it a little odd that this costume was only available in two sizes, medium and large. I am not sure why, but that is disappointing for those that fall above or below those sizes.
Leg Avenue Medium Size Chart:
Medium 8 - 11 B - C 34 - 36 25 - 27 36 - 38
I am typically a size small-medium. I wear size 4-6 in dresses and jeans. I have a 34D bust. The rest of my measurements can be found on my
profile page.
I decided to order the medium even though the sizes didn't match up completely because I was unsure how a teddy would fit. Also, the main reason is it wasn't offered in a small. I am glad it wasn't offered in a small because I might have chosen that, when really the medium was the best fit for me – not too tight or too loose!
Measurements I took:
Laying flat across top: (teddy) 16 inches
Laying flat across mid waist: (teddy) 13.5 inches
Laying flat across bottom hip: (teddy) 16.5 inches
Top to bottom crotch length: 21.5 inches
Straps are adjustable: 9-18 inches
Shoulder to Shoulder: (Epaulette Shrug ) 17 inches
Top to bottom tail: (Epaulette Shrug) 40 inches
Belt: 32-35 inches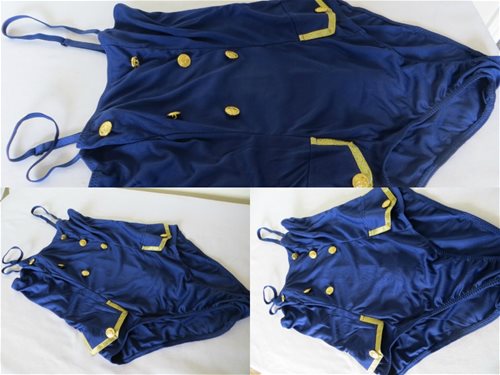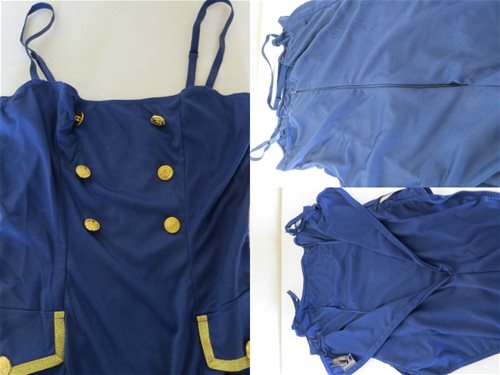 Design/Shape:
LOTS going on!
This item comes in the colors: blue, white, gold
The colors are a little off in the professional product images. In the images they are shown as a bright blue, whereas they are really like a darker navy, like my photo images.
Epaulette Shrug – This is a fun piece. The top has shoulder frills that look like nautical rope. There are gold stars on the collar. The shoulder strap or "passant" is navy blue with a gold anchor button. There is a removeable gold chain that goes from one collar or the other collar. The stripes on the edge of the shirt sleeve are a shiny gold ribbon. The hanging fabric in the back reminds me of a butler or a penguin.
Experience
continued...
Teddy – The teddy is the shape of a one piece swimsuit. And I am sure you are wondering if it could be used as so, and I would say no. The fabric is just not right for that. The straps on the top are adjustable bra straps. There is no bra support. There are 6 anchor buttons on the front and two golden laced faux pockets. Not real pockets, just flaps. The bottom of the teddy isn't too high rising. The back of the teddy had a zipper that extends the length of the teddy. It is easy to get on and off.
Belt – The belt is the more tacky of the 3 items it is flimsy and a little cheap. It sort of reminds me of a superhero belt, and I am sure could be used as so if you took the anchor off the middle of it! The anchor is a cheap plastic that appears to be painted gold. There is a blue ribbon that runs the width of the belt. The belt is secured by a Velcro piece which gives it a little room for extension or to make it smaller.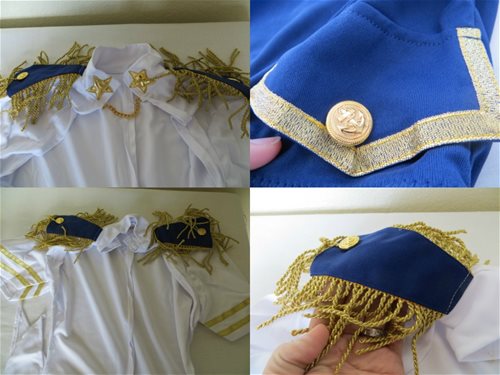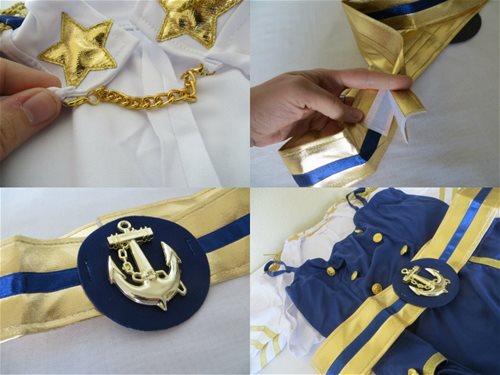 Material/Texture:
Teddy is 100% polyester
There is no lining on the teddy and it is very thin. Nipples show right through this piece. It would not work for swimming. It is comfortable and stretchy. The belt is stiff and shiny material. The shrug has many materials, including rope. All of the items have – plastic anchors, rope, ribbon and the solid fabric used. The fabric is lightweight but not see-through. They are made well and do not have noticeable seam mistakes. This feels like it will last a long time.
Personal Experience :
How should I surprise him??
Overall, I am very happy with this costume. I know it is cheesy and a little odd, but it is different than the ordinary items I have. I am very excited about that! I look forward to surprising my hubby with me wearing it on our sailing trip. I cannot decide if I should bring it with and surprise him on the boat or wear it the night before we leave, so I don't have to lug it around on vacation! What do you think?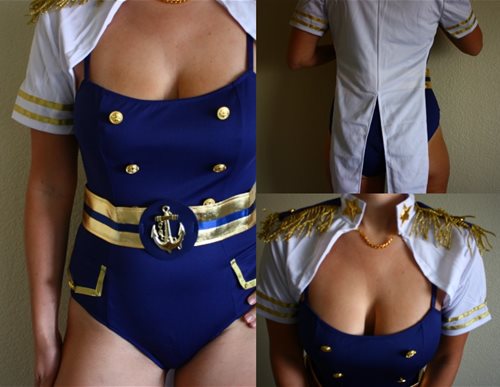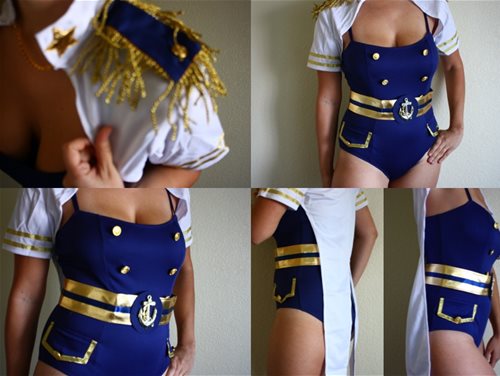 This content is the opinion of the submitting contributor and is not endorsed by EdenFantasys.com

Thank you for viewing
Curvaceous captain
– costume review page!