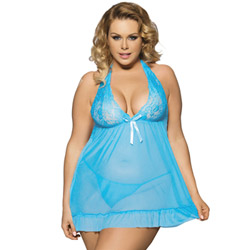 Tease chemise queen size
Babydoll and panty set
by Charm Wear
Oh Baby, It's Baby Blue!
Sultry red and sleek black are both fantastic colors for lingerie, but they aren't the only ones. A nice splash of color now and again is great to change things up, and the beautiful blue of the Tease Chemise is simply gorgeous. Paired with its tasteful yet sexy design and quality materials, and its matching G-String, the Tease Chemise is a great item to tease your partner with for a night full of fun.
Published:
Pros:
Beautiful Blue Coloring, Super Comfortable, Super Sexy
Cons:
None! I loved this item.
Packaging

EdenFantasys' shipping boxes are, as always, plain and discreet to hide the nature of your naughty contents within. I have no fear about the delivery guy, or any neighbors witnessing the box's drop-off, suspecting that I was receiving a new item of lingerie to enjoy in the privacy of my home.

Inside the box is where I found my Queen Size Tease Chemise - the blue variant of the Queen Size Sexy Essentials Chemise (Catalog ID: R700981PBL3X). Charm Wear's lingerie, or at least all of their products which I have tried, come in a resealable plastic bag with a pretty white border surrounding the edges. My new chemise was folded neatly inside, along with the matching g-string, with the tag displaying the product's image and sizing chart in full display.

I adore the addition of the product image tags on Charm Wear's items, and something about this one I loved is that the Queen-Size model was prominently displayed on the outermost panel. When I received my 3X Night Goddess Babydoll (Catalog ID: R80456P3X), it was the "average" size model being showcased on the front and for the rear item view, with the Queen-Size model only getting one image. Here, however, the roles were appropriately switched to show the Queen model on the front, as well as her image displaying the product's image from behind on one of the inner folds of the tag. It was a nice touch to show you can be both big and beautiful, and that larger gals aren't just a secondary target audience for Charm Wear's lingerie.

How'd It Look?

I had no difficulty putting on this item - it was as simple as slipping on, pushing my hair out of the way and tying the straps in the back, and presto! The elastic band around the waist settled into place nicely without being too tight or too loose, and with the straps tied the cups were in the perfect position to conceal my nipples while still leaving some breast and sideboob uncovered.

I am so glad I decided to go with the blue variation of this item, although I'm sure the black Sexy Essentials version is also incredibly sexy. The blue coloring is just so, so beautiful! The lace cups, the sheer skirt, the g-string. All of it is this same shade of baby blue, or perhaps sky blue, and I am in love with it. While it isn't associated as being as particularly sensual color, it is gorgeous, and I loved how it looked against my pale skin and dark hair.

The skirt's length went down to around my fingertips, so its length matches what is displayed in the product image very nicely. The pretty color and stunning design made me feel like a princess (it's like if Cinderella's dress was lingerie!). It isn't an overly revealing outfit, but the sheer fabric can help to tease your partner with glimpses of what is beneath, and the cups can reveal plenty of cleavage for the well-endowed.

Final Thoughts

In the end, I can't think of any obvious negative attributes for the Tease Chemise. The only downside for me, which is a nitpick based on my self-conscious nature over my figure, is that the fabric in the back, with no sleeves attached there to hold it up, can slip a little lower than I wanted it to, revealing the folds of flab on either side that are around elbow-level just under my breasts on my back (other plus-sized individuals may know what I'm referring to here). Of course, a slight readjustment to pull the fabric back over this area was all it took for me to fix this whenever it occurred.

The Tease Chemise is comfortable, beautifully designed, wonderfully colored, and appears to be very well-made. I absolutely love it!
This product was provided free of charge to the reviewer. This review is in compliance with the FTC guidelines.

Thank you for viewing
Tease chemise queen size
– babydoll and panty set review page!