Oh boy? More Like Okay.
Overall, 4 stars. While the lack, or difficulty in finding the crotchless opening hurts the score, overall these are nice panties. The biggest problem is that they don't do much when worn, they don't draw the eye or accentuate the body. Still, they're pretty, durable and affordable.
Published:
Pros:
Cheap.
Enticing.
durable.
Cons:
Not crotchless.
Doesn't accentuate the body.
Hard to clean.
The item reviewed is Dreamgirl's Black boyshort with bow – crotchless panty. The criteria that get to the root of whether or not lingerie work are Size, Material, Price, Comfort, Design and wearability.
Size
. This is a 1X/2X, which, according to the
chart
, fits anyone from a size 16-18. While it looked a little too large at first, when my girlfriend first tried it on they fit perfectly. She's around a 15-16, although with a little extra rump, so that may affect things.
Given this, it's reasonable to say that these boyshorts fit a little bigger than the size chart states, with a 16 able to fit into either a 1X/2X or a large, so plan accordingly. Another key facet of the boyshorts is the wide variety of sizes available. There are sizes available from 4 to 20, so women of many (although not all) sizes may wear some version of this.
5/5
Design.
On first glance, the design is certainly fine. They're black mesh and frilly, neither completely transparent, nor solid, creating an inviting allure. This allure is contrasted with the bow on the front, adding a sense of innocence to the ensemble.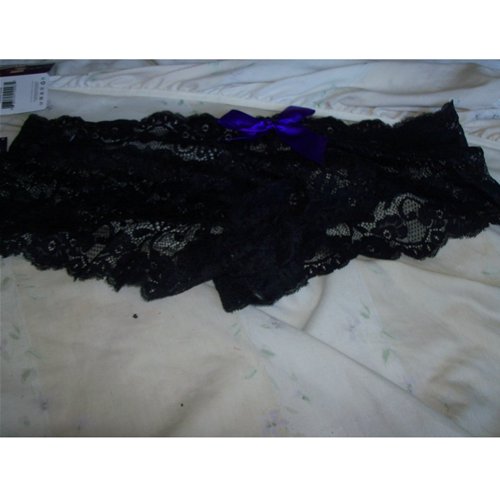 From the back, it becomes clearer what differentiates a boyshort from other varieties of panties. The back isn't thin enough to qualify for a thong, yet covers far less than normal panties. Further, they are slightly squarer than regular panties and far more than a thong.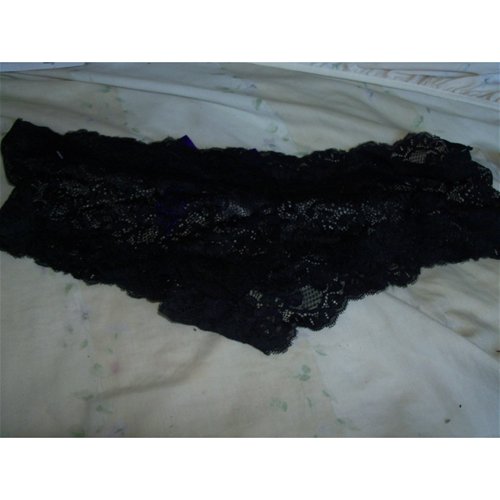 While wearing these, the sides of my girlfriend's butt poked out, which certainly added to the allure. In the front, everything was covered, making the butt the real focus of these panties.
Overall, these are very cute, dainty, yet sturdy. The critical design flaw is how it's supposed to be crotchless. Here's a pic of the inside of the crotch. See what's missing?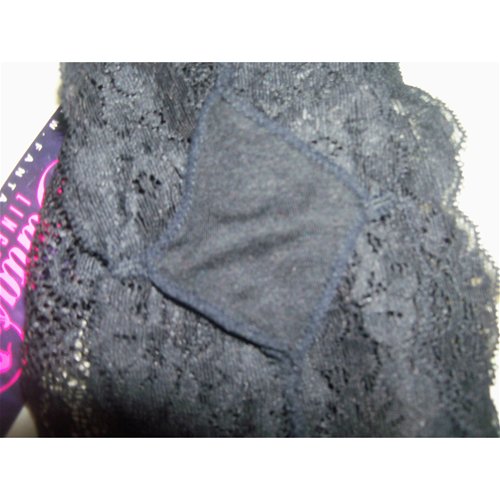 An opening. There isn't a flap, hole, or opening of any type. This significantly cost the boyshorts simply because it did not live up to its crotchless name. A vibrator that doesn't vibrate might make a good probe, but that's not what it claimed to do, because of that and despite the cute design, I give this 3 stars.
3/5
Wearability.
My girlfriend's shy about showing pictures online, which is understandable, so I'll have to describe how these looked. Like someone wearing frilly underwear. No, I'm not being facetious; this underwear just didn't change or accentuate anything.
Lingerie is supposed to do more exist; it should accentuate, sculpt, entice and draw attention. The boyshorts didn't shift or alter the body in any special fashion, nor did it focus attention to any specific areas, aside from the bow. Being see-through, but not quite transparent was enticing, allowing the imagination more use than with a normal pair of panties, but ultimately, that wasn't enough.
These don't draw attention to themselves when covered by an outer layer of clothing, so there is nothing prohibiting these from being worn outside the house. Unfortunately, society may stigmatize someone found wearing crotchless panties in public so take precautions. Finally, these travel well, as they're not obviously crotchless, so when traveling, especially air travel, they'll just appear to be normal lingerie.
3/5
Material.
As a spandex and polyester blend, there are limitations on how to wash these. To begin, they cannot be bleached or soaked and cannot stand high temperatures. Further, they must be hand washed, although light detergents are permissible. Ironing on a low temperature is possible, but be careful.
4/5 nice material reduced rating due to difficulty in cleaning.
Comfort.
These are mildly scratchy, but not enough to be noticeable unless the wearer is focusing on the texture and feel of the material. At no time did they pinch, chaff or ride up. She classified them as "comfy" and easy to lie or move around in. When I felt them, they were soft and thin, likely easy to pierce if events get too rowdy. At no point did this hinder her range of motion.
5/5
Price.
At $11.99, these boyshorts are the same price as most crotchless boyshorts; in fact they may be the exact median. There are cheaper ones, but they're not crotchless, or have a lower rating and the more expensive types usually include garters, or a bra. Furthermore, $11.99 is a reasonable price for most types of underwear, so for those looking for fancy underwear, price shouldn't be considered a detriment.
5/5
Average score 4.16666...
Overall, comfy, cute and alluring, but they don't offer anything extra and if there is a crotchless opening, it's hard to find.
This content is the opinion of the submitting contributor and is not endorsed by EdenFantasys.com

Thank you for viewing
Black boyshort with bow
– crotchless panty review page!