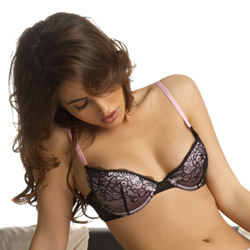 Tres Sexy bra with lace overlay
Bra by Oh La La Cheri
Oh la la boobs! (S)
This bra is fantastic! It doesn't come in regular bra sizes, but this wasn't an issue for me. I was worried the small would not fit my 32C chest, but it fit great and my partner and I each love this. It's sexy and just as comfortable as my other bras, and a matching boyshort can be purchased separately.
Published:
Pros:
pretty, well made, comfortable, will match with many items, matching boyshorts
Cons:
not regular bra sizes, boyshorts purchased separately (could be pro for some with bigger top/bottom)
The Tres Sexy bra by Oh la la Cheri is a baby-pink bra with black lace overlay. It does not come in standard sizes, but in Small, Medium, Large, and Extra Large. I ordered the size small. It has three hook enclosures, underwire, pink straps that match the fabric under the lace, a sheer lace band, and no padding, though the inside of it is comfortable, and the cups are shapely. It matches with the Tres Sexy boyshorts.
I am a 32C and would have ordered a medium had it been in stock based on the other review, but decided that I would go ahead with the small. The small fits, but just barely for my left breast, which is slightly larger than the right breast, which fits into the bra perfectly. I think the small is appropriate for those up to 32C, but after that, you need to order up. People who are A or AA cups may not find this bra to be appropriate for them and there is no extra small size available. You can take your chances if you so choose but I think the small is best for B and small C cups. Mine fits on the loosest hook, which is perfect since that is how you are supposed to buy bras. That way, you can change to tighter hooks as the bra stretches over time. I think that I would have fit a medium as well but am happy with my size small. I uploaded pictures to the product page that you can view to see how it fit me.
Measurements of the bra:
Band: 24" unstretched, 32" stretched
Straps: 15" at longest, 8" at shortest
Top of underwire to other side's top of the underwire: 6"
Between cups: 2" at longest part
Comparison to a 32C bra of mine: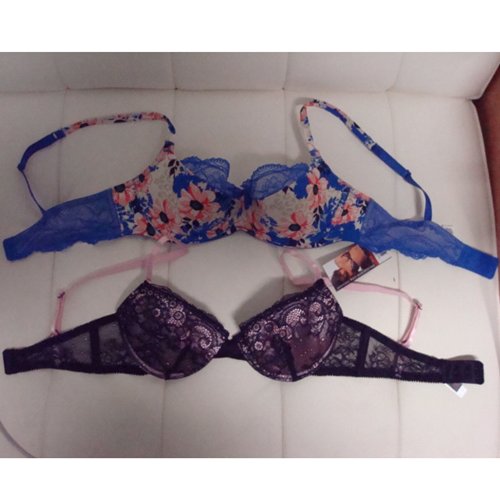 This bra is made of 95% polyester and 5% spandex. The tag recommends that it be hand washed in cold water and hung to dry. I will be following these instructions like I do with all of my bras. I wash my clothes in a hand-cranked washing machine that hand washes clothes gently. However, I think this would survive a gentle machine wash as well.
The packaging was pretty simple, just a clear bag with the maker's name on it and a bra hanger, also with the maker's name. It would help to protect the lace from snagging if there was anything else in the package that could potentially interfere during shipping. I don't hang bras and will be just throwing away the hanger.
It seems to be really well made and I noticed no tears or loose strings. I think it is on par with other bras that I purchase, and I have some very nice bras from makers like Calvin Klein. I hate cheap bras! In the follow up review, however, I can tell you if it begins to get uncomfortable after a couple months.
Experience
This was my first bra purchase online. At the same time, I purchased the Ashley bra and boyshort set, also by Oh la la Cheri. I was really nervous buying bras online, but they both fit! Neither gives me the dreaded back fat look that ill fitting bras can cause. The Tres Sexy bra isn't the softest lace, but it also doesn't make me itch at all. I am very comfortable in it. When I received it I put it on, went out to dinner and took a really long walk, going up and down stairs and walking around town for about an hour or so to make sure it would hold up to daily movements and activities. I find it to be just as comfortable as any other bra I own. I wore it under a thick dress, so it didn't show at all, but sometimes lace can show through tight t-shirts and other thin fabrics, so I anticipate I will not be able to wear it under all of my clothes. That comes with the territory of buying any black lace bra and I do not consider it a con.

I showed off the bra to my partner, who also loves it. We're both very pleased with the purchase! We think it looks great. I am a big fan of black underwear, so this will match really well with those pieces, as well as black stockings. It could also match with baby-pink underwear or garters. If you don't like the Tres Sexy boyshorts that match this bra, I think wearing black underwear with baby-pink garters and black stockings would look really great. I just wish they came with the boyshorts, which I've been waiting for to come back in stock in a small.

Please see pictures that I uploaded to the product page including the fit!
This product was provided at a discounted price in exchange for an unbiased review. This review is in compliance with the FTC guidelines.

Thank you for viewing
Tres Sexy bra with lace overlay
review page!