Oh My!! Take if off!
Even though this won't be a good fit for everyone, and it isn't as versatile as stated, this dress will be a good addition to the bedroom. It is probably not a dress you will want to wear out to the club. If your looking for a guaranteed happy ending though, put it on for your lover tonight and watch the sparks fly!
Published:
Pros:
Very sexy, Good price, Decently comfortable, Guaranteed happy ending.
Cons:
Not really versatile, Too short, Rides up, Won't fit everyone.
Manufacturer
: Dreamgirl
Size
: One Size fits Most
Color
: Black
Includes
: Dress and thong
Use
:
The very sexy dress by Dreamgirl is meant to be versatile clubwear. The versatility includes being able to wear it in 3 different ways; halter style, crossed straps and strapless. Both items are made of microfiber.
The front of the dress has a strip of material down the center from top to bottom about 3 3/4" wide. This strip is not stretchable at all. The rest of the dress is very stretchy and forms to the body nicely.
Sometimes you look at the dresses and lingerie online, and they look gorgeous and high quality on the models, so you decide to order them. You get your package and you're so excited--only to open it and discover it looks cheap and nothing like it did in the pictures. I was very happy to see that this item looks just as good in person as it does on the model. It does not have any kind of breast support so you may want to get a strapless bra or a pastie style, as I think it would be more comfortable and more flattering with some support. I wasn't sure I would wear it in all 3 ways listed, but tried them all to see how they looked.
Halter Style
Halter style came first, since this was my favorite, and it looks great that way. It fits nicely and hugs all the right spots in just the right way. You have to adjust your chest a little for it to look right, though. The strip of material I mentioned that runs from top to bottom down the front center that doesn't stretch, lays a bit awkward. It can make a flat look starting from the inside of your breast and stopping about nipple point, and then the outer portion of your breast looks full. But with a little adjusting it looks fine. You can really strut your stuff like this and you will not only feel amazing but will look downright sexy. It does ride up very quickly as you move around. I walked about 10 feet and almost my entire backside was showing. So I definitely wouldn't call it clubwear.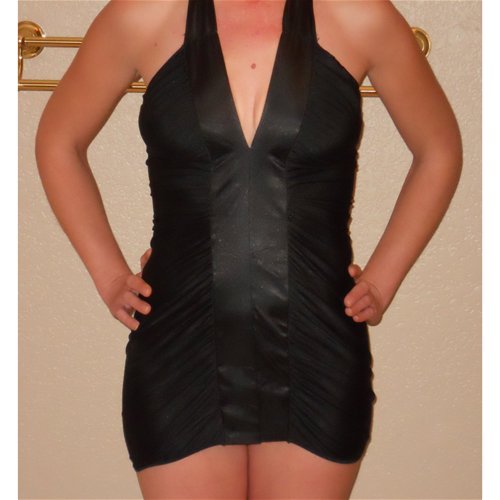 Crossed Strap Style
When crossing the straps I tried every way I could to make it appear like it does on the model and couldn't make it happen. It feels uncomfortable and leaves a lot to be desired as far as looks. I am still curious how they got the gap in the center of the models chest. Everything I tried the material still pulled together there. Maybe you could use something to hold it in place but I am at a loss here and really don't like the way it appears without that gap in the mid section.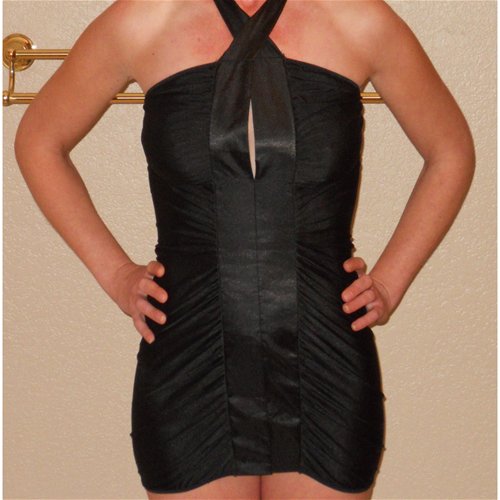 Strapless Style
This style is definitely not working for me. The top fits so loose it will fall down and doesn't have any support at all. The bottom fits so tight it's very uncomfortable, and doesn't lay correctly at all. To me this style isn't even an option. Looking at the picture of the model they had to have pulled and pinned the extra material to make it look that way.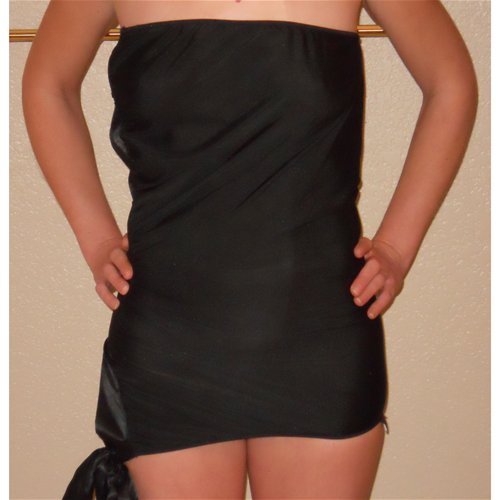 So overall the versatility didn't go well for me but I really like it in the halter style.
Packaging
: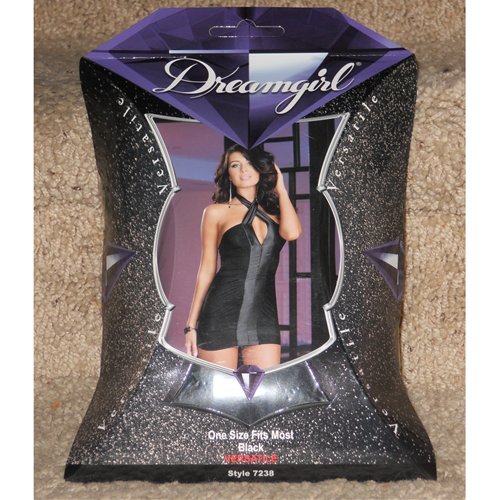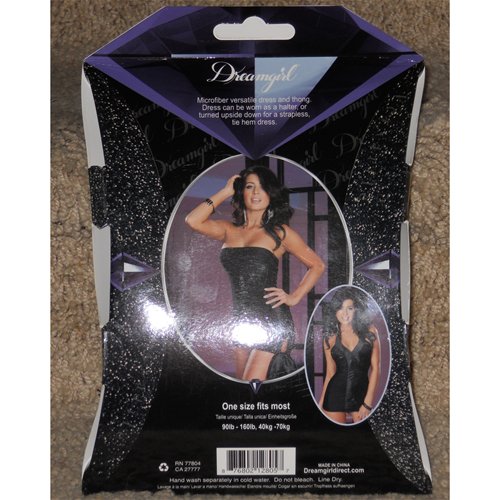 It arrives in the cardboard box you see pictured above. Inside you will find a simple plastic bag with the dress and thong together inside the bag. These shipping materials won't be great for storing your dress, but they are recyclable.
The front of the package shows a model wearing the dress and indicates that it is versatile. Sizing shows 'One Size Fits Most'. The back of the package features the model wearing the dress in two different ways. It also narrows down the sizing to 90-160lbs. This is also where it shows the package is recyclable.
Though the packaging isn't bad, I think I would still gift wrap it or put in a gift bag before gifting it to anyone.
[bold|measurements}:
Dress: -Top to bottom in the front along area that isn't stretchable: 21 3/4" inches
-The back from top to bottom: 19 3/4" inches not stretched and 30" inches stretched
-Straps from seam to very end: 35" inches
-Across top is: 12" inches and 20" inches when stretched, this can vary by strap placement
-Across bottom: 12" inches and 18" inches when stretched
Thong: -from one side to the other: 12" inches and 19" inches stretched
-top of front to mid seam of crotch: 8" inches
-Back to mid seam: 5 3/4" inches
Experience
continued...
Care and Storage
:
You should hand wash these items separately from your other laundry in cold water, not using bleach. Then hang it or lay it flat to air dry. When storing, I would recommend tying the straps to a hanger or somehow hooking it to a hanger to allow it to hang naturally.
Size Information
:
It clearly states that the dress is 'One Size Fits Most', specified at 90-160lbs. I am about 5'6" and weigh 112 lbs, which falls on the lower end of their scale. The length was definitely too short for someone of my size for all 3 of the ways the dress can be worn. My chest size is 36 C and I think all 3 ways would also look better with someone who has a larger chest than me. Anyone with a smaller chest may have issues getting that middle section to lay correctly. As tightly as it fit me through my leg area in the strapless style or through my rib cage area in the others, I don't see this fitting someone very much bigger than me. If your looking at this dress it may be a good idea to take a look at the measurements and see if it will work for you first. If there are other specific measurements you would like please let me know.
Material
:
The dress and thong both are made of microfiber. The specifics indicated on both tags are 96% polyester and 4% spandex.
Polyester
: is a polymeric resin used in making plastics, fibers, etc. A category of polymers/condensation polymers, that contain the ester functional group in their main chain. Usually it refers to the cloth woven from polyester fiber. It is used in a good portion of the clothing we own. It has low absorbency and is combustible but because of it's thermoplastic nature, it tends to shrink away from from the flame source and often self extinguishes.
Spandex
: is a synthetic fiber known for it's elasticity. It is very strong and durable. Even when stretched repeatedly it can still recover original length and shape. It can't handle high temperatures so never soak, boil or bleach.
I found an article that I thought was very helpful about microfiber, since it wasn't something I knew much about.
Microfibers: Functional beauty
: To be called a microfiber the fiber must be less than one denier. Denier is a term used to define the diameter or fineness of a continuous or filament of fibers such as silk or man made fibers. So for example microfibers are half the diameter of a fine silk fiber, one third the diameter of cotton, and one quarter the diameter of fine wool and one hundred times finer than human hair. Even though they are fine and lightweight, they don't exhibit a flimsy quality. The many tiny filaments or fibers can slide back and forth and maneuver around within the yarns in fabric allowing the fabric to flow and drape freely.
Follow-up commentary
5 months after original review
I am still not crazy about the dress being considered clubwear. I personally have made a vow that I will never wear it out of the house. As far as the bedroom goes or just a night in with my lover, that is a different story all together. It is a nice change up from other lingerie items that all tend to blend together after a while. This dress is now the main ingredient to a delicious dinner.
Recipe for maximum benefit: Add some cute thigh highs or garter, sexy pair of heels, possibly even a scarf and walk around the house like it's no big deal. Just do things you normally do like cooking, cleaning or organizing something. It won't matter what your lover is doing at the time they will drop everything to watch and very quickly much more than that. That little downfall I talked about with the dress crawling up and your backside hanging out, in this instance couldn't be more perfect! Stir all that up and let boil for a few minutes. It will be the best meal you have had in a while. Happy cooking!
This product was provided free of charge to the reviewer. This review is in compliance with the FTC guidelines.

Thank you for viewing
Versatile dress and thong clubwear
– mini dress review page!