On your mark...get set...sink!
This set has a great sporty look, but little sporty functionality. It's a shame that this unique design was not constructed better; with a few improvements it could be wearable in more settings and be more durable.
Published:
Pros:
Sexy athletic swimsuit-styling. The top can be adjusted to accomodate different shapes and sizes.
Cons:
Cheap materials, poor construction, limited practical uses.
This set appealed to me with its athletic, sleek lines (I'm not big on overly frilly, girly stuff). However, it's not really well made enough to wear as athletic wear, for example as a bathing suit.
Both parts are made of 93% polyester and 7% elastic. I really wish that polyester garments could be listed with a thickness/opacity rating, the way that pantyhose/tights are (10 denier, 20 denier, etc.). This particular set is thinner than I thought it would be, which really affects the wearability. In the white fabric, it's possible to see darker skin areas (e.g. nipples) and certainly would be even more so if the fabric were to get wet.
I found the medium to be the appropriate size for me: I'm tall (5'9"), small-breasted (A, maybe B-cup at a stretch), and hippy (38"). Actually 38" is the hip measurement for the large, but I didn't want to risk being swamped by a large top. With the stretchy fabric and the tie-style of the top, you don't have to worry too much about being between sizes, the pieces can accommodate.
The panty has a tiny, oval-shaped crotch lining. This suggests it is not meant to be worn as a day-wear panty but more as a costume piece. I did like the cut of it, and found it comfortable for short-term wear, but would not consider it suitable for prolonged wear. It is skimpy in a sexy way in the back, and indeed very low cut at the front. The extreme low cut coupled with the thin fabric make this panty best for those with very minimalist pubic hairstyles! Hairs could easily poke through the thin fabric, and be visible both through the fabric and over the top of the panty.
The top is a bit confusing to get on and adjusted properly, with the three different sets of ties.
Also the ends of the ties are tied in a knot rather than sewn closed, which means the ends can fray. It's a minor point but it does show the overall poorer-construction of the garment.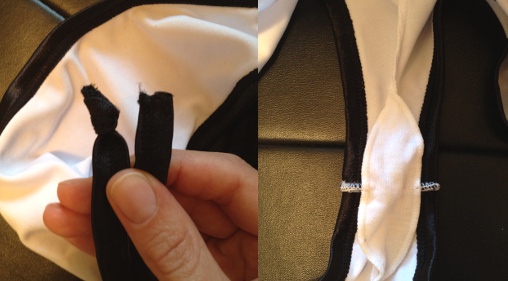 It's quite difficult to get the fabric to gather exactly the same way it does in the product photo. Since there's no lining or additional support, just the wrap of fabric, you'll want to make sure all the ties are done to hold the fabric taught, or else (particularly for those with larger breasts) there's a danger of slipping out to the top or bottom. With my A cups, there was more than enough fabric to be covering, but no support to help build cleavage.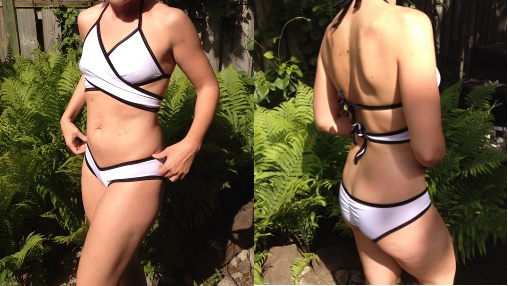 I can think of a few places where you could potentially wear this:
1. Suntanning in the backyard.
2. Under other clothing, such as a skirt and loose top to go to a barbeque or beach party.
3. In a sexy setting, such as at home for just your partner or at a bathhouse/sex club.
In terms of value, if you like the look of the set and plan to wear it as an outfit for one of the above (or other) situations, then $24.99 is reasonable. In terms of quality of materials and construction I think it's worth less, though. The top is just two long triangles of cheap polyester that you tie around your body, after all.
I'm giving this set 3 stars. It was close between a 2-star and a 3-star, but in the end I think that while it's not great quality, neither is this set pretending to be something that it's not. It's not labelled as a swimsuit, or even a bra and panty set (for which you'd expect some support in the top), just as a "panty set" on the box that it comes in. And it does look pretty close to what's shown on the box and in the product photo.
This product was provided free of charge to the reviewer. This review is in compliance with the FTC guidelines.

Thank you for viewing
White criss cross top and panty set
– bra and panty set review page!