One Size Fits Most? I don't know...
This little dress is cute... if it fits. It can be worn at the club, dressed down for the day, or used to tease a partner. It has its uses if it works for you. For the price, not bad. But know this dress will show everything if you let it!
Published:
Pros:
Versatile
Simple
Cons:
One size does not fit most
Hard to hide flaws
So... What is it? What's it look like?
The Mini Rhinestone Dress is a solid pink dress that can be worn with variety. It only comes in one color, hot pink, and while you don't see it in the pictures (or very well) it is ribbed. It's very obvious when the package is in front of you. It is a simple strapless shape, the back looks the same as the front without the rhinestones. The rhinestones gives the bust of the dress a sweetheart style look. It is called a mini dress, but for me, as a 5 4" girl, it graciously covers my behind. It has a lot of stretch and give. I can bring the dress to a couple of inches below my knees.
The color is solid and the style, other than the rhinestones is basic. The ribbing to me gives it the appearance of higher quality (versus if it were solid). It has clear straps to hold it up in the closet.
It says it's one size fits most? Is it? How does it fit?
I don't own many "one fits most" articles of clothing, but this dress does not appear to fit most. Well, most people might be able to get it on them, but fit and fit well are completely different things. The back of the package says the dress is recommended for weights between 90-160 pounds. I'm not familiar with one size fits most, but a 70 pound difference doesn't seem to fit most people. I think it more accurately fits half of people. Then again, your shape is very important when considering this dress.
Underwear, thongs, or half slips give completely visible lines. So you have to go commando or wear tights or leggings in order to wear the dress well. Going commando is possible, brave, but possible. You can't see your hoo-ha looking straight on. You can easily wear a bra under the dress. As a 34D and with a nude colored strapless bra my girls have some support and look good. Wearing any patterned or dark bra is easily visible under the dress (you'll probably be able to see this in the pictures). Here I am in this. I didn't wear my tan bra with it in these pics, but the nude it doesn't show.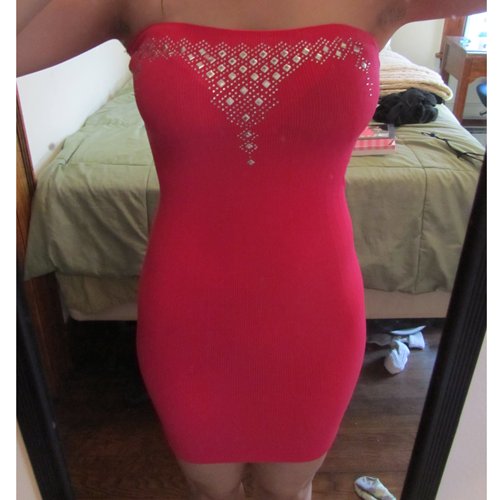 Here's the front. This fabric clings to you! You can't even really see the ribbing from here. This makes me realize (hopefully) there wasn't intentional false advertisement. It covers my behind easily (and I can tell you, it's not tiny). The rhinestones might look like a lot, but I think it balances out the otherwise simple aspects of the dress.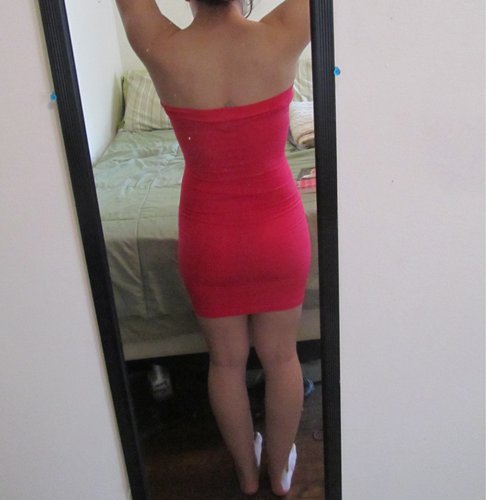 This is the back. It's also the first picture I've ever taken over my shoulder like this. Ever. I share it with you, my Eden darlings! My tag is sticking out. I would recommend after reading it to simply cut it off. It likes to come out a lot. My bra band is obvious, and the bulge will be obvious no matter what bra you wear (unless you wear sticky boobs, those adhesive bras, but I don't think it's worth the expense for this dress). However I think this is minimal. It's almost expected, anyway. If you have a more petite chest, you can probably wear this without a bra. I would recommend pasties though so nipples don't show. If there is an unfortunate wardrobe malfunction you're somewhat covered.
This dress is meant to be clingy. Meaning it is impossible to hide many flaws. Example: depending on any bottoms you put on, you can get an instant "muffin top" even if you're on the thinner side. And, ladies, you know that little "pudge" that most of us have bellow our belly buttons and above our lady bits? The part that is an evolutionary trait designed to be fat storage/protection for possible babies? (sorry, bio major here! I'm just saying don't feel bad about that part of yourself! We're designed for it! While I'm at it, love yourself no matter what! We are all beautiful! I see too many women complaining about this body part and there's little you can so about it. Okay, PSA over...) Unless you are constantly conscious of it, it is visible. So you have to pull in your abs a bit so it's not as noticeable. Especially if you're going to have pictures taken of you, be aware!
In general, this is no good if you are not comfortable showing off your middle or if your girls are hard to support in strapless designs.
Because I wrote too much, the review will conclude in the Experience section.
Experience
Got it! So how do I care for this? What are the specs?
This dress is made in China and is 90% nylon and 10% spandex. The care tag says to only hand wash in cold water, drip dry, not bleach, and not iron. If you don't want to hand wash, you can place the dress in a pillowcase and put it in the washer. This way it only washes with itself and the rhinestones won't catch on anything. The dress doesn't appear to wrinkle much, and when it does it stretches so you don't see it.
The dress is advertised as seamless. There are no visible seams on the outside of the dress, but you can see that the bottom inch of the dress and top inch are a little thicker. Here are the seams. Here's a closer view of it.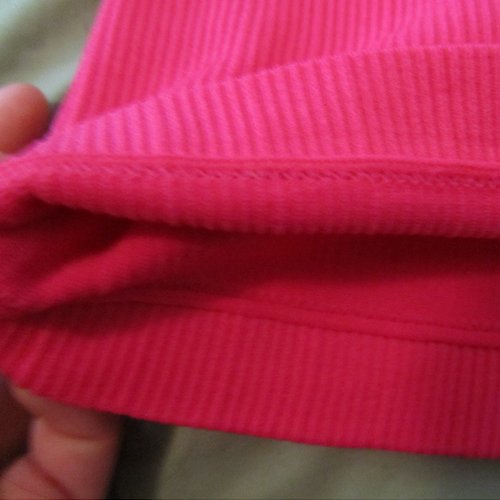 You can actually see the ribbing here. The seams aren't that noticeable and have not caused me any discomfort (and I have very sensitive skin).
Okay, thanks! So how should I wear it? How does it feel?
The dress is comfortable for me. It isn't too tight even though it's snug. I can breathe easily in it. It isn't itchy or scratchy. It can be worn for a day or evening with no qualms, so long as you occasionally pull it down and check your boobs. This can be said for many dresses though.
There is some versatility to this dress. I like to wear with leggings and a jacket covering my shoulders. I've worn it in the daytime and felt great. My black denim jacket made it more casual. You can wear flats or heels with this dress. I think it's possible to wear skinny jeans or jeggings as well, so long as you dress it down.
Nice first lingerie review Mwar! Anything else you want to share?
Sure! I personally like this dress. I like wearing it in the day when I want to dress extra nice. I put on leggings so I don't have to worry about wardrobe malfunctions and a strapless bra. I wear cropped jackets with it and like it. I only wear earrings or a bangle with the dress since (for me) the rhinestones are enough for my neck area. Then again, I bet others can rock a whole host of styles with this dress! The beauty of individuality! :)
Oh, here's a picture of the packaging if anyone is curious. It's akin to a tights or pantyhose container.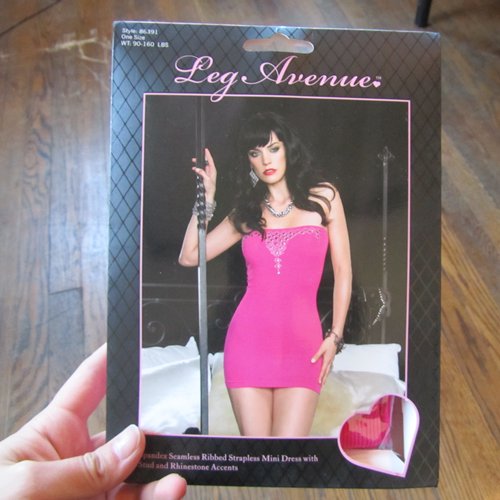 And here's a close up of the rhinestone section. If anyone wants that.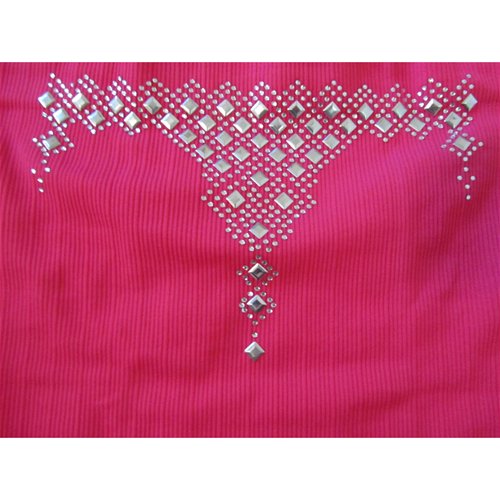 Credit
I saw this Q & A style of lingerie reviewing recently. I forgot who it was who did it, but I don't want to say this idea was my idea.
Edit:
Thank you Sam for inspring me to do my lingerie review this way! Thanks :)
Follow-up commentary
3 months after original review
It's been a couple of months since I got the rhinestone dress. It's held up pretty well. If I've lost any Rhinestones, I haven't noticed. To clean it, I always wash it inside out and many times I wash it inside a pillow case, then leave it to dry.

While a bright color, I think, given my skin tone, this dress has more of a cooler weather feel, especially when coupled with leggings. I haven't worn it much since summer has hit. It is nice that the fabric stretches. It also folds up and store well. It doesn't take up much space.

I have had a couple of threads fray, but I tied off and snipped it. Given the price, this is a cute versatile dress if you want to rock it.
This product was provided free of charge to the reviewer. This review is in compliance with the FTC guidelines.

Thank you for viewing
Mini dress with rhinestone accents
review page!