Only $10.99... Worth A Try...Worthy!
Don't judge a book by its cover! With a $10.99 price tag, I thought I would get what I paid for. It turns out, I got much more than $10.99 worth of bra... lucky for me!
Published:
Pros:
Sturdy
Stays in Place
Cons:
Padding Mishaped
Packaging:
The White Four-Way Convertible Bra (34D) by Baci came in a nice plastic bag with "Baci" wording written all over it. Inside the package, the bra was wrapped in tissue and had a Baci sticker placed on the center, holding the tissue paper in place. It was a very nice presentation.
While the packaging was very nice, meant to keep the item in perfect condition, the bra didn't appear in perfect condition. The padding was flawed and disarranged. (more later)
There was a tag attached to the bra. The tag shows the model picture, the style, and size description. For storage, I folded the bra cups within each other and set loosely in my bra drawer.
Made in China
Price: $10.99
Contents: White Four-Way Convertible Bra (34D)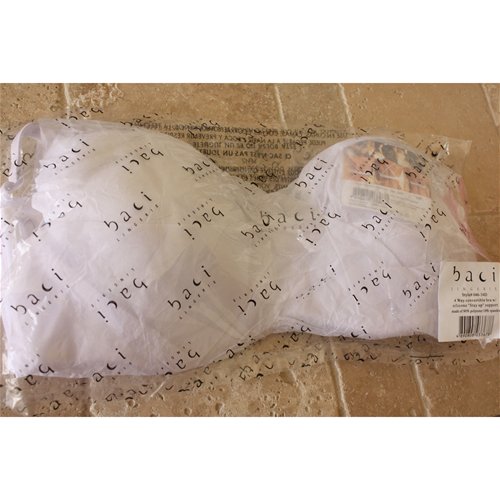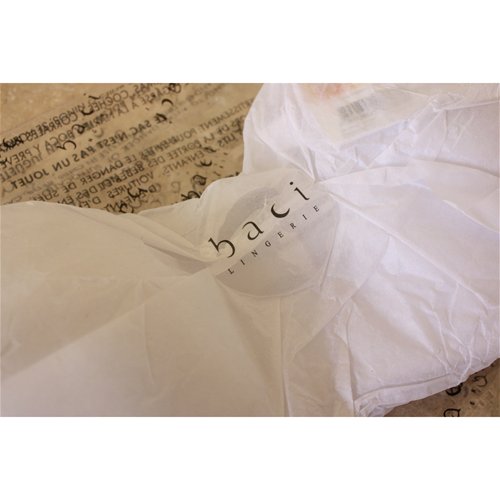 Care/ Maintenance:
The care instructions for this item: hand wash warm with like colors and line dry.
To maintain it's shape, it is very important to not accidentally dry it in the dryer! Make sure to separate your wash carefully!
Design/Shape/Size:
This item comes in the colors: White, Brown, Nude, Black
Pattern: NONE, solid color
It is available in the sizes: 32A, 32B, 32C, 34B, 34C, 34D, 34DD, 36B, 36C, 36D, 36DD, 38B, 38C, 38D, 38DD.
I have a 34D bust. The 34D fit me to a "T". Yipee for correct sizing! I am plesantly surprised by the wide sizing options, but wish there were more options for the smaller chicas... more "A" sizes would be nice, since I consider those an average size too. Sorry ladies that are over 38DD... feel blessed, but not in the Baci Bras sizing area!
Thanks to the removable and adjustable straps, it can be worn in four different ways:
1. Standard, Typical Bra Style
2. Criss-Crossed in the Back
3. Strapless
4. Halter
After wearing this bra in all four ways, I've gotta say, this is an award winning strapless bra! It is one of the best I have right now! There is a sticky, elastic, (maybe rubber?) line on the inside top and bottom lining of the bra to help keep it in place. It really holds the bra close to you and holds your boobs up!
The bra cups look like a shelf bra, but in a heart shape. The cups are not separate in the front. It is a nice look, but not the best for low cut shirts. It is smooth under tees though! The bra is thick enough you don't have to worry about a cold room!
This bra has a durable and sturdy underwire. The back is stretchy, but also holds in place well. The two bra straps seem to lay off my shoulders a little more than usual (the other reviewer said the opposite though - so maybe this is just the way bras fit on different people!) They are further from my mid-section, and almost off my shoulders, to where the straps can fall down easily. Because of this, I may reserve this for a strapless bra only. There are 2 hooks and 6 eyes for 3 choices of size settings. The clasps are very secure.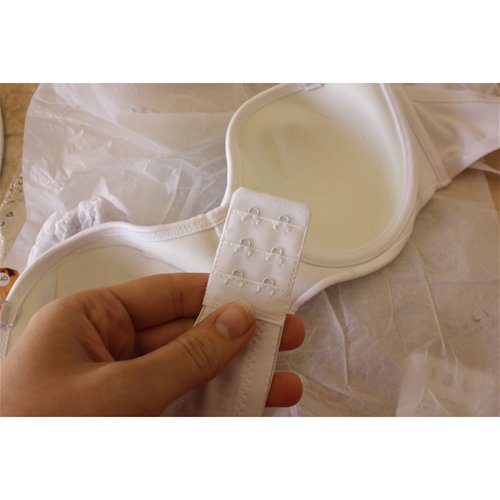 Material/Texture:
Material: 90% Polyester 10% Spandex
Weight: 0.1 lb
The fabric is very comfortable and on the thicker side. It feels durable and heavy duty. The material is smooth when I run my hand across it.
The downfall in the material is the fact the bra came a little deformity. The padding is bunched up/folded/wrinkled and it looks like it had been washed and dried. I am hoping this is just my particular bra, and that is not the case with every order. It is super lame because I can see the flaw through a tight, thin shirt. The padding deformity looks like I stuffed my bra!
Here are two pictures that show the deformity padding section: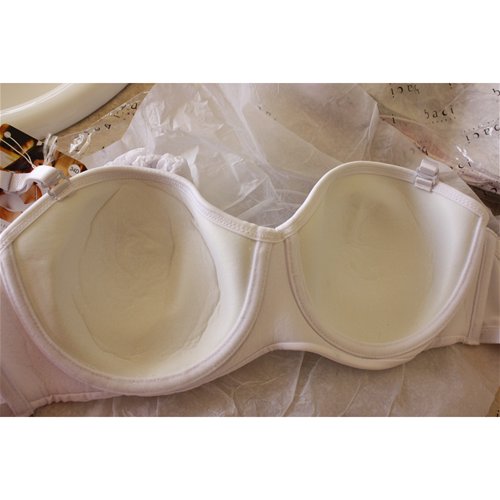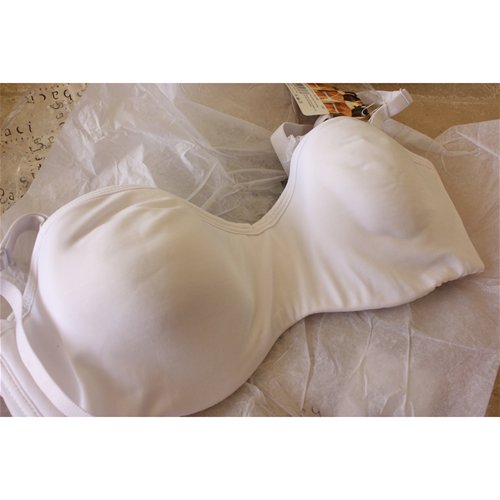 Experience
Personal Experience :
This bra isn't a show-off bedroom style, super sexy bra. But it is a practical and versatile bra. The four-way convertible style is nice, because you can wear it with many types of shirts, except low cut! It is a very comfortable bra to wear all day long. With or without the straps- it stays in place- which is something to be said for a 34D strapless!! The thick padding makes it extra secure, my nipples did not show through. I am impressed with this bra, except of course, that mine came with a weird deformity flaw in the padding.
COMPARE: Baci Bra Comparative
I also tested the
Four-Way Deep V Push Up Bra
and would like to share how I compare them... The White Four-Way Convertible Bra is much more durable, strong and sturdy. It is better for strapless use and actually feels like it has better support. Even though the other bra advertises that it is a "push up" - I would say this one does more pushing up - because it is padded a little more. The only thing is the Deep V bra is better for more low cut shirts. Don't get me wrong though, I love both bras, for different purposes!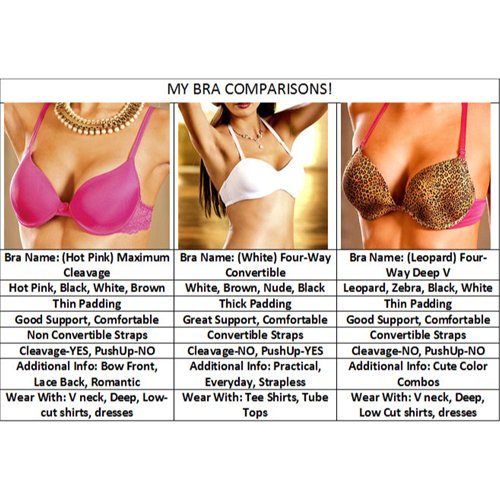 Conclusion: ★★★★
Follow-up commentary
5 months after original review
When I bought this bra, I also bought the 2 other similar bras. Here are the two reviews for the others:
Hot Pink
and
Leopard
. The reason I share all of them, is because I think that there are so many options of bras on here - you should know which one I liked best.
And it wasn't this one. This one came to me deformed, so I can't wear it with a lot of my clothes, without looking like I am stuffing my bra. I have worn it about half a dozen times under really thick shirts or dresses. I do like the fact it is strapless though. It is still a good bra, just not my go-to bra like the Hot Pink bra is.
This content is the opinion of the submitting contributor and is not endorsed by EdenFantasys.com

Thank you for viewing
White four-way convertible bra
review page!