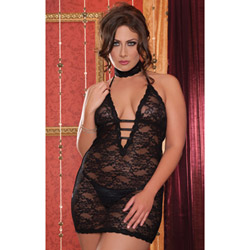 Midnight affair chemise
Chemise
by Seven 'til Midnight
Ooo baby baby...
This sexy, stretchy comfortable lace will entice your lovers, and beg you to keep it on. While it may need a minor modification, it is sure to have you saying "I don't know if I'll make it to midnight".
Published:
Pros:
Sexy, comfortable, sizes will fit most women
Cons:
Ribbons are not very secure, g-string leaves much to be desired
I was so excited to get this piece. After my last experience with a Seven 'till Midnight piece of lingerie, I was very hesitant, but I asked my husband what he liked and this was in the top 5 of his list. I decided to try something new and take a chance on another "one size fits all PLUS". I was very pleasantly surprised. Based on measurements, this chemise will fit women larger than myself as well. Their one size fits all will make this a vary well accepted piece size wise. The first thing I noticed was how stretchy it was. This lace is stretchy, and made from nylon and spandex. Unlike most gorgeous lace like this, it is very soft and comfy when on. It feels a little scratchy to the touch, but it's a hugging miracle when it's on.

The second thing I noticed was how the satiny lace is not very secure. I put this on first by putting it on and climbing into it and pulling it up. I have a large chest so this is the way of most dresses and lingerie I buy. After taking notes on how it felt and how I looked, I took it off. Later when my hubby got home, I put it on again to show him and see if I could entice him into bed. Well I did get him turned on, I think his words were "um...yeah. I'll take it!" As I pulled it over my head I heard a tiny pop. Oh crap. Turns out it wasn't horrible. The first ribbon band popped off the center breast area on one side. I closely examined the other attachments and noticed that they aren't too secure because it's not a heavy ribbon, nor is it attached to a durable cloth. To remedy this situation I immediately took out my portable sewing kit. I basically sewed the ribbon back on (you can't even tell unless you have your eye looking for the stitching). Then I took to reinforcing all of the other attachment spots. Eventually I may just take this ribbon off and replace it with a trustier, heavier duty ribbon. No longer do I have to worry about breaking ribbon or ripping the lace as a result of bad ribbon. The top closure is a halter style that ties with the ribbon. By replacing the ribbon later, it will provide more support, as it has none now. I may even sew the new ribbons to make it a strap style which should work with the way the back is designed. The halter does make it sexy for untying though.

The third thing I noticed was the actual shape. The center V is very attractive, and somehow manages to make my DD's smaller looking. The chemise is fairly long on my short torso, and actually comes to fingertip length when straightened so the back band stays flat. This made me feel comfortable because I like longer things that cover my butt. It'll be easy and not too bunchy if I wear it during sex, but I appreciate the butt coverage. I can feel sexy in this chemise, and revealing without being too cold or revealing. I didn't even notice the choker part until I saw it on the floor. In my haste, it was pulled out of its packaging and wasn't seen. It's cute and will fit a large range of necks, but a little unnecessary. The g-string that comes with the chemise is plain black, and too big for me, but I will modify it by cutting and sewing it. I don't expect much from the matching thongs that accompany the main piece. It's made of a simple black mesh spandex/nylon mix material. It will be usable with a number of outfits that I have, which brings me to the packaging. The Midnight Affair Chemise came in a modified box envelope as I refer to them. You open the top and pull the lingerie out.
Experience
This will be a great piece for years to come. It folds nicely, or can roll up nicely and fit into an overnight bag or a purse for easy travel and changing. Due to the delicate nature, it should be washed on a gentle/delicate cycle in a lingerie bag. To preserve it better, I suggest to wash it by hand with a mild detergent or lingerie detergent (I love the Victoria's Secret brand). Line or hang dry to dry it.

As I wrap up this review and think of all the wonderful things I can't wait to do while wearing this, my husband beckons. I don't think we'll make it 'till midnight for our little affair.
Follow-up commentary
2 months after original review
This is still a sexy piece. After reinforcing the ribbon it is very comfortable and cute. I have only worn it a few times, but it still turns my husband on and is a great chemise. I did snag it on a broken nail, but it is barely noticeable.
This product was provided at a discounted price in exchange for an unbiased review. This review is in compliance with the FTC guidelines.
Thank you for viewing
Midnight affair chemise
review page!