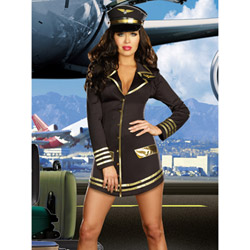 Pilot Sheila B. Bangin
Costume by DreamGirl
Pan Am Pilot
Want to join the mile high club, hunnie? The Pilot Sheila B. Bangin costume by Dream Girl is pretty simple, too simple for me. It's easy to wear though and doesn't have a lot of pieces. For those who don't like clingy or form fitting, this might be for you, but it's not my choice for this Halloween.
Published:
Pros:
Simple, East to wear, Runs pretty true to size/a little big
Cons:
Not form fitting, Sleeves are frumpy, Thin material, Snap closure
If you've been following my reviews year after year, you already know that I fucking love Halloween. Eden got some new costume, of which a few were cute. I really go out on Halloween so I usually try a few costumes before I choose one. My top choices were unavailable, so I chose this classic look. I have gold pumps I've never worn and thought they'd be perfect. Unfortunately, this costume is a little too plain for me and I lost weight since I ordered it, it's simply too big. I think it's a good costume, though, it just doesn't make the cut for me.
*Contents/overview:
Three pieces
This pilot costume is from Dream Girl. The largest piece is the long sleeve mini-dress, second important would be the matching hat, and finally there is a pin name tag to add a finishing touch. It comes in one color combination of black and gold. It comes in sizes S, M, L, and XL.
*Material:
Not the greatest
This mini-dress costume is made of 100% polyester exclusive of trim which is the gold, plastic in the hat, patches, and snap closures. The detailing is great. The patches are real and the shiny trim add a nice touch. The material for the black parts is a bit disappointing to me, though. I've had many Halloween costumes from Eden, I'd say close to a dozen. The material is usually thicker and higher quality than this for this price. This shows a lot of "strain" even if it is moderately pulled. It doesn't even out the body shape at all and can cause unflattering wrinkles if it's not the right size.
*Design/craftsmanship:
Fairly simple
The main part of this costume is, again, the mini dress. Without a lot of pieces, this is an easy to wear costume. The dress falls above the knee for most, as it is designed to, and has long sleeves. It closes down the center with snaps. The issue with this is that if it is too tight, they can easily be ripped open. This can occur otherwise as well. There is no lining, breast support, or anything. I suggest wearing a leotard or body stocking underneath.
The measurements are for the size large:
-From top to bottom is 34"
-From the side to side at the very bottom it is 20"
-The waist is 15 1/4"
-Arm pit to arm pit 17"
-Sleeve length is 22 1/2"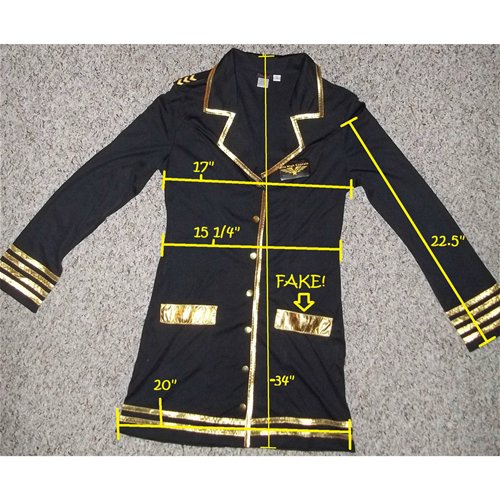 There are three chevrons on each sleeve, near the shoulder, in the form of a sewn on patch. There are two pockets near the bottom of the dress but unfortunately they are fake. This drives me nuts! I hate when things are not functional! The pin is, though. It says "Mile High Captain". This is sort of a bummer since it doesn't say "Sheila B. Bangin" like the title of this costume does.
The hat isn't as flimsy as I thought it would be. The bill has some sort of plastic in it and so does the inside so that it doesn't flop. The back adjusts like a trucker cap.
Care/Maintenance/Presentation:
This should by dry cleaned or spot cleaned. I've had costume like this that I had no trouble hand washing in cool water and then hanging to dry. It is important to note that with costume like this, it might be a good idea to wash it prior since I've had the fabrics bleed in the past.
It came in a plastic resealable/reusable bag.
Experience
*Sizing/fit:
Runs a little large
I got the large because I usually wear something underneath my Halloween costumes to not freeze my ass off. Even with a body-stocking underneath, this has plenty of room on me and looks frumpy, in my opinion, especially in the sleeves. Another reason is for added length. I like the length on this. Since the material is so thin, it will easily pull and doesn't hold up very well. It doesn't always lie flat and crinkles often. Annoying! I'd still go down a size on this if I could exchange it.
According to their sizing chart, the L should fit a size 10-14 dress, C-D chest, 36-38" band, 28-32" waist, 38-40" hip, and 140-150 pounds. I weigh ~139 pounds (size ~7/8); curvy but fit, with size 34 DD breasts (got remeasured at VS last weekend). My waist is about 29.5", under bust 33.5", and hips 37.75". (NOTE! My measurements have changed!)
The large is clearly too big for me. I lost a dress size since I ordered it, so that's my fault. It's easy to put on and does require something underneath because it is so thin, unless you want major VPL. I think the length is good on my 5'6" frame and based on it being a size too big, it does seem to be accurate to its chart. Some of the trim was a bit scratchy, but not too bad.
I can see the thin material being a problem especially for those who are thicker in the middle or hips. The fabric will pull and bunch at the snaps. The bottom has a slit that could also be problematic too. It's right in the middle. The last snap should have been moved down further, but you can always add your own. I found the sleeves to be especially big and they don't stay up if I try to bunch them.
The hat is actually a good fit!
My Re-done chart/BEST fit:
For large
Dress: 10-12 (size 14 should order up if you don't fit the ranges)
Cup: C-DD
Band: 36-38" (underneath your breasts)
Waist: 30-33"
Hips: 38-41"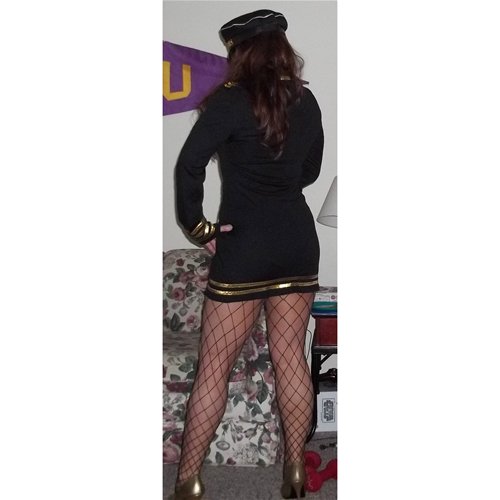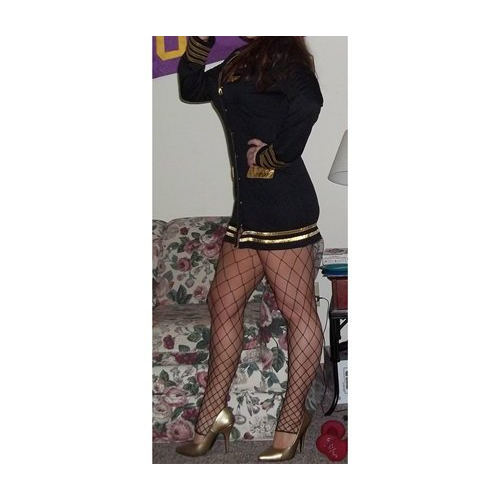 *Possible accessories:
You may need a bodystocking underneath. If so, I'd recommend. The first is the one I am wearing because I couldn't find the second one. If I wear this on Halloween, which will most likely not happen, I would wear the second one.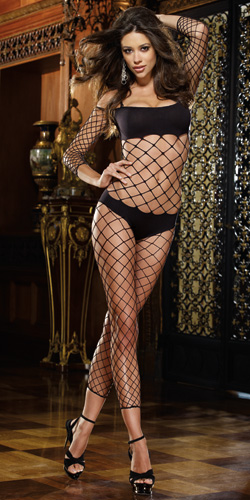 bodystocking #1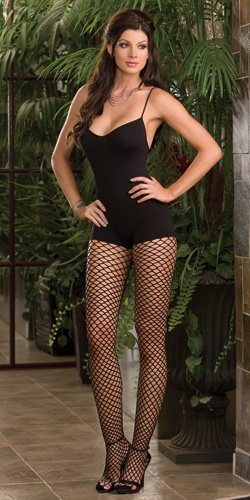 bodystocking #2
The shoes I am wearing are Pleaser Seduce 420.
*Conclusion:
★★★ 1/2
I really am not very impressed with this costume. The band at the bottom is problematic for those with thighs /hips and the material is just too thin to look good when it fits properly. Even if this were the right size, it looks like the sleeves would be frumpy. I'm also a little dissapointed that the pin doesn't say the "name" of the costume. It's decent and I could wear it, but I wouldn't be excited about it. If you don't like form fitted costumes, this might be for you.
Follow-up commentary
4 months after original review
I got rid of this costume and passed it on to a resale costume store. It isn't for me, but I think someone else would like it much better.
This product was provided free of charge to the reviewer. This review is in compliance with the FTC guidelines.

Thank you for viewing
Pilot Sheila B. Bangin
– costume review page!