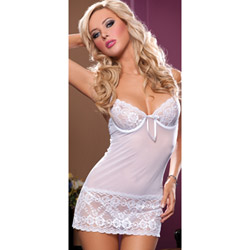 Parisian lace chemise
Chemise
by Seven 'til Midnight
Parisian lace chemise (Medium)
I've about had it with Seven 'til Midnight's lingerie. Most of their lingerie is uncomfortable, an awkward fit, or just don't follow the size chart. This chemise is one of those. The bust area is far too large for me, yet at the same time the midsection is a bit tight. I would have liked it to fit how the product photos show, which is slightly flowy through the waist and hips. The only pros I can see to this chemise is the price, variety of sizes, and the fact that this is a pretty cute chemise.
Published:
Pros:
price, good variety of sizes, cute, stretchy
Cons:
odd fit, underwire is too big to fit B cups, lace is a bit rough
I really like the look of Seven 'til Midnight's lingerie. I have tons of their lingerie sets on my wish list because their stuff is just so cute. Unfortunately, when I actually receive their lingerie, it's either a hit or a miss. I thought the Parisian lace chemise looked cute and potentially flattering for my figure so I decided to do a buy-out assignment on it. I chose size medium.
The Parisian lace chemise and thong come wrapped in a cellophane bag. The set is not on a hanger. The thong and a tag are attached to the chemise. The tag contains absolutely no useful information and can be tossed or recycled. Inside of the chemise is Seven 'til Midnight's usual too long and wasteful pink ribbon tag. This tag has some useful information on it. This set is made of 90% nylon and 10% spandex. It should be hand washed in cold water and line dried. Do not bleach or iron it. The set is made in China.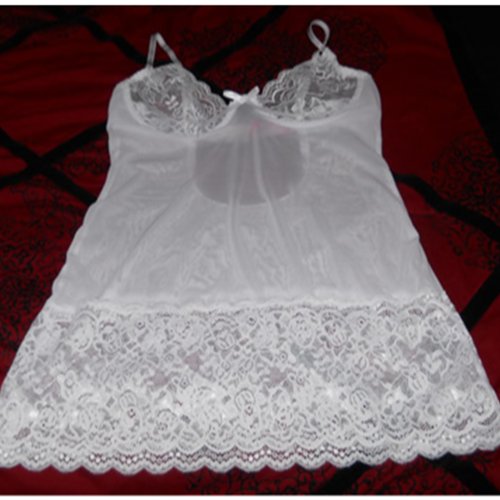 As far as chemises go, this one is pretty simple. The top is styled like a bra. The shoulder straps are adjustable. There are underwire cups in the front and a hook and eye closure in the back. It can be adjusted to three sizes. The cups of the bra portion are just simple white lace with no padding or anything underneath. Between them is a simple white ribbon bow. The midsection of the chemise is soft white mesh. At the bottom is a kind of skirt made of white lace. Beneath the hook and eye closure in the back is a small cut out.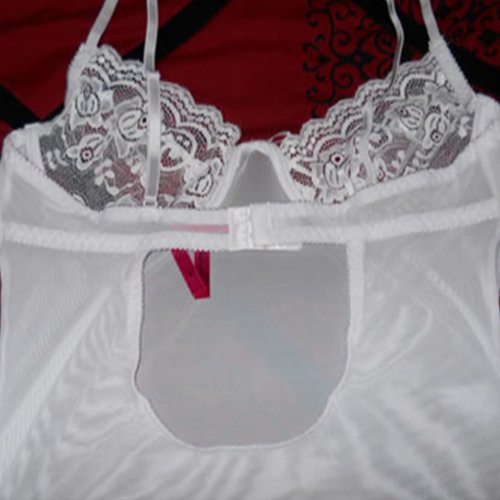 The materials used for this chemise are of decent quality. Both the mesh and floral print lace are completely see-through. The mesh is very soft and pretty stretchy. The lace is also pretty stretchy but kind of rough feeling. It doesn't feel itchy on my skin, but it does feel like a lower quality lace. My chemise does not have any flaws in the material or construction.
The thong that is included with the chemise isn't the greatest. It's made out of the same white mesh used in the chemise and some white elastic bands. It has a tiny triangle of fabric in the front and an itty bitty one in the top of the back. There is another pink ribbon tag attached in the front of the thong. The thong has a tiny triangle of a panty liner. It's not made of cotton, but it's as soft as cotton. I personally choose to wear different underwear with my lingerie because I don't care for the tiny cheap thongs most sets include.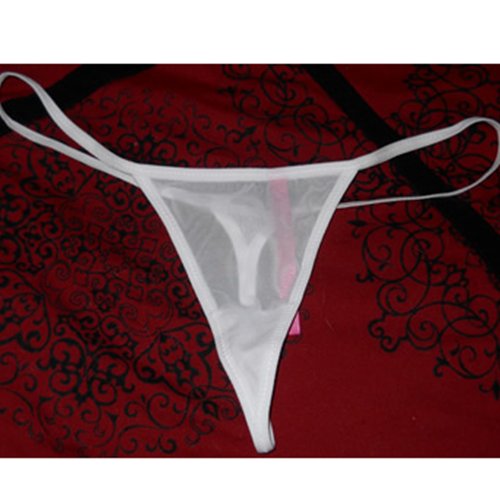 Measurements:
Length from top of cups: 25 inches
Length of lace skirt: 6 ½ inches
Bust on loosest hook and eye setting (unstretched/stretched): 30/38
Bust on tightest setting (unstretched/stretched): 28/36
Waist (unstretched/stretched): 28/40
Hip (unstretched/stretched): 36/50
Waistband of thong (unstretched/stretched):26/50
Thong rise: 5 inches
Size Chart (Medium):
Dress size: 6 – 10
Cup: B – C
Bust: 34 – 36
Waist: 28 – 36
Hip: 36 – 38
My Measurements:
Dress: 5 – 8
Cup/Bust: 34B
Waist: 27 inches
Hip: 35 inches
Comparing my measurements to the size chart, I fall below that of size medium. I purposely ordered a size up in this chemise because of the bad luck I tend to have with this brand. Size small technically should fit me, but it usually ends up being too small.
Unfortunately, the size medium didn't fit me very well. I wear a small B cup and the underwire on the chemise is much larger than that on my bra. It seems closer to a larger C cup or possibly a D cup. It's way too large to fit the indicated B cup. Because of the too-large underwire, the band does not fit me properly. Even on the tightest setting, it feels baggy on me. Because of this, the band and underwire offer no support for me.
Continued..
Experience
At the same time, the midsection of this is snug on my body. It's not too tight; it seems to fit me just right. I feel if I had actually bought the size small, the chest would have fit right but the midsection would have been tighter. Sure, the mesh stretches quite a bit, but the photos on the product page show it fitting the model somewhat loosely, which is what I was expecting. As far as the length goes, this is a tiny bit shorter on me than it appears on the model. The front length is the same as shown in the product photos, but the back actually falls a few inches short of completely covering my butt.

When worn during sex, the chemise does not ride up at all. It stays in place and only moves if you move it yourself.

As I stated before, I don't wear the thongs included in lingerie sets. I did try this thong on, though. It feels more stretchy than most cheap mesh thongs. It sat comfortably on my hips without giving me a muffin top. The front is a bit low-cut, but the back sat up high enough on my hips.

How this can be cleaned depends on what kind of washing machine you have. I think a front loader with a gentle cycle would be okay to use to clean this. Top loading washers have an agitator that could wreck this, though. I suggest washing it in a net lingerie bag. I would hang it up to dry rather than throwing it in the dryer. If you can't wash it in a washing machine, hand washing would be fine. Using some liquid fabric softener when washing should help soften up the rough lace a bit.

Since this has straps, it can be hung up in a closet to keep it wrinkle-free. It can also be stored in a drawer. I currently have mine in a large chest at the foot of my bed, but as soon as we buy our house and move in, I will be hanging it up.

I was really hoping the Parisian lace chemise would work out well for me. It's cute and feminine looking while not being too over-the-top. Unfortunately, the fit is very strange. I would have liked the midsection to be a bit looser fitting so it would flow nicely. As it is, the tighter fabric can work to accentuate flaws in the tummy or at the hips. The cups are way too large for a B cup, making this a little unflattering for me.

I give the Parisian lace chemise and thong 3 out of 5 stars.
Follow-up commentary
5 months after original review
I still do not like this set. It may be a good fit for someone else, but for me, it's terrible. The underwire cups are just way too big for me to wear this and look good. Since writing my review, I have decided to no longer purchase any lingerie by Seven 'Til Midnight because of how often I hate the lingerie I receive.
I recently purchased a
chemise
by Coquette that looks very similar to this, except it does not have underwire. I love how it fits and how comfortable it is. It's also flattering to my body. I will probably be reviewing it as soon as I can.
This product was provided at a discounted price in exchange for an unbiased review. This review is in compliance with the FTC guidelines.
Thank you for viewing
Parisian lace chemise
review page!