Party time candy man
Costume
by California Exotic
Party Time Candy Man? More Like Party Boy From Jackass
If you are looking for a gag present for a man, be sure to buy this. If you are looking for something you or your man can look sexy in, look further.
Published:
Pros:
Could make for a funny Halloween costume at an adult only party.
Cons:
Small in size, uncomfortable back, one size fits few
I was so excited to see my first assignment in my cart that I skimmed the info, and snatched it up.

Only three days after it was shipped, it arrived at my door. The packaging was not at all discreet, showing a man wearing the thong and bow tie. Down the side of the packaging states the name of the product. The back of the packing states that it is "Comfortable and stretchy," although it is "one size fits most". The man on the photo is a little intimidating as most men do not have the same body as he does, and will not look nearly the same.

As I do with all new garments I washed before coercing my husband into putting it on. I washed it with a Shout Color Catcher sheet to prevent the red coloring from fading into the white. The fact that this is machine washable is a huge plus.

In addition to being red and white thin stripes made out of 79% polyester and 21% elastic, the thong has two clear "easy release" clips on the side that are the same as what would be on the back of a woman's swim suit. The pattern of the thong looked exciting when removed from the packaging.

My husband is a slender man, having a 30 inch waist. When he put the bottoms on they fit his waist well, although they wear a little low, more so on the hips. After looking at the fit on him I would assume that "one size fits most" translates to "one size fits men from a 28 inch waist to a 32 inch waist without digging into the sides of the body."

The back of the bottoms were a little bit more of an issue. The backs fit between a thong and a boy short, causing way too much material to ride, and my husband to constantly complain. This issue was further caused by the room in the front for his cock and balls.

With my husband being a bit over average size in his cock, the bottoms pulled away at front. There was not enough material to house all of his goods. Additionally, the front and back began to pull away from each other at the side clasp due to lack of space, causing the clasp to begin to slip out of the material, and almost come undone (not that I would have complained).

To make matters worse I requested to see what they looked like with an erection. It is my belief that any man with a normal size penis would not be able to hide any skin while erect.
Experience
After my husband put it on I began laughing when I saw his face. First I must explain that my husband is not shy, and has no issues with being nude, or with few articles of clothes. Although he is generally comfortable, he looked like he wanted to rip my head off for making him don this attire. It could have been partially because him and I both felt he looked like "party boy" from Jackass, and all he was missing was the sweat bands on his wrists.
I asked him the following questions, and got these answers:
Q. How do you feel?
A. Extremely uncomfortable and exposed.
Q. Do you feel sexy?
A. No, not at all. I don't feel like myself. I feel really uncomfortable.
Q. What is it that makes you feel uncomfortable?
A. The fit is not comfortable.
Q. What is your opinion about the pin stripes and the color choice?
A. The color is fine, but from far away it could look pink.
Q. What do you think about the bow tie?
A. It was tight on my neck, it sagged instead of keeping it's shape, otherwise it was fine.
I insisted to my husband that he allow me to take photos to better describe to everyone the issues with this garment. Although he was not excited about this, he gave his permission for the following.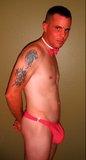 Follow-up commentary
2 months after original review
I am pretty sure that my husband either a) hid this item before Halloween out of fear I would find a reason for him to have to wear it; or b) tossed it. This item has not been seen in my house, and I have a funny feeling that it will not be any time soon.
This product was provided free of charge to the reviewer. This review is in compliance with the FTC guidelines.
Thank you for viewing
Party time candy man
– costume review page!