Peek A Boob
A jaw dropping piece with a lot of give in it. Very adjustable, super soft, stretchy and breezy. I'm not a fan of white but this one is drop dead beautiful!
Published:
Pros:
Very stretchy
Probably fits up to a size 16
Very sexy
Cons:
G-string is oddly cut
Honestly my first impressions where a bit iffy. The item appears very small, made up of lace and mesh. I know it will stretch but being 5ft7, 200lbs and wearing a size 11 pants I typically worry about it such "one size fits most" items will fit properly.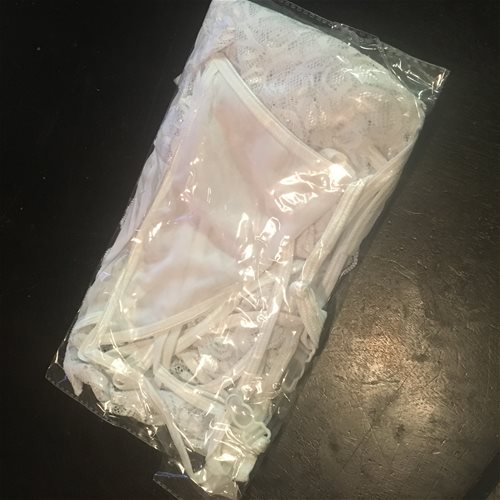 The packaging is very minuscule. I do recommend wrapping before gifting if that is what you're wanting to do.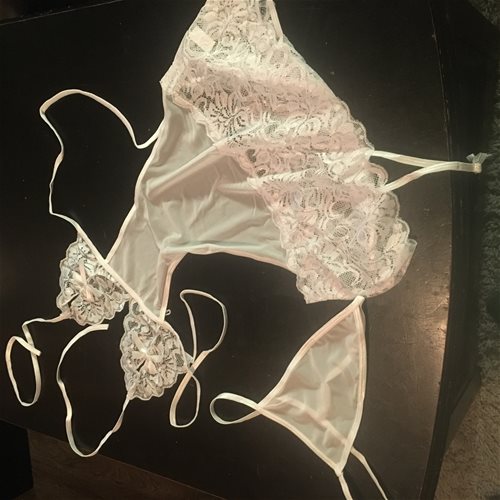 Straight out of the package it seems like the g-string that comes with them is almost bigger than the outfit itself.
After the initial "this is really small" going through my head I figured why not give it a shot tonight. The kids where in bed, the man was off occupied with his Warhammer 40k painting and I had a good chance by myself to try it out. It Fits really well, sure I'm a little heavy in my own opinion right now but there was plenty of stretch and then some. I'm sure someone who is closer to a size 16 could wear this outfit without stretching it to the point of damaging the product. The neck ties and tie around the back are very long, long enough that they could cover my 34G bust and still tie with plenty of space. There's a great amount of stretch to the straps as well for us heavier up top girls. However the slits open very wide with more of a bust there. It would be a lot more discreet for users with a smaller bust. The triangles that hold your bust in are right smack in the center of the top. Meaning if you're a bit off centered bust wise or you don't have a natural cleavage (like you have to push the girls together to make it happen) it is possible for the top to slip inwards showing the girls proudly to the world. For real though with this cute outfit on I don't really see that as a problem in my opinion. The shape works for most bodies in the "one size fits most" world of things. I believe it will fit most users very well regardless of size with a little adjusting.
The thong is fairly large, not really in the greatest way, it's obviously just a generic shaped g-string that typically comes with lingerie items. Not overly ill fitting but enough that I don't think I'll ever wear it. There is not gusset in it, the cotton piece that goes in the crotch of undies, so straight mesh on your delicate pieces. This is both a plus and a minus.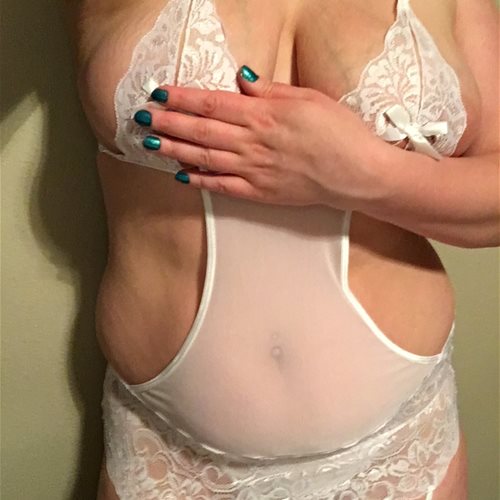 Had to cover one side because with my arm up for the picture I kept getting a nip slip haha. Otherwise it stays in place very well when worn.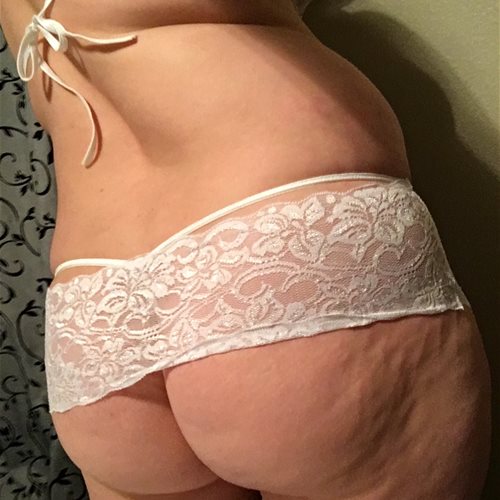 Since it's made up of nylon/spandex I toss it in with my delicates on a cold setting as well as lay flat to try to keep it form getting all knotted up in the dryer with all the bras and undies. It works well for me and seems to hold up well.
Experience
The man absolutely loves it. I walked out with this lovely goodie on plus some white matching thigh highs (not included) and his jaw hit the floor. Items like this always make me feel a little self conscious. The band at the bottom stretches well but fits a little snug once on, however can stretch very far. His reaction was honestly priceless. It is very easy to have a bit of fun in and stays in place pretty well once adjusted even when being rough in the bedroom.
Follow-up commentary
9 months after original review
Now that I've shed some more weight off I certainly love how this fits even more. It is holding up quite well to wash and toss, I had put it through a regular wash cycle and dry and it survived just fine so far. Not purposefully doing that but hey it happens. I personally still consider myself on the upper end of the "one size fits most" category. I have officially tucked this goody away until the honeymoon. Due to the lack of fabric, it can be very easily stowed away from eyes in the secret of my dresser. Can't wait to wear it again!
This product was provided free of charge to the reviewer. This review is in compliance with the FTC guidelines.

Thank you for viewing
Spice peek-a-boo chemise
– gartered chemise and panty set review page!