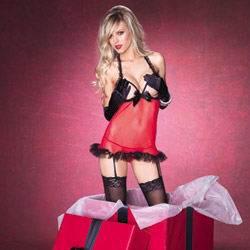 Mesh peek-a-boo chemise gift box
Chemise by Leg Avenue
Peek-a-boobies!
The Peek-A-Boo chemise from Leg Avenue is a simple, cute, although somewhat trashy, open cupped chemise. It's haphazardly sewn of mesh and ribbon, in the style of a halter top with 3 openings in the back, bows above each. The 4 garters are not adjustable but the mesh is stretchy enough that they should reach most stockings. It's a OSFA item and truly does fit 90-160lbs. Because the cups are bare this garment is probably suitable for those with small, perky or well admired boobies.
Published:
Pros:
nice packaging
OS fits 0-12
nice price
great if you've got perky boobs
can wear during sex
Cons:
cheaply sewn
garters aren't adjustable
The peek-a-boo chemise gift box by Leg Avenue is marketed as a Valentine's gift. It comes in a gorgeous box but is cheaply made and does look a bit trashy. I would say that it would be great for wear on the eve of Feb.14th with your lover or any other night when you want a cheap hot rendezvous but it won't last long unless you take really good care of it. Nails can catch in the mesh and the thong is forgettable. If you have nice boobs it does highlight them well and because of this feature it's great to wear while having sex. It doesn't come with stockings but you will need to get a pair because the garters are not detachable. I think its best feature is that it really does fit XS to XL!!!
Material:
The tag says 100%
polyester
I am not sure if this includes the bows or not. The bulk of this flimsy garment is thin red super stretchy mesh. The trim is the same mesh in black and the bows are over an inch thick with one shiny side. I actually quite like the bows. the garters are thin black elastic with plastic and rubber clasps.
Size:
This chemise is a OS item recommended for 90-160lbs. It measures unstretched:
Length from top of breast cups to bottom of skirt:18"
Frilly trim:3"
Width at cups:12"
Width at bottom of skirt:15"
Length of garters: 3" plus 1" plastic clasp
I am currently 5'61/2" tall and 155lbs and when I first pulled it out of the box and held it up my body I was sure it was not going to fit, either in width or length. I have quite a long body and the garters are quite short so I bought plus size stockings hoping that they would come up high enough on my legs for the garters to reach. I needn't have worried. The mesh turned out to be ultra stretchy and reached the stockings easily. Basically I find the sizing to be correct. Since the cups are open, it's really up to you whether you think your breasts fit or not. A cup or D+cup -if you are comfortable with your breasts bare they should fit.
The thong is tiny and I mean tiny. It measures unstretched:
Triangle: 4" by 5" by 5"
Top circle: 30"stretched
Back strap to crotch: 4"
Yes it is stretchy but definitely not enough for a L or XL. A M at most.it does not have a tag attached to it.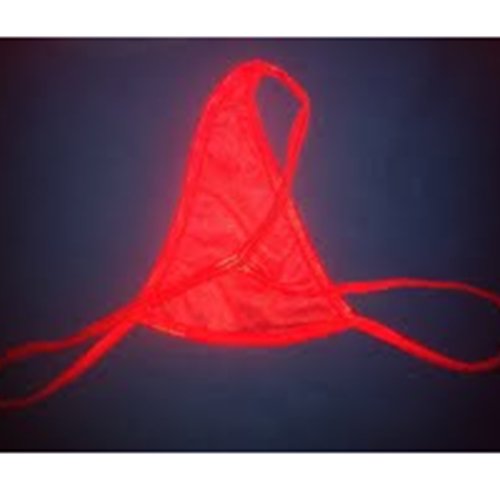 Shape/Design
The straps are halter style, joined and circling the neck. They are stretchy and become triangles which surround your boobs. In the middle is a thick black bow. Under that is red mesh stretching down to a few inches of black frilly mesh. 4 garters are attached- 2 in the front over to the outside of the leg and the same in the back. They are not adjustable. The back is cut low and has 2 cut outs with thick, black, ribbon bows at the bottom of each cut out and in the center along the top of the back. Rather simple and little trashy but it actually looked great.
The thong is a simple red mesh triangle with no lining. The rest of it is two pieces. It isn't even cut and then sewed back together. One piece just leads into another so that it's a bit off balance.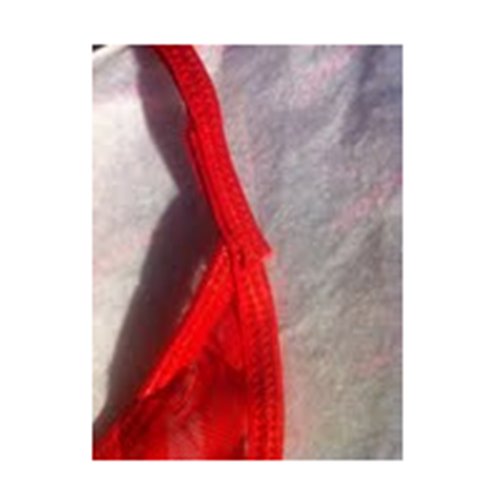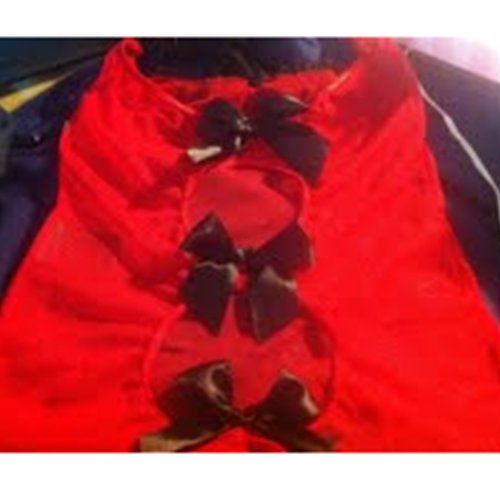 Workmanship/quality
The peek-a-boo chemise is fairly poorly made. The sewing is kinda crappy, shown in the pictures below. They used a simple cross stitch. Some of the edges are serged but where there is trim attached, the edges are totally raw and will probably fray really easy.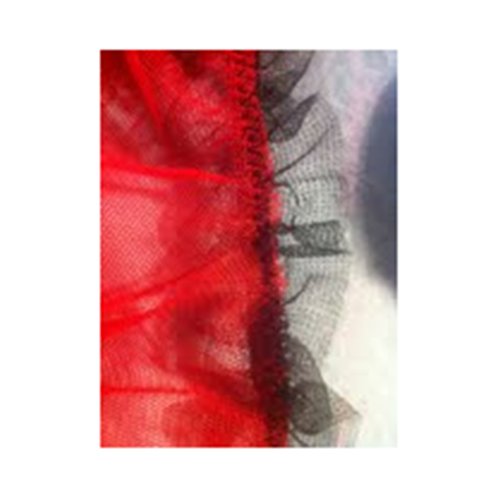 The bows are sewn on well though.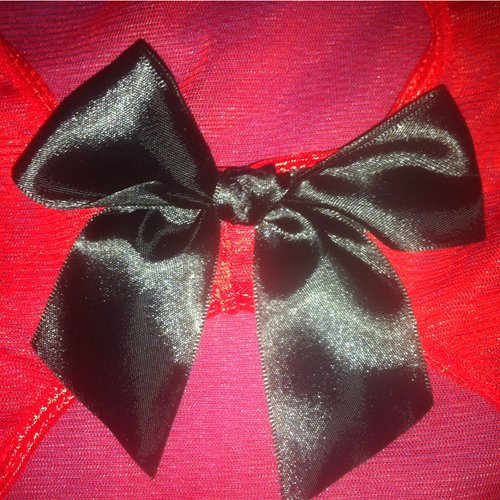 The thong is so simple, it's sewn well but like I said it doesn't even have a lining so you wouldn't want to wear it for everyday use.
Care:
Best to hand wash this with some sort of lingerie cleaner and either hang or lay flat to dry.
Experience
Continued...
Packaging:
This is probably one of the best things about this item. It's marketed for Valentine's day so it comes in a gift box, hence the name 'peek-a-boo chemise gift box'. I wondered if this meant that it came with extras like lube samples but it did not, the name just refers to the packaging. It arrived from Eden inside Edens trademark 'web merchants' totally discreet box. Its own box is thick strong black and pink cardboard with only the Leg Avenue symbol to hint at what's inside. When you first get it, it has a thin piece of cardboard wrapped around the middle with the same picture that's on the product page and brief descriptions of material, care etc. but that slips right off and is not necessary or attractive if this is a gift for someone. The gift box is held closed with a thin pink satin ribbon. Within the box, the chemise is folded nicely nestled within baby pink tissue paper and sealed with a heart shaped sticker. Very classy for such a cheap piece of lingerie. Reminds me of Evolved novelties tins!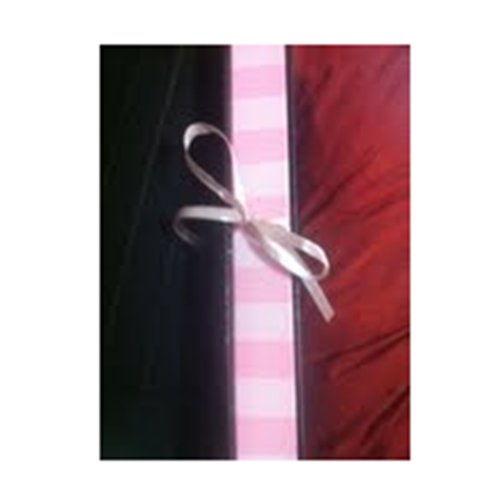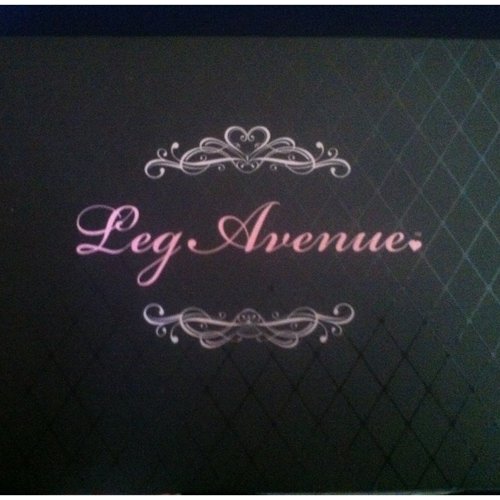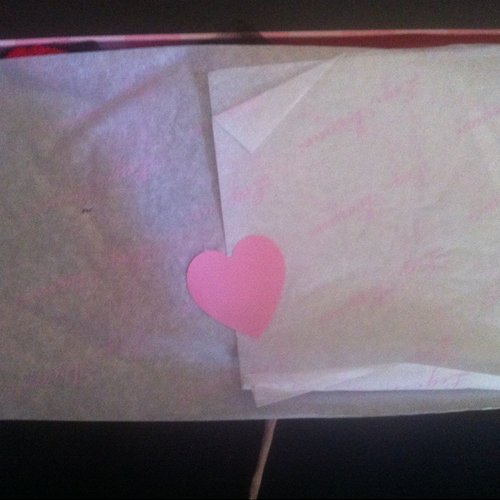 Experience:
I was pleasantly surprised when I put this on because I had held it up to my body several times and was sure, even stretching it to the max, that bit was not going to fit. Everytime I did that it made the garters so short that they barely came down as low as the bottom of a pair of boyshorts. My boobs are the one part of my body (other than my vulva TMI!) that I have confidence in. But it takes me weighing over 150 to have decent B cups. They are fairly perky so they looked great in this outfit. I also have a really long body and the garters still reached my stockings. We had a great time having sex in it as we could keep it on and still have access to all of my womanly body parts. The thong however remained virtually untouched because it was too damn small to even bother. It says OS but I have over 100 pairs of underwear ranging from M to XL and and it's more like a S/M. plus it has no lining and we didn't need it. I won't throw it away but I won't wear it anytime soon.
Follow-up commentary
3 months after original review
Wow this turned out to be a real winner! I've worn it for several guys and it really does do me many favours! The cupless look is awesome for my particular type of chest. I used to be extremely thin and since I hit thirty have gained 50lbs and grown to a B36 because of it. Yes my actual breasts look great but my chest is quite wide and my long torso very square, sometimes I fear I have "manboob" type boobies. Well with these black triangles framing my girls , it's just like eyebrows around eyes. Also it's so easy to clean and wear again and again. I have other expensive lingerie that has ripped - one cincher was punctured by a high heel, so sad. Well this chemise is proving to have longevity and if it goes oh well cause its so cheap!
I have nice scoured the net for other 'cupless' lingerie, which I never would have realized looked so great on me without getting this assignment! Thankyou Eden!
This product was provided free of charge to the reviewer. This review is in compliance with the FTC guidelines.

Thank you for viewing
Mesh peek-a-boo chemise gift box
review page!