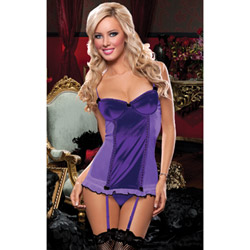 Purple Sophia chemise and thong
Chemise
by Seven 'til Midnight
Pictures can be deceiving and that's the case with this chemise
Even though it wasn't exactly as pictured, overall it is a super cute and comfortable chemise. My man liked it and I felt sexy in it and really that's all that matters. For a little over twenty bucks it is well worth it and being so cheap I worry less about ruining it! I'm only giving it 3 stars, because Seven til Midnight showed something different... which kind of still upsets me. Based on design, style and craftsmanship, I would have given it 5 stars all the way.
Published:
Pros:
removeable garters, removeable padding for smaller breasts, adorable back
Cons:
small cups, does not look as pictured
I was extremely excited to see that I got my package in the mail a day earlier as it was my boyfriend's birthday and now I could wear THIS for him! I pulled it out of the clear plastic wrapper it was delivered in and my first thought was "what the hell is this?" This chemise looks nothing like how it looked on the product page. How can Seven Til Midnight advertise something totally different - this is my question. The main reason that attracted me to this purple chemise was the little black details that were shown in the picture, from the bows to the stitching that went down each side in the middle. To me, that is what made this piece a little different from the rest. Well, unfortunately, there is not a single piece of black thread here. Even though it wasn't as expected, it was still a cute piece, so I gave it a chance and here are the rest of my thoughts on the Purple Sophia Chemise.

In the picture it shows what might be one thin spagetti strap but there are actually two that run right to the back of your shoulders and then turn into adjustable straps. I actually like this better because there is more support for my breasts. The product page also states that it is strapless which I knew wasn't correct, but I figured that - maybe - they meant detachable straps... which they are not. I would never wear it strapless anyways, but for those of you who would, you should know that they are securely sewn in. The cups are lightly padded with slits on each side on the inside to take out or insert small pads meant to be used as push-ups. My girls are big and barely fit into this, so I definitely don't need that feature, but for someone with smalls breasts this would be a godsend to give you some cleavage. There is also underwires that I'm very grateful for because I like that extra lift. Being well-padded they don't cut into you like some.

There is a panel of a solid purple satiny material that runs down the middle of the chemise. On each side of this panel there is a small strip of PURPLE lace, but the picture shows black stitching. It is made out of 95% nylon and 5% spandex. This same material covers the cups as well. From that middle panel to the back there's purple see-through mesh. That is another thing that's different from the product page. In the picture it looks like a different material, but solid and not see-through on the sides. I guess, I should have realized it, though, because this chemise also comes in black and white and in both of those pictures you can tell that it is mesh. love the strip in the middle, it is flattering as it hides my insecurities with my stomach and draws the eyes, which gives you a slimmer appearance.

In the back there is a strap, similar to a bra strap that has three sets of hooks to adjust to your width. So much better than a non-adjustable strap that you have to pray will fit you properly! From that strap all the way down to the crack of your booty is open with a U shaped cut. I have to say the ass part is my favorite thing on this chemise. It is kind of hard to describe but I will give it my best! The mesh goes around to about half of your booty and then there is another strip of the solid material. Right in the middle is a little satin button that can be unhooked with a small loop. I do believe this is just for decoration, though. Under the button, there is a small cutout. You can see what I am talking about in my pictures. I think this amps up this piece from being plain to sexy. There is also a small mesh ruffle that runs around the whole bottom of this. Seven little PURPLE bows are placed on this, not black as pictured. One at each garter, one placed between the cups, and one on each side of the straps. It comes also with - as I just mentioned - four detachable and adjustable garters, also in purple. The clasps on the garters are plastic but are designed well enough, so you are don't have to struggle attaching them to thigh highs in between, which again is another huge plus to this! Each garter with a clasp at the longest measures out to 9 1/2 inches and the shortest at 6 inches with clasp giving you a lot of lead way if you have super long or short legs.
Experience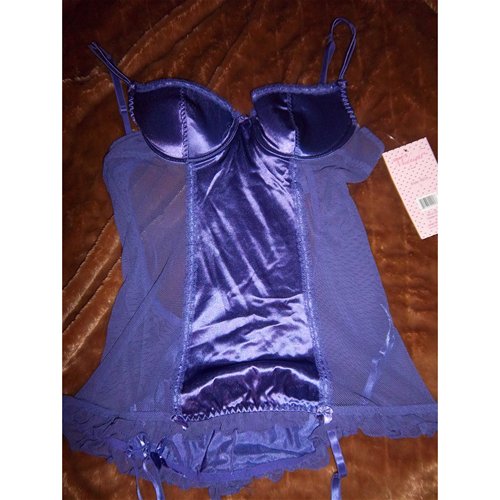 This also comes with a matching purple mesh thong that is surprisingly pretty comfortable with a pantyliner built into it - another plus! The Large measures to about 12 inches unstretched in its natural shape and 6 1/2 inches from top to bottom of crotch.
As with most lingerie it is recommended to hand wash in cold water and air dry.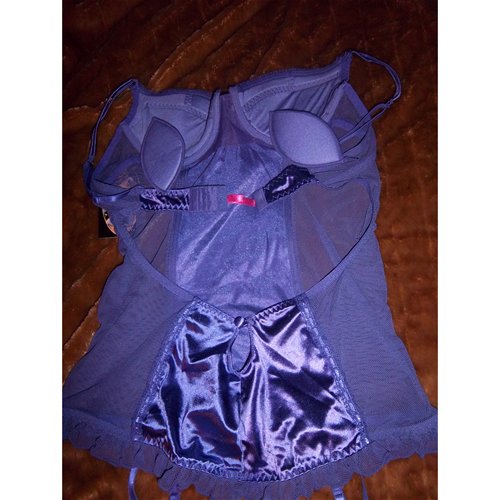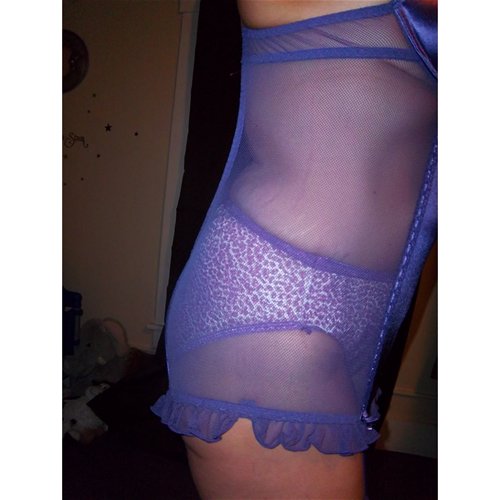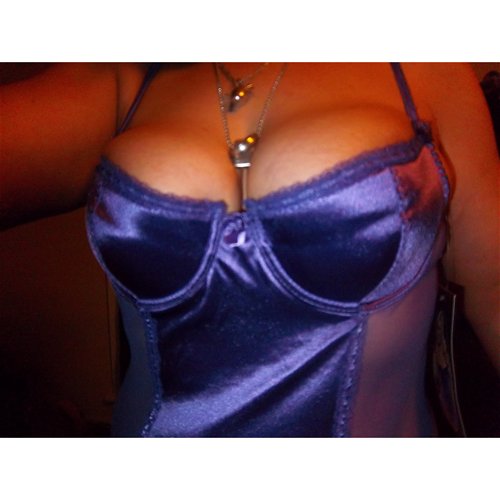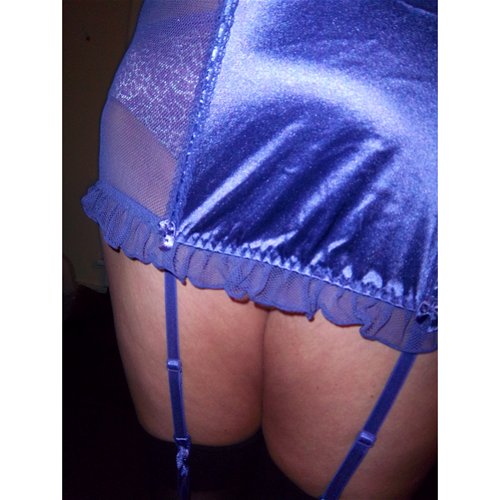 (Please excuse the granny pants... Tried wearing something to cover myself!)
I had ordered size Large in this as according to the size chart I fall at the lower end, but even in this size the cups would be smaller, and they are. Spilling out on the sides and top, I believe the Large is more of a C than a D. Even though I generally wear a DD, I often can get away with a D. Otherwise than that I believe it is true to size. The Large measures up to 25 inches from top to bottom (at my strap adjustment level) and the torso being almost 12 inches semi-stretched. Another thing that was different in the picture was the length. As you have probably have noticed, it goes to about crotch length on the model and on me it goes well beyond it.
Seven 'til Midnight size chart:
SIZE CUP BUST WAIST HIP
Small 2 - 6 A - B 32 - 34 24 - 26 34 - 36
Medium 6 - 10 B - C 34 - 36 26 - 28 36 - 38
Large 10 - 14 C - D 36 - 38 28 - 30 38 - 40
Follow-up commentary
25 days after original review
What a bummer this is and was! Even though it wasn't as I had thought I still gave it the benefit of a doubt because it is a really cute chemise.But since I wrote my initial review I haven't worn it since,and I can honestly say I have no desire to wear again. I really can't explain why but I put it in the back of my closet and thats probably where it will stay.
This product was provided free of charge to the reviewer. This review is in compliance with the FTC guidelines.

Thank you for viewing
Purple Sophia chemise and thong
review page!