Pink is awesome, long gown not so much.
If you are looking for a long gown and don't mind having to struggle to put it on or take it off this might be a great option. It looks pretty decent, it has a romantic look to it if that is what you are trying to go for. The overall design of the gown is elegant but I need something a lot more easy to manage when I am in the middle of action with my lover.
Published:
Pros:
Pink, romantic appeal
Cons:
difficult to put on and take off
Use:
This is a piece of lingerie so obviously this is not something to wear for re-painting your home, playing tennis, or going out to run your errands. It is most useful used as an accessory to add a bit of umph to XXX activities that occur either in the bedroom, living room, kitchen or where ever your imagination takes you within the boundaries of your home.
It is a very long gown, and it isn't that easy to put on or take off, so it is probably not your best bet if you want to do a sexy, smooth cadence strip tease. It is romantic looking, so it is probably the best gown to wear to entice your partner into the bed (or where ever). It is not the type of lingerie you can wear to bed unless you don't mind getting tangled in the folds of fabric.
This is not a great gown to bring along on romantic getaways, I know, it looks romantic...but if you pack it in luggage...it becomes a wrinkled ugly mess. So yeah, not for trips
The one plus to this piece is that is has a matching thong, so if you have other simple pink mesh lingerie you might be able to match the thong to other stuff you own.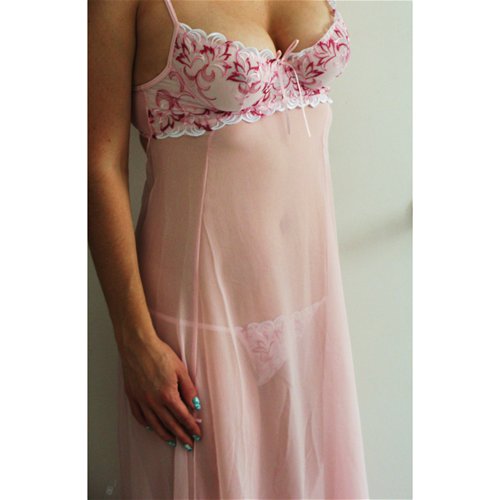 Material/Care and Maintenance:
The whole gown is made of a mesh like, see through fabric. It is made of 100% polyester, not a surprise!
Polyester is very easy to take care of, I wash all my lingerie in the gentle cycle of my washer and let it hang dry. Polyester is quite durable and it stays nice fairly long compared to other materials (like modal). I recommend to avoid washing any lingerie with pieces of clothes that have velcro on them as it can catch in the mesh and damage the lingerie. Also, if you wash this with a bra, make sure the bra straps are clasped together before so as to avoid the hooks to grab and damage the mesh.
The cleaning instructions suggest to machine wash with warm water and to wash darks separately. It is possible to tumble dry this item but you must remove it promptly after the cycle is done. It is also suggested to avoid wringing or twisting the gown.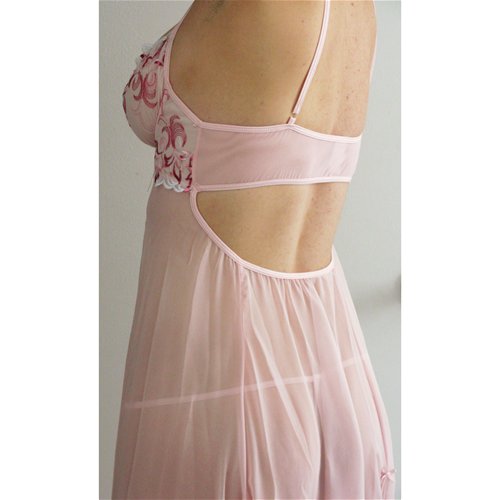 Design:
The design is also quite simple. Essentially you have the bra part which is covered in embroidered pink, fuchsia and white flowers. The bra cups are not padded or cushioned. You can slightly see the aureola and nipple through the mesh. Between the cups is a very thin but elegant pink bow.
The straps leave something to be desired if you are quite busty. The straps are basically thin elastic bands that provide no support. I am sure that over very intense use or frequent use, the elastic will become looser and looser.
Oddly there are no bra-type closers on the back. There are no zippers or anything, you just slip it on (or wriggle into it slowly and painstakingly). The gown is very long, I am 5'7" and it touches the floor whether I m in heals or not. The gown has four slits that go up but not exactly right to the hip. The slits are located in the front and back of the legs. The gown is therefore, four pieces of flowing fabric, in a sense.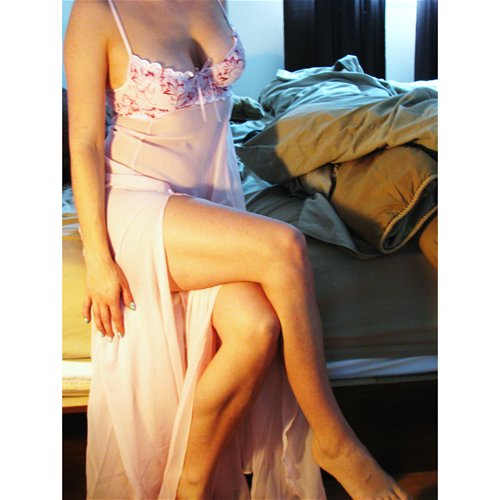 Experience
I must admit that I wish this gown worked better for me. I thought I would give another try at long gowns but I think that after two tries they just don't suite me.

If M liked the look of the gowns on me I would probably enjoy them more but M really doesn't seem to care for them.

The biggest reason why I didn't like this gown is that I like my lingerie to be effortless. I like to be able to easily put on and take off lingerie. Although I did select a medium which fits my range perfectly, I had to struggle to get the darn thing on. Once it is on it looks ok, it seems comfortable but the elastic straps do tend to dig into the skin a bit. As I tried to take it off I broke a sweat. I got all humid and disheveled but NOT in the good way.

Anywho, I guess this gown would suite very thin girls. It would fit a girl that is in the lower end of what is considered a healthy weight in order to be able to squeeze into this gown.
This product was provided free of charge to the reviewer. This review is in compliance with the FTC guidelines.

Thank you for viewing
Pink low back gown
review page!